Sister Carmen Marie D'Adamio, SSND
March 9, 1943 – March 22, 2020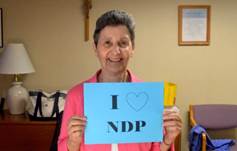 Constance Jean D'Adamio, only child of Leo and Genevieve Mazanek D'Adamio was born on March 9, 1943. It was wartime, and Connie and her mother lived with her grandparents while her father was serving in the U.S. Army.  The family later lived in California and Texas, moving back to Baltimore after Leo D'Adamio's military discharge.
Connie first met the School Sisters of Notre Dame as a child attending St. Wenceslaus School.  As a seventh grader, she was confirmed by the Most Rev. Jerome A. Sebastian, auxiliary bishop of Baltimore.  Looking back on her years as a student at St. Wenceslaus, Connie said, "The outstanding example of the Sisters, both as religious and as teachers, impressed me greatly."
During her years at The Catholic High School of Baltimore, Connie began "to consider the future seriously."  She said that she "always felt a strong inclination to the religious state but found it difficult to make a decision."  She graduated in 1961, still undecided about her future,and enrolled at Towson State Teachers College (now University).  She remained only one semester, realizing that "this was not for me." 
 
After working for some months, Connie made the decision to enter the School Sisters of Notre Dame.  She chose SSND because of their influence in her early school years. On Sept. 8, 1962, Connie received the candidate's veil at St. Wenceslaus Church.  In December of that year, her father passed away suddenly.  "This great loss, I accepted, as God's will for me." 
Connie entered the novitiate on July 13, 1963 and was given the name, Carmen Marie.  Sister Carmen Marie professed her first vows on July 25, 1964. 
She spent the following year as a student at the College of Notre Dame of Maryland (now University).  Sister Carmen Marie's educational background included a Bachelor of Arts with a major in Biology from the college in 1969.  She also earned a Master of Arts degree in Early Childhood Education from Towson State College (now University) in 1975.
Sister Carmen Marie taught as a primary teacher in the Baltimore area for almost 15 years.  She was an assistant principal at St. Mary's School, Annapolis, Maryland.; St. Mark's School, Catonsville, Maryland; and became the principal at St. Mary's School in Hagerstown, Maryland.  During the years 1991-95, she was a part of the Mentor for the Catholic School Fellowship Program at Loyola College (now University).  As the Educational Advisor for Undergraduate Educational Programs at Notre Dame of Maryland University for 10 years, she had a significant influence on many young teachers.  Carmen was working as the receptionist for Notre Dame Preparatory School at the time of her medical leave.
 
Carmen was a dedicated educator, a gifted teacher and an administrator who challenged her students to be the best.  She was very caring and an excellent role model for her students.  An outstanding communicator, she was able to provide both the teacher and administrator's viewpoint, and her students were confident in the advice she gave.
 
Friends and companion sisters saw Carmen as brave and bold.  They knew she was destined to be a leader.  She was a good community member, had a fine sense of humor and was loved by all.
 
Carmen courageously battled cancer and endured its challenges for a year and a half.  She wanted to live.  With her dear friend Sister Raymond Lorenzen and the sisters of the Charlesgate community praying with her, death came peacefully to Carmen on March 22.
Sister Carmen Marie is survived by her Sisters in community.  A private burial was held at Villa Maria Cemetery, Glen Arm Rd., Glen Arm, Md. on March 24.  The Memorial Mass will be celebrated at a later date.
Jeanne Hildenbrand  SSND