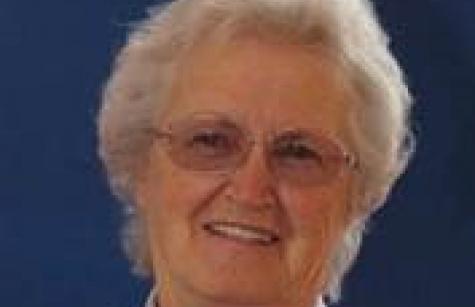 Sister Celine Marie Flynn, SSND
September 9, 1936 – January 9, 2019
Mary Helen Flynn was born in Newark, New Jersey, on September 9, 1936, the only child of John Joseph Flynn from Ireland, and Ellen O'Hara of County Roscommon. "My good Catholic parents saw to it that I was baptized on October 18, at St. Rose of Lima Church, also in Newark," she wrote in her autobiography. When she was five, Mary Helen started first grade at St. Francis School in Union City, New Jersey. She wrote, "At first I was afraid of the ladies dressed in black and white, learning later that they were sisters…In second grade I learned about God and prepared to receive Him into my heart for the first time." At St. Michael Church, in Union City, she was confirmed on November 15, 1947.
In October of her 8th grade year, she was transferred to St. Peter School, Newark, where she met SSNDs for the first time. "I had never heard of this order of nuns until then," she wrote. After graduation, "My main interest was Commercial Studies…so I went to Saint James High in Newark for my four years." During her junior and senior years, Mary Helen worked at Saint James Hospital part-time and during the summer as an assistant dietitian. Her first position after graduation was four years with the Industrial Electronics Corporation, Newark, as a clerk typist. Later, she was typist and relief secretary at an insurance company; her last job before religious life was with the Retaining Ring Company in Irvington, where she had diversified duties—relief operator on switch board, Dictaphone operator, as well as taking shorthand and using an IBM Electric Typewriter-Calculator.
The story of Mary Helen's vocation deserves to be told in her own words:
I had thought of entering the convent during my high school days but did nothing about it for the simple reason that I was not sure whether I wanted to teach or take care of children in orphanages. Because I was dubious about the kind of work I wanted to do, I stayed out and worked, leaving it in God's hands. For four years or so, I was back in St. Peter Parish, and little by little I saw the wonderful work the sisters were doing, in both caring for the children and teaching. It took a long time for me to decide, but as time went on I got interested in the work being done at St. Peter's, and before I knew it I was making plans to enter the SSNDs.
She entered on September 8, 1962, at the new Motherhouse in Wilton, Connecticut. Reception into the novitiate, at which she received the religious name Mary Celine, was followed a year later by first profession on August 8, 1964, and then final profession on July 26, 1969. Studies in Business-Education at Boston University earned Sister Celine a Bachelor of Science degree in 1973. At Fordham University she was awarded an M.S. in Secondary Education Administration and Supervision in 1977.
St. Mary Business School in Buffalo, New York, one of the province's oldest missions, was Celine's first obedience for two years. At another business school, St. Joseph High School in Rochester, New York, she completed two more years. At Our Lady of Perpetual Help (OLPH) Business School in New York City, Celine served for 19 years, first as a teacher and then as principal for 15 years. In May 1986, the province newsletter Communiscope published a lengthy article by Celine called, "Justice in the Market Place." It delineated OLPH's vision of its graduates as women in a secular business society focused on "integrity which encompasses fair dealing, honesty, love, respect, truthfulness and forthrightness."
On May 2, 1987, OLPH celebrated its 35th anniversary of turning out poised and successful business women.  Sister Barbara Valuckas spoke of Blessed Theresa and Caroline at the celebration. Celine and Sister Mary Neumann Loucka, a long-time faculty member and the bursar, were the current SSND faculty at that time. After five years as a pastoral associate at St. Cecilia Parish in Iselin, New Jersey, Celine returned to teaching business subjects at Berkeley College, and then at the Cittone Institute in Edison, New Jersey.  
In August 1993, the council asked Celine to become Wilton's Director of Development. She began working with Sister Mary Dooley, Wilton's first Director, before Mary left this ministry in January 1994. Together they walked through the Octoberfest, the Christmas appeal, the Tree of Life, and traveled to meet the Area Guilds--all for a smooth transition. Celine saw this responsibility as a "sacred trust." 
In this role, Celine felt enriched by the constant contact with our sisters. Her admiration for our retired sisters was her main reason for making the video, "Come and Journey With Us as We Celebrate Life." Shown at the Area Guild meetings, the video revealed how involved the retired sisters were in the life of the province and congregation.
Next, for seven years, Celine served as Director of Religious Education at St. Michael Parish in Greenwich, Connecticut. Here, as in all her ministries, Celine made many good friends who got to know SSND and the Motherhouse through her. Mrs. Jane Colahan and several friends hosted a delicious festive Christmas dinner for about 15 Wilton sisters each year in her beautiful home.
It became a highlight of the season. Two special SSND friends of Celine were Gladys Murphy and Aveline Smith.  Gladys had lived with her at OLPH for ten years and remarked on Celine's great generosity. "She was generous to everyone," Gladys said, in her room at Lourdes, "She came here to Lourdes every week with cookies, candy, whatever she had."  Aveline remembered being in the small community at VND called OLPH with Celine and Gladys. "I'll never forget how kind she was when she took me to my sister's funeral."
Celine returned to the Wellness Center at Villa Notre Dame from Yale-New Haven Hospital on hospice on the evening of January 8, after several weeks of treatment.  She went home to God at 5 am the next morning, January 9. Sister Theresa Lamy, VND Local Leader, presided at the Vigil Service on January 17. The community was joined by many friends of Celine with their families.  Celine had requested no sharing at her wake, but when asked privately, Jane Colahan spoke of remembering Celine for "her smile and always joyous and generous spirit."  At the Vigil, it was touching to see Gladys Murphy and Aveline Smith sitting nearest to the casket
Father Reginald Norman, Pastor of Our Lady of Fatima Parish, Wilton, presided at the Mass of Christian Burial, on January 18.  He was joined by Father John Serio, SDB, who had worked with Celine at St. Michael and become friends with her. Celine's cousin, Anita Kenny, read the first reading from the Book of Wisdom. Sister Charlaine Fill directed the VND Schola. Members of Celine's profession class of 1964, in unison, prayed the Prayer of Commendation.
Burial followed at St. Mary Cemetery, Bethel, Connecticut.
-    Sister Kay O'Connell