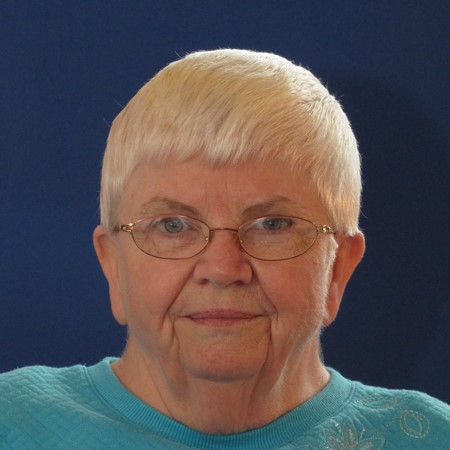 Sister Christina Murphy, SSND
September 6, 1940 – August 16, 2023
To John and Christina Quigley Murphy a fourth child and second daughter was born, on September 6, 1940, in Brooklyn, New York.  There was special reason for thanksgiving as her mother's health had been fragile for a few years.  Gertrude Marie was baptized at Our Lady of Perpetual Help Church, on 59th St.  She completed the family of Dublin born John, and Christina, born in Liverpool. ("English by accident," she always said—the last of a large family, all her siblings had been born in Ireland.) Young Gertrude's siblings were Gerald, James and Ann, all educated by the Sisters of St. Joseph in the Parish School.
When she was graduating from the 8th grade, Gertie "had a strong desire to become a religious." She was thinking of the Active Carmelites who care for the elderly and infirm and had not heard of SSND. One day she walked with a girlfriend to our convent in Manhattan on 62nd Street, and met Sisters Mary Grace and Eusebia, who told her about the Aspiranture in Fort Lee, New Jersey. Of her four years there, she wrote, "My happiness was complete, and I have never regretted coming to Notre Dame." On September 8, 1959, she entered the Candidature in Baltimore.  At Reception on July 15, 1960, she became Sister Christina Marie; she pronounced her first vows on July 29, 1961, also in Baltimore. Five years later, her final profession was made in the chapel of the newly founded Wilton Province, on July 25, 1966. In 1970 the College of Notre Dame of Wilton awarded her the Bachelor of Science Degree in Education.
For the following 17 years, Christina taught primary grades at St. Mary, East Islip, New York, and Most Holy Redeemer, Manhattan; St. Michael, Rochester; Madonna School, Fort Lee, New Jersey, and St. John Evangelist, Watertown, Connecticut. She became the founding director for five years of the Notre Dame Child Development Center for 3- to 5-year-olds, when it was established at Wilton in 1978. A very happy parent wrote this when she was leaving, "Sister Christina was never too busy to embrace a child, dry a tear, or answer a question. She imbued in our little ones a love for learning and a respect for the thoughts and feelings of others.  She and her staff are to be congratulated on the excellence of their educational program.  They created a learning environment in which our children could develop a healthy self-image and a positive attitude toward school."
A year of Sabbatical followed in 1984. Immaculate Conception School and Parish, first as teacher and then pastoral associate, were her ministries in Secaucus, New Jersey until 2002, except for three years at St. Joseph School on 87th Street in Manhattan from 1988 to 1991. In Secaucus, Christina founded a bereavement group as part of her pastoral service. The Secaucus Home News, in a story about Chris's farewell gathering, wrote, "A few hundred people were cramped like sardines, but no one minded because the love that held them together was Sr. Christina's love. Thunderous applause showed their gratitude."
For her success and enjoyment as a primary teacher, Christina had a unique talent–that of an excellent ventriloquist. When she was still a child, inspired by the Amateur Hour, she spent hours in front of a mirror learning how to speak without moving her lips. Her father, on the advice of Edgar Bergen, of Charlie McCarthy and Mortimer Snerd fame, bought her first "dummy" for her. "Mickey" was found at the back of a magic and props store in New York, almost as if he had been forgotten. In later years Mickey's jaw wore out and he was replaced by a more complicated "dummy," "Happy," who was just as bright-eyed, cheeky and amusing. 
Christina often entertained the community, was always a big hit at the annual Wilton Octoberfest; she gave benefit shows, but especially enjoyed bringing "Happy" to school for each child's birthday.  She commented, "The children relate to him as a person. They are eager to tell him all the events of their days. He gives me the opportunity to find out how they feel about school because they tell him; they share what they're learning with him." Many pictures of Christina in the background with mesmerized little ones smiling directly at "Happy" attest to their fascination.  At an SSND Heritage Workshop, Mother Georgianne had fun with "Happy." She gifted him with a Dallas Cowboys uniform. He also went to the Global Awareness Program in Chile in 1979, and won first prize for Chris at a "Watermark's Got Talent Show" in 2021. She left instructions that he be given to the TV Show "Sesame Street."
At the turn of the century, Chris served in pastoral ministry at St. Mary Hospital in Waterbury, and at St. John the Evangelist Parish in Watertown where she founded a popular "Mom's and Pop's Group." Later she came to Villa Notre Dame for service at Lourdes Health Care Center and driving for the community. Her ministry later was Prayer and Presence at the Villa and at Watermark, where she moved with the community in 2021. She was cared for there at "The Inn," a wing for Assisted Living, until she died on August 16.  Aides and nurses there, and Nurse Jessica and Aide Joann from Hospice spoke movingly of her. Her brother Gerry and his wife Rita, made frequent trips from New Orleans to be with her.  When she was told of her brother Jimmy's death on August 9, she was still conscious enough to say, "I'm jealous." She also knew that her dear friend Sister Henry Gadsby had gone home to God at Ozanam Hall. She longed to be with them.
Msgr. Robert Crofut, a good friend of the sisters at Watermark, celebrated Christina's Liturgy of the Resurrection at St. Andrew Church on September 30.
At the preceding wake service, Sister Shawn Kavanagh presided, recalling that Chris had said these last words, "Jesus loves me very much."  A niece read two Scripture passages that characterized her aunt's life, "the Salt of the earth," and "the Light of the world." Gerry, Chris's devoted and beloved brother, spoke of how strong Salt and Light images had been as ideals in his sister's life. She had aimed always to be kind to others, and to give the salt away.  He had discovered lately that one of the ways she did this had been to send dollar bills to every organization that had ever sent a request to her. He ended with a heartfelt, "I'll miss you, Gertie." Three nieces and several grandnieces were also present. 
Burial of Christina's cremains took place at St. Mary Cemetery in Bethel, Connecticut.
~ Sisters Kay O'Connell and Shawn Kavanagh