Sister Clara Hounsell, SSND
March 8, 1925 – May 4, 2020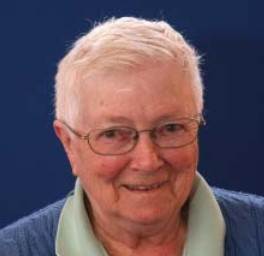 Clara Theresa Hounsell was among the many young women from Roxbury, Massachusetts who followed the call to religious life, and to SSND, from the "Mission" Parish, with its well-known Our Lady of Perpetual Help Shrine and grammar and high schools, at which our Sisters had taught since 1889.  The youngest child of Philip Francis Hounsell, from Liverpool, England, and Sarah Anne McGonigle, from Donegal, Ireland, she was baptized Clara for her grandmother, and Theresa for the "Little Flower."
Like her four brothers and one sister, Clara attended Mission Grammar and High Schools, graduating in 1938 and 1942. She wrote in her autobiography that she was always with a large number of children in grade school because the population of the school was about 2000 at that time.
In high school she was part of a group of students privileged to help Father Mark de Coste, CSsR, with his Apostolate to the Deaf. They were taught sign language, and on one Sunday each month stood on the steps leading to the sanctuary and signed Father's conference and the hymns for the service.  They also helped at card parties and dances, offering whatever help they could to the deaf and hard of hearing people present.  Clara loved the experience but "felt she never grew very proficient in sign language."
By the time she graduated, "World War II had begun, and some of the boys who graduated that year joined the Armed Services." When Clara told her mother of her intention to enter SSND that fall, her mother told her a story she had never before revealed.  When Clara was born and was not expected to live, her mother prayed very hard to St. Theresa of the Child Jesus, who was canonized that year, 1925. She promised that if her child lived and ever decided to become a Sister, she would in no way interfere. Clara wrote, "St. Theresa did her job, and I have always regarded it as a bit of my mother's great wisdom to have held the story until then, so I would not be influenced in my choice."
Clara entered the Candidature at Aisquith Street in Baltimore on August 28, 1942 with five others from Roxbury. Only one, Mary Barry, who had become Sister Margaret Concepta, remained in the congregation when Clara rewrote her autobiography in 1989. At Reception on July 14, 1945, she received the name Marie Francis. Her patron was Francis de Sales, the Gentle Bishop of Geneva.
After a brief experience teaching music and playing organ in Camden, New Jersey, and then at Holy Angels in Fort Lee, Marie Francis spent the next two years at Fourteen Holy Martyrs in Baltimore.  In 1949, she was one of four Sisters who opened St. Margaret Mary in Harrisburg, Pennsylvania.  She taught grades five and six, spent nine happy years there and saw much progress. The Sisters started the school with 98 pupils and by 1958 had nearly 1000.
Marie Francis remembered that the people and the Pastor, Father Francis Kirchner, were very good to them. After a new convent had been built he moved into their old house from the sacristy where he had been living. She wrote later that she "minded the change from Harrisburg more than any subsequent one."
Our Lady of Mount Carmel in Poughkeepsie, NY, teaching her favorite 6th grade, was Marie Francis's next mission. She remembered, "It took a long time to get used to the railroad trestle under which was nestled our convent. Sometimes a freight train of 100 plus cars would rumble overhead, and it was difficult to hear what people were saying." Nine years there were followed by one year each in Garden City, Long Island, and Darien, Connecticut, where teaching 8th grade was not congenial to her; she felt that her skills were for the middle grades. Seven years at Immaculate Conception in Secaucus, New Jersey, where she taught Religion, English and History to 6th and 7th graders was a more congenial assignment and brought the years of her teaching ministry to a close.
While in Poughkeepsie, Clara began to study for an M.A. and received a degree in Religious Education in 1973 from Catholic University of America, having earned 30 credits on the undergraduate level, and 30 on the graduate. She was always grateful that her studies took place after Vatican II. They gave her an excellent foundation for teaching religion and for her future work with adults in pastoral ministry. She wrote, "And also, personally, for my own spiritual life. I used to feel during the summers as if I had been on a long retreat."
Her brother Fran and his wife Mary came to her graduation. "I was grateful to have someone from the family present. We had a wonderful weekend. Ma and Pa were there, too, I know, but in a different way."
An intense love for the Eucharist became part of Clara's spirituality. Her article, "Reflections on Emmaus" appeared in Sisters Today in April 1980. She elucidated "They knew Him in the breaking of the bread."  In Emmanuel, Official Monthly of Priests' Eucharistic League and Priests' Communion League, September 1974, she contributed "The Eucharist and the Universe of Teilhard de Chardin."
After a year at the Wilton Motherhouse as assistant in the Occupational Therapy Department, while she was seeking a new ministry, Clara began ten years as Pastoral Assistant at Notre Dame of Easton Parish in Easton, Connecticut. In 1983, her 7th year there, she wrote, "I have grown to love my ministry more each year as it has expanded. I'm the only SSND there, and it's a wonderful opportunity to make our community known to many people who otherwise would not have known anything about us." The much-liked Msgr. Bernard Scanlon was pastor during most of Clara's years there.
Later Msgr. Scanlon became Director of the Propagation of the Faith in the Bridgeport Diocese. Clara started work in this office in 1988, coordinating the Diocesan Holy Childhood Association. Visiting classrooms of both schools and religious education programs and showing mission videos, she "did what she could for six years to keep young people aware of the needs of children around the world." Again, she enjoyed working with Msgr. Scanlon.
Clara attended the Beatification of Blessed Mother Theresa in 1986 in Rome, in the delegation from Wilton that had been chosen by lot. On the anniversary she always put her scrapbook of pictures of the events out for everyone to enjoy.
Clara retired in 1994, giving community service as driver and receptionist at Villa Notre Dame.  She became a resident of Lourdes in 2011 and went to Ozanam Hall in Bayside, New York, in September 2019.
After several months of very serious illness, during which she received Communion every day until the last one, Clara died a natural death peacefully at Ozanam Hall on the evening of May 4. Sister Jacci Glessner had been with her most of that afternoon.
The hearse bearing her body stopped at the front door of Villa Notre Dame on the morning of Friday, May 8, through the courtesy of Tom Golden of Gleason Funeral Home. In farewell, the community sang its Blessing Song. Clara rests in St. Mary Cemetery, Bethel, Connecticut. As with the other Sisters who have died during the coronavirus pandemic, a funeral liturgy will be celebrated sometime in the future.
Sister Kay O'Connell