Sister Dolores Marie Todd, SSND
July 1, 1930 – Oct. 7, 2020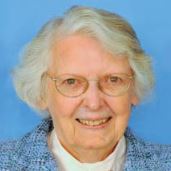 Born in Mercy Hospital, Baltimore, Md. on July 1, 1930, Catherine Jane was the second daughter of George Melvin and Mary Edna Gellerman Todd. Jane was baptized in the Mercy Hospital Chapel a week after her birth.  Patricia, four years older, was Jane's sister.
Jane attended grammar school at Our Lady of Lourdes School, where she was taught by the Daughters of Charity of St. Vincent de Paul.  She made her first Holy Communion on May 23, 1938 and was confirmed by Rt. Rev. Michael J. Curley, Archbishop of Baltimore on May 13, 1942. 
 
After graduating from grammar school, Jane followed her sister to Notre Dame of Maryland Preparatory School in the fall of 1944.  Asked about her experience at Notre Dame Prep, Jane said, "Pat loved every minute of it, but I think that I loved it even more."  She described her early relationship with Mary as "being under the mantle of Our Lady," but "knew that she grew even closer to Mary during high school." 
 
The College of Notre Dame "(now Notre Dame of Maryland University) "was just a natural choice as any for me, as Pat had graduated in 1948."  Jane loved the busy days of studies, activities and parties, but there "always was a very special offering of the day to Christ through Our Lady." She realized that there was so much more that she could be doing to win souls. 
 
Jane applied to enter the School Sisters of Notre Dame and received the bonnet in the Notre Dame Convent Chapel on the feast of the Purification, Feb. 2, 1951.  She was received into the novitiate on July 16, 1952 and was given the name, Sister Dolores Marie.  Sister Dolores Marie professed her first vows on July 24, 1953.
Sister Dolores Marie taught upper elementary grades at St. Mark School, Catonsville and St. Mary School, Govans in Baltimore, before moving on to high schools, most notably at Notre Dame Preparatory School.  In 1966 she became an assistant to the Director of Postulants, then Motherhouse Superior.  She spent several years at the College of Notre Dame of Maryland ) as assistant to the President.  Returning to teaching, Dolores devoted 13 years to students at Madonna Academy in W. Hollywood, Fla. She was later appointed as Administrative Assistant to the Western Vicariate of the Baltimore Archdiocese, working with Bishop P. Francis Murphy. In later years, she was the director of development for the Baltimore Province and worked in the Province finance office before volunteering at her beloved Notre Dame Prep.
In addition to the Bachelor of Arts in Mathematics that Dolores Marie earned at the College of Notre Dame of Maryland (now University) in 1952, she received a Master of Education in 1972 from Loyola College (now University) in Secondary Education Administration and did additional study in mathematics at the Catholic University of America.
Sister Dolores was a wonderful teacher and an excellent administrator.  Her warm smile and sense of humor endeared her to others. In her last year at the Notre Dame Prep convent, she was the "main mover" regarding items to be disposed of when the community moved out for the convent renovation.  Her fantastic job of organizing and selling the convent furniture and books was greatly appreciated.  Dolores was always a friendly face and an extraordinarily welcoming greeter at Villa Assumpta events.
Sister Dolores Marie died at Maria Health Care Center on October 7, 2020.  She  was part of the Rush Study and donated her body to science.  Her remains will be interred at Villa Maria Cemetery.  A Memorial Mass will be celebrated for Sister Dolores Marie at a future date.  Sister Dolores Marie is survived by her niece, Jane M. Warth.
Jeanne Hildenbrand SSND