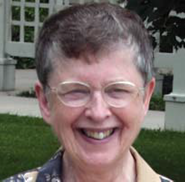 Sister Doreen Swift, SSND (formerly Sister Aileen)
June 1, 1936 – July 5, 2021  
Sister Doreen had health issues for a few years and was cared for at Notre Dame Convent, Waterdown. However, her death on the morning of July 5, 2021 was unexpected. Sister Doreen had celebrated her 85th birthday on June 1. She was in her 64th year as a School Sister of Notre Dame. 
Her parents Harry and Rhona (McDonagh) Swift welcomed their twin daughters, Doreen and Margaret, on June 1, 1936. 
Doreen's mother developed tuberculosis after the birth of her third son and was hospitalized. The children were separated and lived with relatives. When Doreen was six-years old her mother returned home and the family was reunited. But two years later her mother died, and the children were placed in an orphanage under the care of St. Joseph Sisters. Later, Doreen and Margaret were sent to a boarding school at Pembroke conducted by the Grey Sisters. When her father remarried, Doreen lived with the family on a farm and attended a public school, as her father was non - Catholic. In 1950, her Catholic godparents decided that Doreen should return to Pembroke to complete her elementary education with the Grey Sisters.
 
In 1952, Doreen joined her sister Margaret as a boarder at Notre Dame Academy, Waterdown.  When Margaret entered the candidature, Doreen seriously considered her own future. Finally, she asked her godmother to accompany her to speak with Mother Provincial Mary Pius about entering SSND. In September 1955 Doreen entered the candidature and continued her studies at the Academy. When Doreen was received into the novitiate on July 30, 1956, she took the name, Aileen, after her aunt and godmother who had done so much for her. In her autobiography, she refers to her insecure childhood and states that during her novitiate years she was much more settled and contented. On July 31, 1957 she professed her vows.
After graduating from Hamilton Teacher's College, Sister Doreen taught at the following schools - St. Agnes, Waterloo; St. John, Newmarket; St. Patrick and St. Gregory; Cambridge and St. George, Wilkie; Saskatchewan. From 1967-1970 she was Art Consultant for the elementary schools with the Kitchener- Waterloo Separate School Board. From 1976 to 1978, Sister Doreen was in charge of the boarders at Notre Dame Academy, Waterdown.
She then became engaged in parish and pastoral ministry at St. Patrick, Burlington, and St. Agatha. In 1984 she moved to Saskatchewan, where she assisted in parishes in Regina and Bengough. Blessed Sacrament Parish in Barnsley, England welcomed her in 1995. From 1998 – 2010 Sister Doreen assisted in the following parishes - St. Rita, Valleyview, Alberta; Blessed Eugene de Mazenod, Luseland, Saskatchewan; and Our Lady of Peace, Chetwynd, British Columbia. Due to health problems, she then moved to Waterdown, Ontario.
Sister Doreen attained her Supervisor's Art Certificate from Ontario College of Art. Often she assisted groups and individuals with her artistic skills. She also received her B.A. degree from St. Jerome's College, University of Waterloo, and her M.A. degree from Aquinas College, Grand Rapids, Michigan.
In an article Sister Doreen wrote, "Since we do not know the length of time we have to live on earth, we accept each day as it is given and allow it to be consecrated by the Lord living within us. Daily, He is our strength and guide as we strive for a deeper faith in His presence." May Sister Doreen now experience the fullness of God's presence.
Mass of Christian Burial was celebrated at Notre Dame Convent on July 13 followed by the burial of her cremains at Gate of Heaven Cemetery, Burlington. Her nephew, friends and community members attended the burial. 
She is survived by her twin sister, Associate Margaret Desruisseaux, and her brothers Gregory and Graeme.
-       Joan Helm, SSND