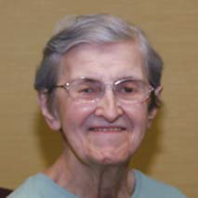 Sister M. Joanna Brigan
December 16, 1932 – August 7, 2020
Dorothea Joanne Brigan was born on December 16, 1932, daughter of John Brigan and Ann Weissmann Brigan, both from Hungary. Her father was a barber who died of a cerebral hemorrhage when Joanna was eleven years old. Her mother did office work for some time, to help support the family. Joanna had one sister, Anna, and one brother, John.
Dorothea was baptized at St. Paul Parish in Chicago, and attended the parish school for six years, completing her grade school education in the local public school. She then attended high school at the Academy of Our Lady, Chicago, as a convent junior (aspirant). 
Dorothea entered the candidature in Milwaukee, Wisconsin, in September of 1949, and was sent to Prairie du Chien, Wisconsin, to help in the kitchen and refectory.  She wrote, "At first I found this kind of life hard but…after a few months my new home became very dear to me, and I longed for the time when I, too, would be called Sister."
Dorothea was received into the novitiate at the Milwaukee Motherhouse on July 21, 1952, receiving the religious name Sister Mary Joanna. At that time, she wrote in her autobiography, "The great day of my profession is coming close, and my desire is to consecrate myself totally to Him by being helpful to all my Sister companions wherever I may be." She was professed in Milwaukee on July 22,1953, and took her final vows at the then-new motherhouse in Mequon, Wisconsin on July 22, 1959.
After her first profession, Sister Joanna served as homemaker and housekeeper at St. Alphonsus in Chicago, Illinois, until 1960, and then in full-time food service there until 1967. Next she was assigned to St. Anthony, Chicago, as homemaker and housekeeper, becoming a member of the DeKalb (Illinois) Province when it was formed in 1965. She was then sent as cook to the new motherhouse, where she served from 1968-1976.
When the DeKalb motherhouse was closed, Joanna worked from 1976 to 1985 as Dietician and Director of Food Service at St. Vincent's Residential School in Freeport, Illinois.
From 1985 to 2002, Joanna was the director of Food Service for our Sisters at the Academy of Our Lady in Chicago.
Having retired from this ministry, Joanna had a year of sabbatical, and then cared for her sister in Berwyn, Illinois, for many years, living part of the time at the Chicago Provincial House in Berwyn, Illinois, and, after the province integrated with the Atlantic-Midwest Province, at St. Pius X Convent in nearby Stickney, Illinois.
In 2011, Joanna retired to Marian Village in Homer Glen, Illinois. For some time at Marian Village, she was responsible for the "guest unit," caring for Sister visitors.
Joanna is remembered by her Sisters as kind, cheerful, and solicitous of their physical needs, and her outgoing and friendly spirit endeared her to the residents of Marian Village.
Joanna died peacefully in her sleep on August 7, 2020.
A burial service was held in the chapel at Holy Sepulchre Cemetery in Alsip, Illinois, on August 13.
By Charlaine Fill, SSND