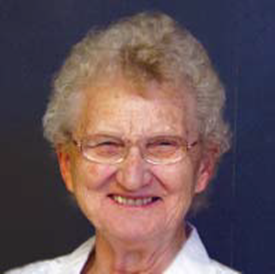 Sister Dorothy Kunze, SSND
March 31, 1931 – March 2, 2022
Dorothy Rosina Kunze, the only child of Fred Kunze and Rosina Bornschlegl Kunze, was born at Grant Hospital in Chicago on March 31, 1931. Both of her parents had been born in Germany. Her mother, a Catholic, was a seamstress, and her father was a baker. Both parents immigrated to the United States and were married in Chicago.  Her father was not affiliated with any church, but consented to raise Dorothy as a Catholic.  She was baptized on June 21, 1931 at St. Theresa's Church in Chicago.
In May of 1939, Dorothy's mother decided to return to Germany to take a sewing course and to visit relatives, taking young Dorothy along. They traveled by train to New York, and then boarded a ship headed for Kobenhavn, Denmark, which took about nine days. From there they took a train to Frankfort, where her relatives were happy to meet her for the first time.
For four weeks, her mother studied while Dorothy played with her cousin and toured Germany with various relatives.  At the end of this time, she and her mother boarded a ship for Kobenhavn, but after a day and a half it returned to Germany, because war had broken out.  Eventually they got passage to Kobenhavn and then to Sweden.  From Sweden they went to Olso, Norway, where they had to wait for ten days.  Finally, they were able to board a ship to New York, which took about nine days.  From there, they returned to Chicago by train.
         
By this time, little Dorothy had forgotten how to speak English. She returned to school at Agazzi public school and then to St. Alphonsus in Chicago.  She then attended St. Michael Central High School in Old Town, Chicago. During her high school years, she worked as a cashier at Wieboldt's Department Store.  She graduated from St. Michael in 1949, and entered the School Sisters of Notre Dame in Milwaukee in September of the same year.
After a year in the candidature, Dorothy taught a primary grade at St. Luke in Gary, Indiana. In 1951, she was received into the novitiate, receiving the name Sister Mary Rosita. She was professed in 1952.
In 1964, she received her BA at Mount Mary College, Milwaukee, and in 1971 her Master in Education at Northern Illinois University.
Sister Rosita's mission experiences included teaching grades 2 through 8 at St. George, Kenosha; at St. Boniface, Milwaukee; and at St. Ambrose, Chicago. At St. John de La Salle, Chicago, she was Superior and Principal.  At the Academy of Our Lady High School, she served as a school receptionist, and at St. Benedict as Assistant Principal.
By this time, Sister Dorothy had returned to her baptismal name. She worked in the Provincial House of what was then the Chicago Province as Provincial Secretary, and in 1990 was appointed to work in the Finance department as bookkeeper, as well as secretary.  She worked with four Provincials, along with 15 council members.  During this time, she also completed a number of courses in financial management, sponsored by the National Association of Treasurers of Religious Institutes.
When the provincial offices (by then a part of the Atlantic-Midwest Province) moved to Norridge, Illinois, she worked as secretary, also doing finance and transportation work.
The following are excerpts from Sister Marlene Panko's description of Dorothy, given at the time of Dorothy's 60th Jubilee in 2012:
"We know that God is everywhere—but one of our Jubilarians always seems to be everywhere…especially when something needs to be done.  And that is our Sister Dorothy Kunze. Most of the times she's working behind the scenes:
Ordering food for an event
Setting up and taking down after a meeting
Running out to get what, at the last minute, is needed
And, no one can match Dorothy's office skills.  She keeps track of everything.  I'm sure many of you have received calls like
I need your Social Security Benefits letter
I need a copy of your driver's license
I need a receipt before I can reimburse you
Did you get your sticker for your license plates?
Dorothy is certainly known to be a conscientious and hard worker, and she will see things through from beginning to end."
In 2015, Dorothy moved to Marian Village in Homer Glen, Illinois, and then to Maple Glen Memory Care Facility in Glen Ellyn, Illinois in 2018. She died there on March 2, 2022.
All services for Sister Dorothy Kunze will be at Our Lady of the Angels Chapel, Marian Village, Homer Glen, IL, on Saturday, March 12, 2022. Viewing will be at 10:00am Central, with Mass of Christian Burial at 11:00am.
Sister Dorothy requested cremation.  Burial of her cremains will take place at a later date.
--by Sister Charlaine Fill, SSND