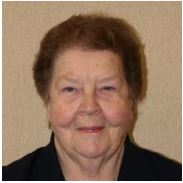 Sister Eileen Mary Eden, SSND
September 3, 1933 – June 23, 2021
Into a family of three brothers and two sisters, Eileen Mary was born to Elizabeth Irwin and William Eden on September 3, 1933. Her parents were Catholic natives of Philadelphia. She was baptized at St. Veronica Church two weeks later. Her lifelong loving, happy disposition surely marked her as one of the finest representatives of her "City of [Sisterly] Love."
During Eileen's grade school years, she was taught by Franciscans, Sisters of St. Joseph and Holy Child Sisters at three grade schools in this very Catholic City.  Her father, a World War I veteran who suffered from a heart condition, died in 1943. His death precipitated a move to her uncle's home because, as she explained, her brothers were in the Service.
After graduation from eighth grade, Eileen met SSNDs at St. Boniface Business School. There she saw candidates who were teaching in the grade school and enquired why they were dressed differently from the Sisters. She also became acquainted with a girl who was attending the Aspiranture in Fort Lee, New Jersey. Told that the purpose of the candidates and Sisters was to "help bring souls to God," she felt she would like to follow them. In September of 1949, after graduation from the two-year Commercial School, she found herself continuing her studies in Fort Lee.
During Eileen's two years in the Aspiranture, her mother wrote often but never failed to mention that "she didn't think she would ever live to see me in the habit."  These words came true when, on December 17, 1950, Eileen received word that her mother was dying. "I arrived too late, and only much later in my religious life did I begin to realize, 'The Lord has given. and the Lord has the power to take away. Blessed be the name of the Lord.'" This belated statement, written later in her autobiography, seems to reveal the hard struggle Eileen must have had with grief at the time.
During her two-year candidature, Eileen taught first grade at Fourteen Holy Martyrs School in Baltimore. She loved her "first little charges." Reception on July 8, 1953, brought her the name Sister James Miriam. First profession followed on July 29, 1954, after which she was back in Fort Lee for "six happy years" at Madonna School until final profession in 1960.  She expressed her gratitude at that time by "placing on the paten every day at Mass all those who have helped me to advance in religious life."
In 1968, Eileen earned a B.S. in Elementary Education from Seton Hall University. Six years later she graduated from Boston University with a Master's Degree in Business Education.
Eileen's ministerial and community life continued without interruption until 2007, another 47 years. Her always upbeat and generous presence was appreciated by Sisters, students, colleagues and parishioners at the elementary, junior high, and high schools, and commercial and business schools where she served. She served at St. Hubert's Girls Catholic High in Philadelphia; St. Michael Commercial in Baltimore; and Cathedral Academy in Camden, NJ. For 16 years she was principal of St. John Evangelist Junior High in Watertown, Connecticut, where she and her dearest friend Sister Rita Collins served together.
As a Pastoral Ministry team, Eileen and Rita went together to St. Mary Parish in Norwalk, Connecticut. They were loved for their kindness and generosity there from 2000 to 2007, at which point they retired to Villa Notre Dame and became members of the Cana Community.
Eileen offered many volunteer services but is most remembered at VND for her enjoyment of her Sisters. Often, she was in the midst of a group telling old tales and just enjoying each other and the present moment. Laughter punctuated everything always. In 2019, the severe eye problem of a detached lens caused Eileen's greatest physical struggle and went on for the next several years. Almost completely without sight at times, she never lost patience or hope in what the specialists could do for her. Shortly before her death, she was able to see with new bifocal glasses; she was profoundly grateful.
Eileen died at Villa Notre Dame on June 23; her death happened to bring a long-anticipated consolation to the community there. On July 2, the sisters were able to celebrate the first funeral liturgy in over a year. It was preceded by an hour-long wake service, presided over lovingly by her advocate, Sister Maryrose Crowley. This gave some Sisters a chance to remember Eileen's unique goodness. Father John Cooney, pastor at Watertown when Eileen was there, came to celebrate the liturgy. It was live-streamed by Sister Sue Czaplicki for family and friends. Burial followed at St. Mary Cemetery, Bethel, Connecticut.
-         Sister Kay O'Connell