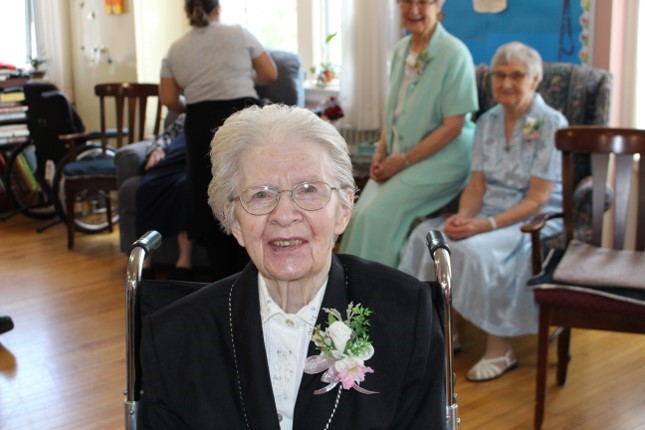 Sister Eileen Morrissey (formerly Sister Raymond Marie)
February 27, 1929 – November 15, 2022
Sister Eileen Marie passed away on November 15, 2022. She was 93 and in her 70th year as a School Sister of Notre Dame.
 
Sister Eileen Marie was born in Colgan, Ontario, the oldest of nine children. Her parents were Raymond and Eileen Marie (Young) Morrissey.  When she was seven her parents moved from the farm to Elora, where the children could attend a Catholic school. During the school days the children usually attended daily Mass. The family rosary was said during the months of May and October.
It was a sad day when her mother died, leaving a family of nine children. Eileen Marie was only 13 years old. She felt responsible to care for her eight younger siblings, so she quit school. Sister Joan Boyer, principal at the one-room school in Elora, tutored Eileen Marie to attain her entrance into high school. She took correspondence courses to receive her Grade 9.
When she felt she was no longer needed at home, Eileen Marie entered the School Sisters of Notre Dame, Waterdown in 1949 and completed her high school education at Notre Dame Academy. On July 30, 1951 she was received as Novice Raymond Marie.
Sister Eileen Marie was asked to study nursing, so she could take charge of the infirmary in the motherhouse. In 1956, Sister Eileen Marie graduated as a Registered Nurse from St. Joseph School of Nursing in Hamilton and completed the registration exam for the College of Nurses. From 1956 to 1971 she was head nurse in the infirmary at the convent in Waterdown.
In 1967, the four storey-villa wing was being built to provide accommodation for the increasing number of senior sisters. Sister Eileen Marie consulted with the architects to design suitable rooms for the infirmary on the third floor, as well as rooms for the Senior sisters on the second floor. A call system was also installed on third floor.
In 1971, Sister Eileen Marie had a change in ministry. She worked as a nurse at Sunbeam Home for special needs children in Kitchener until 1975. Continuing working with children, she took the Early Childhood Education course at Conestoga College, Kitchener and worked there as a teacher until 1988, when she was asked to return to Notre Dame Convent, Waterdown as head nurse in the infirmary.
In 1997 it was decided to remove the villa wing and renovate the original motherhouse as a home for senior Sisters. Again, Sister Eileen Marie was involved in the planning of the state-of-the-art health care unit. Eager to continue learning more about health care, she took several courses, including gerontology, palliative care, pain management and dementia care.
Sister Eileen Marie retired as administrator in 2004 but continued to assist on a part-time basis. She was totally dedicated to providing loving and compassionate care for each Sister in the health care unit. Her "no-nonsense persona" supported her concern for each one. Frequently, she took Sisters to medical appointments and accompanied them when going to Emergency.
On her retirement as director of nursing, her health care staff held a farewell party. To quote from their address to her, "We nurses love and respect you and admire and compliment the high standard of care at SSND. We commit to you that we will uphold the tradition of excellent care and maintain the atmosphere of love and respect". 
She was appointed to be on the leadership team for the community in 2010. During this time she continued to be on call if a nurse was needed.
Sister Eileen Marie was deeply religious. Her demanding schedule in health care did not deter her from participating in community prayer. In difficult situations she calmly trusted in God's help.
She is survived by her brothers, Raymond, Daniel, William, Frank and Neil and her sisters, Rosann Mallon and Mary Webster Her sister, Theresa Gear, predeceased her.
Mass of Christian Burial was celebrated by Rev. Pablito labado, Chaplain on November 19. Retired nurses were honored to serve as pallbearers for their former administrator.
Her funeral was attended by her brother, Neil and sister, Rosann, and many nieces and nephews and former colleagues.
May Sister Eileen Marie be welcomed by our Triune God.
Sister Joan Helm SSND