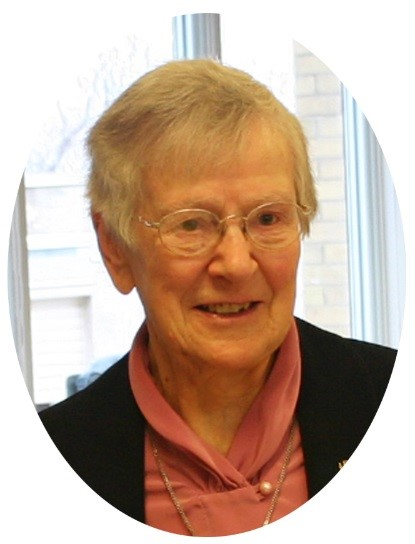 Sister Eileen Pautler, SSND (formerly Sister Mary Norbert)
June 22, 1924 – December 5, 2022
Sister Eileen was the seventh child in a family of eight. Her parents were William and Mary Anastasia (Hart) Pautler. She recalls her happy childhood, playing with neighbours; spending afternoons with her aunts, where she learned to knit and sew; and going to weekday Mass with her mother.
She attended St. Clements School, Preston for Grades 1- 9. She enjoyed school and was happy when the summer holidays were over so that she could be near the Sisters. Deep down in her heart she had the desire to be a Sister.
Her oldest sister, Sister Imelda, entered Notre Dame, and another sister, Sister Mary Rose, CSJ, became a nursing Sister. Eileen thought that two in the family was sufficient and dismissed the thought of being a religious.
However, her desire grew stronger. In September 1938, she began her formation as a junior candidate in the motherhouse in Waterdown. Junior candidates went home for the summer months. After she attended the reception ceremonies for her senior companions, her desire to be a religious was confirmed. She returned to the motherhouse in September 1939 and was delighted to receive the candidate's bonnet on the feast of Our Lady of Sorrows. In 1941 she was received as Novice Mary Norbert.
After graduation from Teachers' College in 1944, she taught at the following schools: St. Helen's, Hamilton; St. Patrick, Cambridge; Sacred Heart, Mildmay; and Sacred Heart, Walkerton. Beginning in 1954, Sister Eileen was assigned as principal at St. Mary, Owen Sound; Our Lady of Lourdes, Waterloo; St. Leo, Kitchener; and Sacred Heart, Mildmay.
She attained her B.A. degree in 1965 from McMaster University, Hamilton. During the summers she took courses offered by the Ontario Education Department related to her teaching.
After teaching at St. Brigid, Nakina for a year, she moved to Cloverdale, British Columbia in 1975, where she was principal of the private Catholic school until 1989. Always eager to advance her education, during these years she attended workshops on scripture, church history and catechetics.
From 1990 to 1997, she lived at Notre Dame Convent, Waterdown, where she was a member of the community leadership team. She then moved from the motherhouse and assisted in pastoral ministry at the following missions: Sioux Narrows, 1997- 2002; Peace River, Alberta, 2002-2005; and Fort St. John, British Columbia, 2005- 2012. She then returned to Notre Dame Convent.
Sister Eileen was an avid reader. She enjoyed knitting, especially baby sweaters. She eagerly took advantage of outings, particularly, those involving walking outdoors. Each day after her noon meal, Sister Eileen enjoyed a long walk outdoors with a companion Sister. On December 5, after her noon meal, God accompanied her for a walk into eternity.
Mass of Christian Burial was celebrated on December 10 by Rev. Pablito Labado, Chaplain, followed by interment at Gate of Heaven Cemetery, Burlington. Her siblings had predeceased her. Nieces and nephews attended her funeral.
Within a period of three weeks, she was the fifth member of the Waterdown community to pass away.
Sister Joan Helm SSND