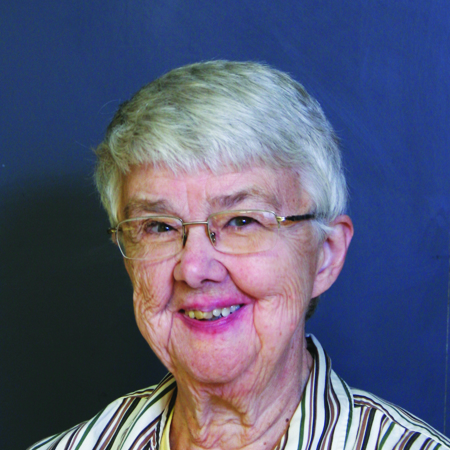 Sister Ellen Fitzsimmons, SSND
July 20, 1931 – August 6, 2023
Ellen Agnes Fitzsimmons was born in Boston, Massachusetts, on July 20, 1931, to John Fitzsimmons and Agnes Roach, both native Bostonians. At Our Lady of Perpetual Help, the Mission Church in Roxbury, she was Baptized a few days later, and named after her grandmother. The couple welcomed her sister, Mary Jo, eighteen months later. It was the beginning of a closeness that lasted a lifetime, although their mother described them as "different as chalk and cheese." Sadly, their father died when Ellen was in kindergarten, and their mother had to return to work at the Telephone Company.
Ellen remembered much later, "Fortunately, we lived in triple-decker house with family occupying each floor, so our aunt and grandmother cared for us until my mother came home from work. Both sides of our family were always a big part of our lives."
The sisters walked to and from OLPH Grammar School each day, and came home for lunch. There were always friends to play with, and they loved the local Parker Hill Library. Ellen later said that her grammar school sisters, all SSNDs, were wonderful." Sister Dosithea, directress at the Aspiranture, spoke to her eighth grade class, inspiring Ellen to want to go to the Juniorate and become an SSND. Her mother at first was reluctant, but consented, so Ellen went there for high school at Holy Angels Academy in Fort Lee, New Jersey. Summers always included a week or two at Nantasket Beach, a boat ride from Boston, enjoying the ocean with her family. (Many details of the above were shared by Ellen, when she was interviewed by Sister Connie Carrigan at Lourdes Health Care Center.)
On August 28, 1948, Ellen was in Baltimore, a Candidate, having received the bonnet in the convent chapel in Roxbury. During these two years, Ellen taught at three schools: half a school year each at St. Ann in Baltimore and St. Clement, Saratoga Springs, New York; and the entire second year at St. Leo, Irvington, New Jersey. She must already have been a good teacher.
Sister Mary John was the name conferred on her at Reception into the Novitiate, July 17, 1950. August 4, 1951 and 1957 were the dates of her first and final professions. She then spent 32 years as an elementary school teacher, plus 12 as a principal at these missions: St. Matthew, Baltimore; St. Mary, Meriden, Connecticut; South Ozone Park, New York; Our Lady of Fatima, Wilton, Connecticut; St. Leo, Irvington, New Jersey; Holy Family, Fairfield, Connecticut; and Immaculate Conception, Malden, Massachusetts, virtually a lifetime of service.  Ellen summed it up to Sister Connie with "I have been fortunate to live in many wonderful communities over the years."
Toward the close of her teaching ministry in Summer 1987, Ellen volunteered to experience the life of migrants who were working near Warwick, New York. Later, she shared this with Sister Connie, "The contrast between the beautiful, fertile farmlands, and the hard labor and poor dwellings of the migrant workers and their families really bothered me. It was a summer of learning and sharing."
On Sabbatical in 1995, Ellen spent time at the renewal program at Sangre de Christo, in Santa Fe, New Mexico, and at St. Stephen's Priory in Dover, Massachusetts.  Her desire to work with migrants was now fulfilled at Caroline House, a sponsored ministry founded by the Wilton Province in Bridgeport. Here she taught ESL for 13 years, "a ministry she loved."
At her wake service, Sister Maria Iannuccillo spoke of Ellen's life in her new community on the grounds of St. Joseph High School in Trumbull, Connecticut. "To get to Bridgeport each day Ellen took lessons with the driver ed teacher to renew a driver's license that she had not used in years. One first lesson which I gave her, she would not touch the accelerator, and so we coasted around a parking lot. As she made her way to Caroline House each day, Ellen once a week stopped to buy fruits and vegetables for the community. She never liked to drive; it was only so that she could serve at Caroline House with her beloved immigrant women, and share responsibility for community life. Service and Community—two hallmarks of Ellen."
Another, attested to by her spiritual director, Father Robert Uzzilio, was how punctual she was, always arriving on time. Maria said, "You could set your clock by her routine--7:00 prayer every morning, lighted by a candle; grocery shopping Thursday; cleaning Saturday morning. She commented, "The candle reminds me of Ellen, steady, faithful, and bright."
On September 28, 2019, Sister Ellen became a resident at Ozanam Hall in Bayside, New York, where she went home to God on the feast of the Transfguration, August 6, 2023. The cover of the worship aid for her wake service and liturgy of Christian Burial at St. Andrew Church in Bridgeport, on August 19, read, "Well done, good and faithful servant."  For Sister Ellen, everyone felt that these words were perfectly true.
Sister Maria Iannuccillo presided at the wake service, read parts of Sister Connie's interview, and gave her own memories. These followed a reading from Matthew by Theresa Lamy.  After a period of contemplative silence, Monsignor Robert Crofut and Father Robert Uzzilio concelebrated. Christine Keefe, a relative of Ellen,
Rebecca Tayag, Anne McCarthy and Jacci Glessner placed the pall on the casket. Ethel Howley explained the symbols placed by Madeline Hanson, Claire Bonneau, Michaela Durkin, and the Rose by her sister Mary Jo MacDonald. Maureen Fleming and Katharine Lawless were lectors, and Msgr. Crofut gave a fitting homily on John 14:1-5. Peg Regan read the prayers of the faithful; Anne McCarthy and Maureen Ulatowski served as communion ministers, during which the hymn was Panis Angelicus in Latin. Maria, John Vianney, Pat Hammond and Kathy Fullerton led the closing procession.
Many sisters were at the burial which followed immediately at St. Mary Cemetery, Bethel, Connecticut.
Sister Kay O'Connell