Sister Emmanuella Rainer, SSND
Oct. 27, 1926 – May 16, 2020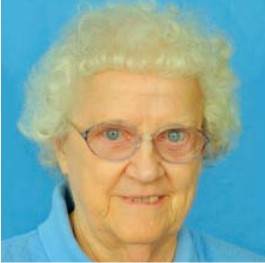 On the 27th day of October in the year 1926, there was rejoicing in the Baltimore home of a happily married couple, William and Marie Frank Rainer.  That day Marie and William were blessed with the birth of a daughter, Wilhelmina.  The child was named in honor of her father and godmother. The following Sunday was cold and rainy, but baby Wilhelmina was wrapped in warm clothes and carried to Sacred Heart Church to be baptized. 
The Rainer family was large, as it included five children from William's first marriage and Mary Rose, Wilhelmina and Thomas from the second.  The rule in the family was that there would be no distinction among the brothers and sisters.  Wilhelmina noted in her autobiography that she "lived the life of a normal child surrounded by loving parents who always shared my joys and sorrows."
In her autobiography, Wilhelmina also wrote that she began her schooling at Sacred Heart School with bitter tears as she did not want to leave her mother for a minute. As she became accustomed to the school environment, she loved it more and more.
On May 21, 1933, Wilhelmina had "the happy privilege of receiving Jesus as my own" in Holy Communion.  In June of that year, her brother, Eligius, was ordained a Redemptorist priest and celebrated his first Mass at Sacred Heart Church. Wilhelmina was confirmed in 1934 by Bishop John McNamara.  A year later, she traveled to Esopus, NY for the ordination of a second brother, Bernard, also a Redemptorist. In June, 1940, Wilhelmina graduated from Sacred Heart School.
The Institute of Notre Dame was Wilhelmina's choice for high school.  She "enjoyed immensely every moment spent within those hallowed walls." Though she had always wanted to become a nun, the years at IND with the SSNDs were a time when "the seed God had planted in my soul was nourished and grew," she said.  The death of Wilhelmina's father postponed her plan to enter SSND in August.  At the advice of her brother, she remained home and secured a position working for Equitable Trust Company.
On Sept. 2, 1945, Wilhelmina entered the candidature of the School Sisters of Notre Dame.  She chose SSND because her teachers "had shown a Christ-like spirit in dealing with her" and she wanted to be like them.  She attended the Teachers' Training School while a candidate and was received into the novitiate on July 16, 1947.  She was given the name, Sister Mary Emmanuella.  Sister professed her first vows on Aug. 3, 1948 at the motherhouse in Baltimore. 
As a newly professed sister, Sister Emmanuella was sent to St. Patrick's School, Glen Cove, Long Island, New York to teach the fifth grade.  After two years, she went to St. Patrick's School, Cumberland, Maryland for grades 6, then 7. Appointed superior at St. Paul's School, Ellicott City, Maryland, Sister also taught the 7 and 8th grades. Moving to her alma mater, the Institute of Notre Dame, Sister taught the seniors for almost 25 years.  In 1988, Sister Emmanuella went to St. Jane Frances, Riviera Beach, Maryland, as a pastoral minister and remained as a volunteer until 2001.  She volunteered at two additional parishes before coming to Villa Assumpta.
During her years at St. Jane Frances Parish, Sister Emmanuella showed deep compassion for the people she served.  She brought the women together and started a bereavement group in the parish.  Sister loved that group, kept in touch, and visited with the women.
Sister Emmanuella was very exacting and did everything well and properly.  Her students loved her, although she was strict with them.  Sharp and to the point, she always got her message across.
There seems a special irony in the fact that Sister Emmanuella, who was so devoted to the Institute of Notre Dame, came to the close of her life at almost the same time as IND was also coming to its close.
Sister Emmanuella died at Maria Health Care Center, on May 16 after a long illness.  She was buried privately on Wed., May 20 at Villa Maria Cemetery, Notch Cliff, Glen Arm Rd., Glen Arm. A Memorial Mass will be celebrated at a later date.  Sister Emmanuella is survived by nieces and a nephew.
Jeanne Hildenbrand SSND