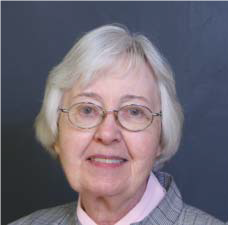 Sister Gail Marie Johnson
Birth: July 9, 1935
First Profession: July 11, 1956
Death: October 14, 2023
Burial: Holy Sepulchre Cemetery in Alsip, Illinois
Marilyn Joan Johnson was born on July 9, 1935, in Evergreen Park, Illinois, daughter of Pearl E. Smith and Roy R. Johnson, both of Chicago.
She received her education at Mount Vernon School in Chicago for two years, and then at St. Margaret of Scotland for 6 more years.   Following that, she studied at the Academy of our Lady in Chicago from 1949 to 1953.
Marilyn entered the School Sisters of Notre Dame at the Milwaukee Motherhouse on August 29, 1954, and was received as Sister Gail Marie on June 28, 1955.  She was professed on July 11, 1956, and took her final vows on July 10, 1962. She received her B.A. at Mount Mary in Milwaukee with a major in English and a minor in History.
Sister Gail Marie taught at Ss. Peter and Paul in Gary, Indiana; at St. Malachy in Horicon, Wisconsin; at St. Margaret of Scotland in Chicago; at St. Bernadette in Rockford, Illinois; and at Mother McAuley High School in Chicago.  Gail then served as secretary at the Generalate in Rome from 1972-1974.
From 1975 to 1977, she served at the 8th Day Center in Chicago, residing at Santa Maria/Santa Lucia convent, also in Chicago. From 1977 to 1988, Gail worked as secretary at Good Counsel Academy in Mankato, Minnesota.
In 1988, she returned to Chicago, where she worked in the Archdiocesan Office of Planning, Research and Evaluation as staff secretary.  
In 2000, Gail became administrative assistant to the Auxiliary Bishop of Chicago (for Vicariate II).  In 2009, she became Associate Archivist (part-time) ad Norridge, Illinois.  She moved to Marian Village in Homer Glen, Illinois. 
Gail moved to Maple Glen Memory Care in Glen Ellyn, IL in 2022. As her condition declined, Gail received on-site hospice care and died peacefully October 14, 2023. 
She is survived by her siblings, Mark (Leslie) Johnson and Gail Marie (Hector) Herrera, and many nieces and nephews.
The viewing and Mass of the Resurrection were held on October 26, 2023 at Our Lady of the Angels Chapel at Marian Village in Homer Glen.  Interment was at Holy Sepulchre Cemetery in Alsip, Illinois, and was live-streamed.
Charlaine Fill, SSND