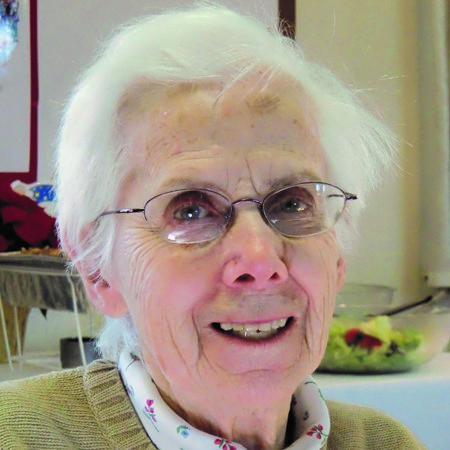 Sister Genevieve Marie Kelleher, SSND
December 13, 1923 – October 24, 2021
 
A resident of many places in Massachusetts, Mary Kelleher was born in Chelsea, and grew up in Revere, Medford, and Malden. Her father, Thomas Kelleher, was from Salem, and her mother, Grace Sullivan, from Lawrence. As a police officer, Thomas Kelleher was at one time Superintendent of a special unit called the Metropolitan District Commission. After they moved to Malden, Mary graduated from Immaculate Conception Grammar School, which had been staffed by SSNDs since 1881. Her high school was Girls Catholic, also a parish and SSND school.
Mary was an only child for ten years until her sister Anne was born; she wrote in her autobiography that she "thoroughly enjoyed being a second little mother." In 1945, she graduated from Emmanuel College in Boston with a Bachelor's degree in English and History. On the traditional feast of St. Augustine that year, she received the bonnet in the Malden convent chapel and took the train to Baltimore to begin her candidature on Aisquith Street. During this year of formation, she taught third grade at Notre Dame Preparatory School.
 
Later, Mary wrote, "I can see no starting point in my religious vocation. It was a steady growth rather than a sudden light. It grew and was nurtured during high school and college days (with the Sisters of Notre Dame de Namur) by the example of my teachers and by the excellent opportunities given me for spiritual advancement." Instructions and practical experience during her one-year Candidature helped her to appreciate the "wonderful gift given to me."
 
After first profession in 1947, Sister Genevieve Marie taught at St. John School in Frederick, Maryland for one year, before being missioned to The Academy of the Holy Angels in Fort Lee, New Jersey, an "Obedience" lasting 11 years. Three other high school assignments followed—at Our Lady of Monadnock Academy in Jaffrey and St. Thomas Aquinas in Dover, both in New Hampshire, and at Bishop Kearney in Rochester, New York. She also earned an M.A. in English from Seton Hall University.
From 1967 to 1993, Genevieve was again assigned to Holy Angels, as teacher and librarian, this time for 26 years. She returned to a new AHA; the Academy had been moved to Demarest, New Jersey from its original location in Fort Lee in 1965. While there, she studied in summers to earn an M.A. in Library Science from Simmons College in Boston in 1969.
Before and after a sabbatical year of personal renewal at the Blessing Place in Lacombe, Louisiana during 1995-1996, Genevieve served as assistant librarian at Epiphany School in Cliffside Park and St. John School, Bergenfield, both in New Jersey. She returned to the Holy Angels' Finance Office in 2000 and remained there until 2011, when she came to Villa Notre Dame in Wilton. During the later years, she enjoyed small community living in a house on the property.
Anonymous donors gifted Holy Angels with a million dollars to renovate the former convent in 2016, with the request that it be named the Sister Genevieve Marie Kelleher Hall in honor of her long service to the Academy. When Genevieve heard this surprising news, she said, "What a humbling honor!"
President Melinda Hanlon wrote in a press release, "Having lived at the convent that will now bear her name, Sister Genevieve inspired thousands of students and has been a constant and steady presence, spanning generations of students and alumnae."  The renovated Hall has fittingly become a vital hub of interdisciplinary instructional space, artistic expression, and sacred reflection and worship. It also became the home of the Academy's new middle school in September 2021.
Sister Genevieve had a sharp mind and enjoyed NPR, the Op Ed pages and crossword puzzles of the New York Times, Solitaire, reading and classical music. She was a quiet, private presence in community and a good friend. Failing eyesight, for which she eventually needed one-on-one help, brought Genevieve to Villa Notre Dame in 2011 and to Lourdes Health Care Center in 2016. Loving volunteers, like her dear friend Sister Mona O'Connell, "supported and helped me to come to terms with my inability to see."  The two could be seen every day in Emmaus Community Room, Mona reading the New York Times aloud. Genevieve wrote, "My loss of sight has opened me to other areas of myself and enabled me to see in other ways. I have somehow developed an inner vision to replace my lost physical vision."  
Genevieve moved to Ozanam Hall in Queens, New York, in September 2019 with the first group of sisters from Lourdes. She was called home to God in the early hours of SSND Foundation Day, October 24.  Sisters Charmaine Krohe and Celeste Reinhart from the Provincial Council had been with her the previous afternoon; Charmaine had renewed her vows with her.
Sister Genevieve's wake and funeral were celebrated at Our Lady of Fatima Church in Wilton on Friday, October 29.  The Liturgy of Christian Burial was presided over by Pastor Father Reginald Norman, who also gave the homily.
Genevieve's nieces, Sheila Sweeney and Maura Grimanis (with her husband Peter and son Andrew), were present with dear friends John and Kathy Spola and Mary Stuart. Melinda and Wayne Hanlon and Sister Mary Foley were present from Holy Angels. They joined the Watermark Community and Sisters Virginia Bobrowski and Joan Doyle from Boston.
Sister John Vianney Zullo prayed before the closing of the coffin.  Burial followed at St. Mary Cemetery in Bethel, Connecticut.
By Sister Kay O'Connell