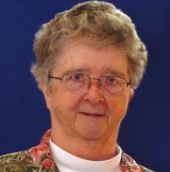 Sister Helen Mary Dolan, SSND
August 31, 1938 – April 6, 2021
The seventh and last child of Mary Bridget Hennessy and William Francis Dolan, Mary was born on a hot August 31st in Brooklyn, NY, into a family of four brothers and two sisters. Her father was in construction and her mother a homemaker; both were natives of Brooklyn. The family worshipped at St. Anselm Church, where Mary was baptized on September 11, 1938. Twice before the close of the year, she had to be brought back to Kings County Hospital with pneumonia.
 
September 1944 brought Mary to St. Anselm School, where she had Sister Marie Elena McCormack in the first grade and, in second grade, received First Communion.  When, a few years later, Bishop Molloy came for Confirmation, Mary saw her chance to get "the name her mother had always wanted her to have, Bridget."  New York State Regents exams clouded a week in June of eighth grade, but gave way, she said, to the joy of her graduation in 1952.  
 
The following September found Mary "among the freshmen unpacking for the first of four happy years at the Aspiranture in Fort Lee, NJ." Here, she felt, "her desire to serve God as a Sister was protected and encouraged." Remembering that she was the 7th child of a 7th child, and in Irish lore thought to be lucky, she felt this to be very true of herself when her brother, Father Thomas Dolan, gave her the Candidates' veil in St. Anselm's chapel on September 8, 1956. 
 
During a year at Villa Assumpta in the Teacher Training College, she enjoyed good health and an increasing desire for the holy habit of SSND. This was fulfilled on July 13, 1957, when she received the novice's white veil and the religious name Helen Mary. First profession followed on July 26, 1958, and final vows that same day in 1964.  
 
The College of Notre Dame of Maryland (now Notre Dame of Maryland University) awarded Helen Mary a B.A. in Elementary Education in 1968, and at Fairfield University she earned an M.A. in Counseling/Guidance in 1972.
 
Helen Mary's obediences brought her for five years to St. Peter School in Cambridge, Massachusetts, and then to St. Mary, Bethel, and St. Andrew, Bridgeport, both in Connecticut. Her service as elementary school Principal began in 1974 at Immaculate Conception, Secaucus, NJ, and then at St. Patrick, Glen Cove, NY. This parish school was reconfigured with three other Catholic Schools in the area to become All Saints Regional Catholic in 1990. Helen Mary was chosen Principal to guide the two locations of the new entity. 
 
She remained until 1995, when she was called to serve six years as Community Leader at Villa Notre Dame, formerly the Wilton Motherhouse. Further responsibilities included Helen taking charge of collecting the money that poured in during the annual Octoberfest, and serving as secretary-treasurer of the Sister Education Board from 1990. 
 
Of her leadership in community, Helen wrote in Weavings: 
 
                 Working with the Sisters was a privilege. I found the experience 
                 of assisting the ill, the sick, and the infirm a very rewarding, a
                 life-giving experience. I tried to find the little things a Sister
                 enjoyed, and would try to provide them for her. Sometimes the
                 best gift I could provide was to be present.
 
Helen's skills in leading, encouraging and comforting Sisters were enhanced by her enrollment in a Clinical Pastoral Education Program at Methodist Hospital in Brooklyn after she left VND in 2001. She followed this with a Residency Pastoral Care Program at Methodist for another year, before ministering as Director of Pastoral Care at Saints Joachim and Anne Resident Health Care Center in Brooklyn.  Helen's sister Alice was a resident there at that time. Her presence was comforting to both of them.    
 
Helen Mary returned to Villa Notre Dame in 2004 and was cared for at the Wellness Center. Helen's second priest brother, Joseph Dolan, left a generous bequest to Villa Notre Dame for use by the Sisters upon his death in 2012. Renovations on the Wellness floor of the shower and haircare rooms were much appreciated; their beauty and updated equipment became a joy to Helen and all who used them.
 
 In April 2021, she joined our Sisters at Ozanam Hall in Bayside, Queens, NY.  and died there on April 6 after some days in Presbyterian Hospital. Sister Janet Mary Shields of Baltimore, a class member, and dear friend, served as her health proxy. 
 
When her coffin was brought to the front door of Villa Notre Dame on April 12th for the community farewell, Sisters Charlaine Fill and Kate Whalen played "Westminster Chimes" on the bells that Father Joseph had also donated. Char brought the prayer to a close playing "Amazing Grace" on the recorder. Burial then took place in the community plot in Bethel, CT. A Memorial Mass will be celebrated in the future.
-  Sister Kay O'Connell