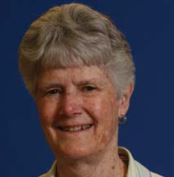 Fifty-nine years from the exact date of her first vows as an SSND in the VND chapel, and 54 since final profession, Sister Jean McLoughlin's funeral liturgy was celebrated there by a large congregation of beloved family, devoted friends and community members, colleagues, and spiritual directees. True to her whole life and way of being, its keynote was joy.
Jean was born in Brooklyn, NY, on August 11, 1938, the third child of Margaret Normile, a native of Chicago, and Edward McLoughlin of Brooklyn.
She noted in her autobiography that "both had attended Catholic schools through college." The family remained strong members of St. Saviour Parish, where Jean was baptized and the schools were taught by SSNDs. "In 1952, when I graduated from grammar school, I walked up one flight of stairs to the girls high school," she wrote.
Mrs. McLoughlin's identical twin sister, Katherine Mylod, also brought up her family two blocks away in St. Saviour's. The two households made one large loving unit.
Jean graduated from the College of Notre Dame of Maryland (now University) in 1960, and then entered the Candidature at Villa Assumpta in Baltimore. "I never considered any other Order, as my education, intellectual and spiritual, was received from the School Sisters of Notre Dame," she wrote. During that first year, Jean taught Beginning and Intermediate French to aspirants and candidates.  Later she earned an M.A. in French from Assumption College in Massachusetts.
At Reception, July 15, 1961, Jean received the religious name Marc Marie.
Her profession class of 1962 initiated formation at the newly built Wilton Motherhouse. When they arrived – 43 novices from Baltimore on the famous "bouncing bus" – in August 1961, they were greeted by Mother Paschal, and Sisters Emmanuel and Theodora in the back parking lot. Mother said that with their coming Wilton became a "real Motherhouse." Their final profession took place on July 27, 1967.  
For the first 14 years of her ministerial life, Sister Marc Marie taught French at St. Joseph High School in Trumbull, CT; Bishop Kearney in Rochester, NY; and Holy Angels Academy in Demarest, NJ. With Sisters Carole Shinnick and Joan Doyle, she began a search for small community living while at Kearney. Later the three made community at the home of Mrs. Lillian Goodman, mother of Sister Rita Goodman, in Leonia, NJ, while they taught at Holy Angels, where Rita was principal. This was a unique arrangement at the time but a true attempt to carry out the vision of Vatican II for religious women.
Jean spent the year 1976-77 at Loyola University in Chicago, preparing for her appointment to initial formation in the province. She served first as postulant director while living at Madonna Convent in Fort Lee, NJ. Then, at two separate times and as circumstances required, she directed novices at the Baltimore-Chicago-Wilton common novitiate in Hinsdale, Illinois, and remained in this role when it later moved to Ossining, NY. By 1982, a fully Interprovincial novitiate was established by the North American Provincials at Notre Dame Hall on the campus of St. Louis University. With two other directors, Jean pioneered this new and final arrangement until her term ended in 1985.
Jean showed remarkable adaptability by going to teach at two high schools in two separate years when there were no canonical novices: St. Saviour in Brooklyn, and Girls Catholic in Malden, MA.  With her love for life and spirit of joy wherever she was called, Jean bonded as fruitfully with colleagues and high school girls as she had with novices. 
Seven years as Director of Campus Ministry at the College of Notre Dame of Maryland (now University) followed for Jean. "It's a ministry on the move, managed by walking around," she said. "It's important to respond to students when you meet them. Sometimes an exchange on an elevator can be very significant." In 1989 Jean received the Distinguished Staff Award from President Kathleen Feeley, SSND, amid a spirited standing ovation from students and faculty. A student said, "She relates in a positive, caring and supportive manner to every peer group on campus. She exemplifies the Notre Dame Spirit." In 1990, Jean earned her M.A. in Pastoral Studies from Loyola University in Chicago and a Certificate from the Institute of Spiritual Leadership, also in Chicago.
In 1993, Jean was elected to the Council of the Wilton Province. In this role, she was happy "to have the chance to get to know many Sisters of the province better, and to continue in a new way to be part of an international congregation
that challenges us to witness to unity in a divided world." Thanking Sisters "for the graced times and insightful learnings" in 1997, she wrote in the Wilton Current asking Sisters to understand that she "did not sense a call to serve as councilor for another four years."
In the roles of Pastoral Ministry and Spiritual Director, Jean enriched St. Joseph Parish in South Norwalk, CT, until 2003. "Offering a Spirituality for Busy People," some of the group sessions that she also gave at other parishes were titled The Winter Word of God, Faith Commitment in the Marketplace, and Finding God in the Fast Lane of Life. For 22 years, until her death, Jean had also been offering spiritual direction to students and staff at Fairfield University.
When the Wilton Province ventured into a new sponsored ministry in 2003, Sisters Cathy Feeney, Janice Algie, and Jean organized and opened the SSND Educational Center. The province rented a former convent in South Ozone Park, NY, in St. Clement Pope Parish, to offer underserved women free education toward obtaining a GED diploma. The Sisters had settled on meeting this particular need, rather than other pressing ones, through widespread local consultation.  Jean also took on the role of pastoral minister in the parish. When the Center later moved to Woodhaven, NY, Jean remained a community member and part-time staff, offering daily inspiration to the women students.
Jean, who had been treated for lymphoma for many years, was cared for and supported this summer as her condition grew more serious by her community at the Center: Sisters Cathy Feeney, Pat Ferrick, Bernadette Alfieri and Beatriz Martinez-Garcia. She died at Jamaica Hospital on July 22 before family and friends were able to get there. Her vigil service on July 26 at Villa Notre Dame was a paeon of love from her very close sister, Peggy Hardiman, brothers Edward and Peter, Mylod cousins, friends and SSNDs. Peter, on guitar, played and sang movingly a song he composed, "Blest is the Moment." Her lifelong friend, Sister Carole Shinnick, presided with a grace-filled, light touch that Jean would have liked.
At her Liturgy of Christian Burial the following morning, Father Gerry Blaszczak, SJ, Assistant to the President of Fairfield University, presided. He was accompanied by Father Keith A. Maczkiewicz, SJ, Director of Campus Ministry at Fairfield. Father Frank Tumino, former Pastor of St. Thomas the Apostle Parish in Woodhaven, NY, was the homilist. Father William McLaughlin, present Pastor at St. Thomas, concelebrated. The Woodhaven community had prepared the liturgy. Burial followed immediately at St. Mary Cemetery, Bethel, CT.
 
-         Sister Kay O'Connell, with Sisters Cathy Feeney and Carole Shinnick