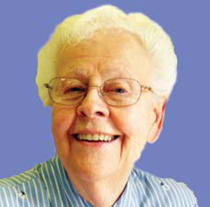 Sister Jenny VandenBergh, SSND
December 12, 1928 – July 20, 2020
Jenny, the third of four children, was born in Evanston, Illinois, daughter of Victoria Reynier and Louis VandenBergh. Jenny wrote, "Although my father was a baptized Catholic, in his heart he was an atheist. Therefore, after the children were born he would not allow us to receive any sacrament except baptism." Her father died when Jenny was five years old.
A year later, Jenny's mother married August VandePutte at St. John Berchman Church in Chicago, after which the family moved to St. Alphonsus Parish. Her stepfather had two adult daughters from a previous marriage. Jenny's mother had been 42 when Jenny was born.
All four of the young children were enrolled at Hawthorn Grammar School, and then at Lake View High School. They attended religious instruction classes given by the SSNDs at St. Alphonsus every Sunday. Sister Rose Neumann was the SSND who most influenced Jenny during those years.
In her junior year of high school, Jenny decided on her vocation, even though she had little contact with SSND outside of religion classes, and she expected a negative reaction from her mother. After high school, she worked for a year at a bus company, doing general office work. Then, at 18, on August 31, 1947, she entered the candidature of the School Sister of Notre Dame in Milwaukee and was sent to teach second grade at Holy Angels, Gary, Indiana, as a postulant.
Jenny was received into the novitiate on July 10, 1949, taking the name Sister Mary August in honor of her stepfather. She was professed on July 21, 1950.
Sister August (later again Jenny) spent forty years in ministry in elementary education. She taught in many grades and various situations at St. Peter, Beaver Dam, Wisconsin; St. Nicholas, Milwaukee; St. Benedict, Blue Island, Illinois; Santa Lucia, Chicago, Illinois; St. Paul, Chicago; Blessed Sacrament, Morton, Illinois; St. Margaret of Scotland, Chicago; St. Constance, Chicago; St. Francis Borgia; Chicago; and St. Alphonsus Ligouri, Prospect Heights, Illinois. For thirteen of those forty years, she was also principal in various schools.
Jenny had a sabbatical at St. Mary of the Pines in Chatawa, Mississippi in 1980-1981.
In 1989, Jenny changed her ministry to work as regional office manager and then coordinator of the business office for Catholic Charities in Rolling Meadows, Illinois, for ten years. Newspaper articles from 1989 and 1995 attest to Jenny's commitments to St. Alphonsus Liguori School, during her time as principal, in which she did much to upgrade the educational program, involving teachers and students in planning. They also spoke of her dedication to the plight of the homeless during her years at Catholic Charities.
In 1997, at 70 years of age, Jenny said she needed to "get out of the daily grind."  She offered to visit our Sisters at Resurrection Life Center in Chicago, as pastoral care minister, a role which she enjoyed for seven years. She retired to Marian Village in Homer Glen, Illinois, in January of 2006.
On her record sheet, though, she wrote "Volunteer at Linden Place. What kind of nonsense is this?" in regard to the description of her retirement. That comment reflects Jenny's energetic, sometimes feisty attitude and demeanor. One of her pleasures at Marian Village was shopping (especially getting a good bargain), and also participating in organized fashion shows at MV.
Jenny died on July 20, 2020, at Silver Cross Hospital in New Lenox, Illinois, after a very brief illness.  Due to restrictions on gatherings during the coronavirus pandemic, a Memorial Mass will be scheduled at a later date.