Sister Joan Dineen, SSND
October 17, 1930 – September 18, 2020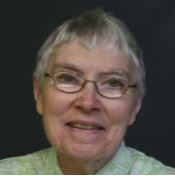 William J. Dineen, an injured New York City policeman and a Catholic, was in Bellevue Hospital when he met Ressa Stout, a Protestant student nurse from Sand Fork, West Virginia. They married at Christmastime, 1929, and their only child was born the following October 17, 1930, and baptized Mary Joan at St. Teresa Church in Woodside, Queens, NY.
She attended public school in Manhattan until fifth grade, receiving First Communion at St. Stephen Church on 28th Street. During these years she traveled with her Mother to her home in Sand Fork, to an aunt's farm near Cumberland, Ohio, and to California.
 
Mrs. Dineen had heard of the Academy of the Holy Angels in New Jersey and decided to investigate it. She was struck by "the courtesy of the Sisters and the beauty of the campus," and on a visit to Camp Sunset in Newport, NY, where Joan was spending the summer, she told her that she would begin sixth grade as a boarder at Holy Angels. Joan wrote in her autobiography, "I liked the school at once," and remained there to graduate from the high school in 1948.
 
"The sudden influx of religion impressed me, and in the 7th grade I was planning to write to the Carmelites for admission to the Order," Joan wrote.  "My mother died on January 25, 1944, and my father came to Holy Angels to take me home." Joan lived with his married sister until she returned to AHA at the end of the 8th grade, but a year later boarding at the school was discontinued, and Joan commuted daily from the Bronx to New Jersey.
She was living with her father when she received his permission to enter the School Sisters of Notre Dame after graduation on June 10, 1948. She told Sister Ignatius of her intentions and on August 28 received the Candidates' bonnet at the Academy. During the two-year Candidature in Baltimore, "I worked through the freshman and sophomore years of college at the College of Notre Dame of Maryland (now Notre Dame of Maryland Universrity)." Her major was Latin and her minor English. Later she earned an M.A. in Latin and Greek from the Catholic University of America, and another M.A. in English from Fordham University in New York.
 
At Reception on July 17, 1950, Joan received the name, Mary Annuntia; she made first Profession on August 4, 1951, and final vows six years later on the same date in 1957. Her first mission was to St. Ambrose School in Baltimore as 7th grade teacher for three years, 1951-1954. At Girls Catholic High School in Malden, Massachusetts, she spent the next two years teaching Latin and English to the 9th grade.
Then began her 23 years, 1957 to 1980, in Puerto Rico at two missions, Notre Dame High School, Caguas, and the Academy of Perpetual Help in Miramar. She was a superb English and Latin teacher. A story persists that the principal in Miramar asked for her after she had been in Caguas only two years, because the Academy was undergoing evaluation and she would be such an asset to the faculty.
Joan returned to the States in 1980 to teach, first again in Malden, and then at the College of Notre Dame of Maryland from 1985 to 1990. She began studies for her doctorate at the University of Maryland. This was followed by care for her stepmother, Stephanie Dineen, at the family home for two years, after which she went back to teaching at the College (now University). Joan again became a secondary teacher, this time in Brooklyn, NY, at St. Saviour High School until 2006, and then as a volunteer teacher there until 2014, when she came to Villa Notre Dame in Wilton, Connecticut. In community, Joan was a kind and gentle presence, faithful to prayer.
Joan's former students were informed of her illness and death, and have been engaged in praying for her, remembering her fondly and admiringly as a cherished influence in their lives, and expressing sorrow that they can no longer be in touch with her. The notice sent out from St. Saviour recalled fondly that "she always maintained that Shakespeare was her closest friend, was a devoted fan of the Harry Potter books, and is remembered for her subtle wit, boundless generosity, and unflagging dedication to countless classes of sophomores, juniors, and seniors to whom she taught honors and AP courses."
Over 150 "Perpetuo" graduates, men and women, sent messages of appreciation and condolence to the alumni Facebook page posted by Arlyn Garcia-Perez. Laura Schneck Azizo '80, a friend who had made Joan a part of her family, made these pages available for this writing. They had been preceded by letters written by some when they heard of her illness, and which Joan had been able to enjoy.
One of these letters can serve to summarize all the heartfelt memories expressed after decades. It was written by Ana Maria Torres, '76:
I think about you often and remember you with much gratitude. When I tell others about the wonderful education I received at Academia Perpetuo Socorro, I always mention that you were the best teacher I ever had (and this takes into account my years at Tulsa University!)
The critical thinking skills you taught and the love of literature you instilled have been a blessing throughout my life.  Because of you, I majored in English, though this was not the pathway to a lucrative career (hah!), I do not regret it one bit!
Sister Joan died peacefully at Ozanam Hall on September 18. Her funeral Liturgy presided over by Chaplain Tom Elliott, CSC, was celebrated with the community at Villa Notre Dame on the 22nd.  Sisters Charmaine Fill and Cantor John Vianney Zullo provided music. Burial followed at St. Mary's Cemetery, Bethel, Connecticut.