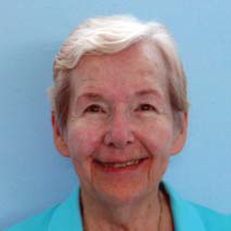 Sister Joan Marie Curtin, SSND
October 12, 1929 – September 3, 2022
Nora Johanna Curtin was born in Chicago, Illinois, the fourth child in a family of ten, to Cornelius Curtin and Susan Murphy Curtin, on October 12, 1929.  Her ancestry was Irish – her father was born in Chicago, and her mother in County Clare, Ireland. She was baptized at St. Margaret of Scotland Church in Chicago. She attended school in the same parish, and it was "such a thrilling adventure" that she couldn't understand why her little friend Joan "spent her first days in lonesome tears."
A favorite pastime at home was "playing teacher or 'Sister.'" When her would-be pupils were not available, she retreated to the attic and lined up stuffed shopping bags for her class. On other occasions, according to her younger sister Susan Curtin, she would help their mother by gathering up all the younger ones and taking them out of the house.  Their mother's admonition was "don't go off the block," but Susan's gleeful memory is that Nora often took them off the block.  Their mother never knew, and nothing bad ever happened.
Sister Susan (then Beatrice), one of the younger children, remembers these adventures and shares the stories with glee.
Nora attended the Academy of Our Lady High School (Chicago). To help pay expenses, she became a part-time salesgirl and babysitter.
In 1943, her oldest brother entered the Jesuit Novitiate. Two years later, her oldest sister Mary (later Sister Margaret Ann) entered SSND at the Milwaukee Motherhouse. "We found her radiantly happy and bubbling over with enthusiasm" on the occasions that they visited her, and the following year, Nora also entered the Candidature there.
Nora's second year of Candidature was spent at St. Alphonsus, Chicago.  She returned there, now as Sister Joan Marie, for five years, and was always grateful "for the help and direction" received from the Sisters there.
In 1957, she was missioned to St. Bernadette, Rockford, Illinois, a new house of the congregation.  For the next 20 years, she taught and later served as principal at several other schools in Illinois.  In 1960, she earned a B.A. in English and Sociology at Mount Mary College in Milwaukee, and in 1970, an M.A. in theology from St. Xavier College in Chicago.
In 1978, after becoming deaf herself, she began many years of service to the deaf community.  As she wrote, "A seemingly impossible dream began….when I lost my hearing and was unable to understand speech even with amplification. I dreamed of one day resuming the teaching career that…had stimulated and challenged me." She began serious study of sign language and lip reading. After a part-time internship, she began teaching high school English to the deaf.  Eventually, as the students transitioned to written language (from Sign), her reward was complete when the students read and re-read their own essays posted on the bulletin board.  As her sister, Sister Susan Curtin, recalls, in spite of her handicaps Joan was always "a ray of sunshine." 
Sister Joan Marie pursued various ministries over the years, and finally retired, first to a private home in Chicago and then to Marian Village in Homer Glen.  Eventually she was transferred to Maple Glen Memory Care in Glen Ellyn, Illinois, where she died on September 3, 2022.
Joan was cremated, and the service for the cremains was held on September 15 at Holy Sepulchre Cemetery in Alsip, Illinois. At the memorial service, there were many comments about the bright smile that ften lit up her fac, and lit up every room she was in.
The Memorial Mass is scheduled for October 1 at Our Lady of the Angels Chape, at Marian Village in Homer Glen, Illinois.
Sister Charlaine Fill (a grateful Sign student of Joan's)