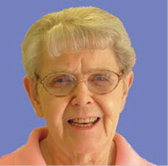 Sister Joan McGovern (Marie Patrice)
October 2, 1931 – October 3, 2021
Joan Therese McGovern was born to Edward Joseph McGovern of Chicago, a fireman, and Margaret Mary Cummings of Tama, Iowa, a homemaker, on October 2, 1931.  She was their second child, and had one brother, James Edward, and one sister, Margaret Ann (Papie).
Joan was baptized at St. Columbanus Church in Chicago.  As she recounted in her autobiography, "In my preschool days I was rarely taken to Church.  Reason: I insisted on sitting on the kneelers and trying to remove all the women's shoes."
Joan entered first grade at St. Columbanus, under the direction of the Adrian Dominican Sisters.  However, the family was soon able to buy their own home, and she continued her grade school education at St. Dorothy School, from which she graduated in 1945.  Joan received her first holy communion in 1939 and was confirmed in 1944.
As she wrote: "After much deliberation I entered into the hallowed halls of the Academy of Our Lady in 1945."  Her first thoughts of convent life came when she was a sophomore, but it was at Christmas time of her senior year that she first spoke about entering the convent.
Joan entered the candidature on September 4, 1949, receiving the bonnet on September 11.  After one year, she was sent to teach third grade at St. Joseph's School in Appleton, Wisconsin. 
On July 17, 1951, Joan entered the novitiate in the Milwaukee Motherhouse, receiving the name Sister Marie Patrice.  In the following years, she taught various elementary grades at St. Stephen, Milwaukee, Wisconsin; Our Lady of Lourdes, Marinette; Wisconsin; St. Henry, Rosebush, Michigan; St. Patrick, Menasha; and St. Elizabeth, Milwaukee.
In 1961, Joan received her B.A. at Mount Mary College in Milwaukee, including a major in history, and minors in Sociology and English. 
When the DeKalb (later Chicago) province began in 1965, Sister Joan was sent to teach eighth grade at St. Bernadette School in Rockford, Illinois.  After two years, she was assigned as librarian at the Academy of Our Lady, Chicago.  This began a long service as librarian, including receiving an M.A. in Library Science from Rosary College in River Forrest, Illinois.  Her library service included Mother McAuley High School, Chicago;  St. Benedict, Blue Island; Trinity High School in River Forest; St. Paul School in Chicago; Schwab Rehab Center in Chicago; the Jesuit-Krauss-McCormick Library in Chicago, and Our Lady of the Resurrection Medical Center in Chicago.   She also served for one year as administrator at St. Benedict, Chicago, a retirement community of SSNDs. 
In Joan's files are several commendations from the people she worked for in various locations. She was a well-prepared, careful and much appreciated person in all the places she served.
Joan then gave service as receptionist at the Chicago SSND Provincial House in Berwyn, Illinois. Later, she retired at St. Pius X convent in Stickney, Illinois, and in 2006 was assigned to prayer and presence in full time retirement at Marian Village in Homer Glen, Illinois.
At Marian Village, Sister Marlene noticed that Joan had an old, wooden rocker in her bedroom that was really unstable.  Eventually the community got her a replacement. Marlene asked Joan why she liked rockers so much. Joan shared the memory of her father rocking her in such a chair. Joan became very animated with the comparison that God must hold her in a similar way. There was great delight in Joan's eyes as she closely held Brandi, Marlene's dog.
Joan suffered for many years from brittle diabetes. Several times in her last year she was hospitalized with this condition. In the end, it was her decision, clearly and firmly made, that she would not be sent out to the hospital the next time her blood sugar was way too high. The Sisters and staff honored her decision; it was her wish to die at Marian Village, in her own bed, and God also honored that decision. In that final stage, she died quickly; there was not a prolonged process of actively dying.
She had celebrated her 90th birthday the previous day, with her niece and MANY birthday wishes from those at Marian Village. Her niece festooned her room with balloons. She died on October 3, 2021.
The funeral was held in the Marian Village chapel on October 12. Burial followed at Holy Sepulchre Cemetery in Alsip, Illinois. She had specified that her prayer card should include the quote from ­You Are Sent, the SSND constitution:
"SENT TO PROCLAIM GOD'S LOVE THROUGH MY LIFE."
 
The following is a prayer written by Sister Joan, which she wished to have included in her funeral service:
MAGNIFICAT
By Chaplain Joan McGovern, 1983
The Father believes in my possibility
trusts me
whispers my name
an offer
a seed
a mystery.
I struggle.
I let go.
I surrender.
 
And into the fragile vessel that I am, blessings come running,
warmth       pain
strength     suffering           
gentleness   weakness.
Every grace I need.
 
I tremble in the face of such graciousness and reverence for me.
Now do I sing
dance
play
work.   
And reveal to everyone the wondrous works of your hands.
And marvel at your goodness forever.
Amen.
By Sister Charlaine Fill, SSND