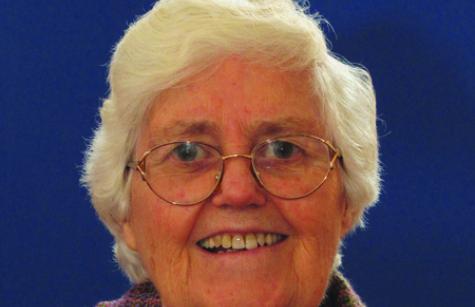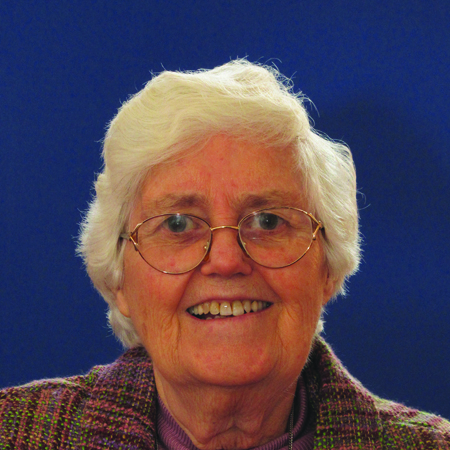 In her autobiography, written on entering the novitiate in 1957, Julia Mary Van Rossem wrote, "I began my 'night life' early since I entered the world at 1:01 am on September 14, 1934. My mother was pleased that I was born on the feast of the Exaltation of the Holy Cross." On August 10, 2019, sometime after 1 am, Julia Mary slipped away into eternity very unexpectedly at Lourdes Health Care Center. Her beloved sister, Sister Margaret, had died there the previous June 4.
She was baptized Margaret, the name her sister Agnes received at her Reception into SSND years later. Margaret was the third daughter and the last of seven children of Henry Nicholas Van Rossem, a convert from the Bronx, and Mary Catherine Keogan, a Catholic from Greenpoint, New York. Margaret never knew her oldest sister, Mary, who died when she was four. The four boys and three girls were baptized at St. Clement Church, and six later attended the school that was taught by Dominican Sisters.
Bishop Kearney confirmed Margaret at St. Clement's in 1947; she graduated from the eighth grade in June 1948 and went to John Adams High School where she met "edifying companions and kind friends" that she later felt nourished the seed of her vocation. After graduation from high school, this continued for the next four years, as she was employed at an insurance company and a bank in Manhattan as stenographer and secretary. Her father died of a second heart attack on July 8, 1951.
The pastor of St. Anthony of Padua Parish in South Ozone Park, Father Fusco, was building a school at that time, and had asked for SSNDs who had been his own teachers. Mother Myles first told him that none were available, but later said to his constant pleas, "You get me some candidates and I'll reconsider."
He made a house-blessing call to the Van Rossem home in 1951, and asked Mrs. Van Rossem if her daughters would like to enter the convent. She said she didn't know but would ask them when they got home from work. The next Saturday morning the two visited Father Fusco; Agnes said, "Yes'" and Margaret gave an emphatic, "No."  Father Fusco had his candidate, and Sisters arrived at St. Anthony School on August 28, 1952, the exact date Agnes was receiving the bonnet. She was professed in 1955 as Sister Margaret Mary, causing endless confusion in the family between the two Margarets.
The younger of the two continued to work in Manhattan at a Trust company, but visited the sisters at St. Anthony convent from time to time. Once, when she said she and a friend were thinking of taking cooking lessons, a Sister replied, "Good, you'll need that when you enter the convent."
"That opened conversations, and soon I was planning to enter SSND," Sister said in her autobiography. "My mother, now 62, was pleased that I would be settled in life," she wrote. Six days before her 22nd birthday, she became a candidate on September 8, 1956, and traveled to Villa Assumpta in Baltimore. This class was the second to enter at the new Baltimore Motherhouse on North Charles Street. Toward the end of their first year, they were startled to hear that a new Northeastern Province was being formed and would be located in Wilton, Connecticut.
The class remained together for novitiate at Villa Assumpta, for first profession on July 26, 1958, and renewal of vows at Holy Angels Academy in 1961. Final profession separated them to their respective Motherhouses in Baltimore or Wilton in 1964. Sister Julia Mary spent the first 12 years of her professed life at St. Teresa School in Trumbull, Connecticut, teaching grades five, six, and eight. A classmate who was missioned there with her remembers that she was "a good woman; so comfortable to live with; you could count on her and her word, and her kids were well taught and knew how to behave. We watched each other's classrooms and helped each other on yard duty, and cooked together."
After summer study for her B.A. at the College of Notre Dame in Baltimore during these years, Julia usually visited her sister at St. Mary, Annapolis, Maryland, where Sister Margaret taught grade one for 15 years. Julia later earned a Master's in Administration and Supervision from Fairfield University. In 1970, Julia Mary was asked to be principal at St. Mary School, East Islip, Long Island. She described these years as a "mixed experience. Times were changing with sisters leaving [religious life]....Shared authority was becoming a lived experience. You Are Sent was becoming a part of us; Response Weekends became a good memory," she later wrote.
In 1976 Julia Mary received an obedience as principal at St. Anthony School, in South Ozone Park, where her 80-year-old mother still lived. When the kindergarten teacher resigned, Julia requested that her sister Margaret be sent there. The two looked out for their mother in a changing neighborhood until she was given permission to live in the convent. She suffered a major stroke and died two years later. Parishioners helped to care for her when the sisters were in school.
Later Julia wrote, "Margaret and I were separated for 24 years, 1952 to 1976, and then lived together for 26 years, 1976 to 2002, at St. Anthony's. Lacking costly repairs, the convent at St. Anthony's gradually became unlivable." Their brother, a former Navy Lieutenant, visited and advised, "Abandon ship." They moved to St. Rita's Convent in Brooklyn and left the school. In 2003, they  went to Villa Notre Dame together, where they immediately entered into community life and made themselves useful.
Julia Mary was asked to become local leader at Lourdes Health Care Center in 2003 and served four years in this position, and then another two years as a volunteer from 2007 to 2009. The qualities she had shown as a principal continued to characterize her. Several classmates described her well in all her goodness and all her ministries:
            "When she was principal at St. Anthony's and I visited she delighted
            in sharing her enthusiasms for what they were doing in the school.
            She brought a lot of commitment to her leadership role in the
            school, which was in one of the poorer areas of the city. She had
            a special interest in children who found learning difficult."
            "Joan Jungerman, our classmate, used to say, 'People are starving
            to see the face of God, show them  yours.' Julia Mary's face of
            God that she shared with all of us was that of joy, simplicity
            and contentment. She never made herself the focus of attention
            and always saw the brighter side of life."
            "She and Margaret were very devoted to each other. In adjoining rooms
            in the Wellness Center at VND they could be heard saying the Rosary
            out loud together every afternoon, remembering staff members
            and others by name. They had tea and cookies together every night at 8."
Sister John Vianney Zullo presided over the vigil service at VND on August 13. Nephews and nieces were present, and two spoke of their aunt fondly. The Liturgy of Christian Burial on the following morning was presided over by Father Tom Elliott, VND Chaplain. Burial followed at St. Mary Cemetery, Bethel, Connecticut.
- By Sister Kay O'Connell, SSND