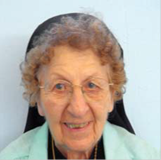 Sister Julita Jelen
April 27, 1916 – April 18, 2019
Stella Jelen was born in Chicago on April 27, 1916, the oldest of six children of Thomas Jelen and Julia Handzel, both Polish immigrants. She had three brothers and two sisters. She attended St. John Cantius School, where she learned to love her SSND teachers, and knew from an early age that she wanted to be a teacher.
When Stella was in the fifth grade, her grandmother chose her to be her companion to the reception ceremonies of her aunt, Sister Raphael Handzel. After that experience, she was convinced that she, too, wanted to be a School Sister of Notre Dame.
After graduation from St. Stanislaus Commercial High school, Stella entered the candidature in Milwaukee. She was received into the novitiate there on August 1, 1934, receiving the name Sister Julita. She was professed on August 2, 1935, and was assigned to St. Gabriel School in Prairie du Chien, Wisconsin. She taught first grade students for thirty-one years, including St. Gabriel; St. Theresa Chinese Mission in Chicago, Illinois; St. Mary, Burlington, Wisconsin; Sacred Heart, Grand Rapids, Michigan; St. John Nepomuc, Milwaukee, Wisconsin; Christ the King, Wauwatosa, Wisconsin; and St. Malachy, Horicon, Wisconsin.
Recalling her experience at the Chinese mission (1942), Julita said that the Sisters' experiences in Chinatown were difficult but worthwhile. The commute from St. Paul's, on the streetcar, was unpleasant at best, and the area was poor and unattractive.  She "always tried to get on the right side of the bus, because there was a patch of grass in front of a building half-way along—my treat for the day." Attentive to cultural difference, Sister Julita was pleased by the respectful and quiet adults. "I loved their serenity and their peace," she recalled. The downside of the situation included the tourists who often arrived by the busload, unannounced, and expecting to visit the Sisters' classrooms on a moment's notice.
In 1960, Sister Julita and two companions opened a new school, St. Bruno, in Dousman, Wisconsin, where she served as both principal and teacher.  This ministry was followed by assignments as teacher at St. Alphonsus and St. Anthony in Chicago, and St. Benedict in Blue Island, Illinois.
In 1975, Sister Julita became principal at St. Michael School, Chicago, which had been founded by Mother Caroline in 1862. Julita was the last principal there when the school closed in 1981.
In June of 1981, Sister Julita went to St. Columba School in Chicago (Hegewisch), where she was principal for ten years.  Semi-retired, she remained at St. Columba, ministering to the homebound and elderly, and volunteering as librarian and tutor in the school.  She was also very influential, with Sister Mary Margaret Murphy, in promoting the Associate program in the area.
Always very devoted to small children, Julita authored two publications for them, The Poor Little Rich Man and The Little Flower of Jesus.
A quote from Sister Julita in The Chicago Catholic newspaper in 1983:  "I really think that every person is gifted.  Sometimes I think all the children need is a little caring and comforting.  I say to them, 'You are special.  You have so many gifts,' and they open up like flowers."
In December of 2015, Sister Julita moved to Resurrection Life Center in Chicago.  She died there on April 18, 2019, just short of her 103rd birthday, surrounded by several SSNDs, the chaplain at Resurrection Life Center and the hospice nurse.
Visitation was held on Friday, April 26, at Resurrection Life Center, and later at Mater Christ Church in North Riverside, Illinois, where the Mass of Christian Burial was celebrated that evening. The theme of the liturgy was "It is with the LITTLE ONES that I find my JOY."
Interment was on April 27 at Holy Sepulchre Cemetery in Alsip, Illinois.  

-    By S. Charlaine Fill, SSND