Kathleen Groves, SSND
Aug. 11, 1938 – Sept. 28, 2020
"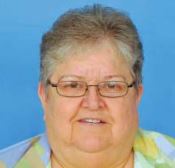 A new addition to the Groves' Clan arrived at 1327 Eyre Street, Philadelphia, Pa. on Aug 11, 1938."  Benjamin Franklin and Anne Marie Gearon Groves were "very pleased" to have a new addition to their family of four.  Kathleen Veronica was a healthy child and welcomed a baby sister to complete the family a few years later. 
Kathleen began her education at Holy Name of Jesus School, where she was taught by the Immaculate Heart Sisters.  Early in her grammar school years, Kathleen had "a big day in her life."  She made her first Holy Communion "receiving Our Lord for the first time."  A year later, 1947, she was confirmed by Rev. Hugh L. Lamb, Auxiliary Bishop of Philadelphia. 
Upon receiving her diploma from grammar school, Kathleen continued her education at St. Boniface Business School taught by the School Sisters of Notre Dame.  Later that year, Kathleen "felt that God was calling her to the religious state."  Due to her young age., Kathleen's parents insisted that she finish business school before entering.  After graduation, Kathleen worked in an insurance office until, with parental consent, she entered the Notre Dame Aspiranture in Fort Lee, N.J. There Kathleen completed high school and graduated in June, 1957.
On Sept. 7, 1957 Kathleen received the candidate's veil at St. Boniface Church, Philadelphia and "from there set out on the journey to the School Sisters of Notre Dame."  Kathleen was received into the novitiate on July 12, 1958 and professed her first vows on July 25, 1959.  Kathleen was given the religious name, Sister Mary Clairann.
As a young Sister, Kathleen taught elementary and junior high classes at schools in Maryland and Washington, DC before teaching and directing recreation at St. Vincent Orphanage, Tacony in Philadelphia.  She was a teacher, then principal at schools in Washington DC, Greenville NC and Philadelphia. After a sabbatical, Kathleen engaged in community service and was the receptionist at Brighton Gardens Retirement Community.  She retired to prayer and presence in 2006.  
Kathleen graduated from the College of Notre Dame of Maryland (now University) in 1970 with a Bachelor of Arts in Education.  She received a Master of Arts in Administration from Trinity College, Washington DC in 1987.
Kathleen was friendly and outgoing.  As a principal, she often had a dog in her office to the delight of the students.  Kathleen enjoyed driving and was generous in taking sisters out or doing shopping for them.  At Maria Health Care Center, Kathleen was always pleasant and warmly greeted visitors.  She loved her family and was a kind and dependable friend.  Kathleen felt that "each day found her more grateful that God had directed her to the School Sisters of Notre Dame."
Kathleen died at Maria Health Care Center on Sept. 28, 2020.  She was buried at Villa Maria Cemetery, Notch Cliff, Glen Arm, Md. on Oct. 2, 2020.  A Memorial Mass will be celebrated at a future date.  Kathleen is survived by her sister, Sister Mary Groves, O.P. and many nieces and nephews.
Jeanne Hildenbrand SSND