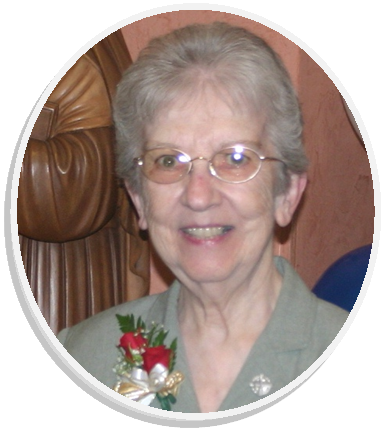 Sister Kathleen Haley
December 12, 1931 – August 1, 2023
Sister Kathleen was with her family, grieving the death of her brother, Frank,(July 24, 2023) when she became seriously ill. She was taken to emergency in Alliston, Ontario. She had a ruptured hernia and was sent to Southlake Regional Health Centre, Newmarket, Ontario for emergency surgery. She did not fully recover from the surgery. Sisters and family members were with her during her last hours. She prayed with them and indicated that she was ready for God to take her. 
Mary was the tenth child born to her good Irish Catholic parents, John and Catherine(Burns) Haley in the township of Osprey, Grey county, Ontario.  She is predeceased by her parents, her brothers Thomas(infant), Patrick, Anthony, Brother Nicholas CssR, James, Wilfrid, Richard, John and Frank and her sister Margaret (infant). She states that her seven brothers were her first playmates who taught her to climb, horseback ride and ski.  She attended the public school two miles from her home.  Often her brothers carried her on their shoulders and in winter pulled her on their skis.
Her mother told her about religious life and urged her to have devotion to the Virgin Mary. During summer vacation Mary attended religion classes taught by our sisters. The sisters made a deep impression on her. She entered the candidature and completed her high school education at Notre Dame Academy, Waterdown.  On August 1, 1949 she was received as Novice Mary Kathleen and professed her vows on August 2, 1950. 
After graduating from Hamilton Teachers' College, Sister Kathleen taught at St. Helen's School, Hamilton, Sacred Heart School, Kitchener and St. Mary's School, Owen Sound. She served as principal at Sacred Heart School, Walkerton, St. Leo's School, Kitchener and St. Mary's School, Owen Sound.  
Sister Kathleen was librarian at Sacred Heart and St. Anne's Schools, Kitchener and at St. Clements School, Cambridge. In 1976 she moved to Beardmore in northern Ontario and taught at St. Theresa's School. In 1980 she transferred to Pine Point, Northwest Territories and later to Fort Smith, Northwest Territories where she initiated a religion program which involved parents as well as youth in religious education. 
From 1992 to 1993 she was involved in pastoral ministry at St. Joseph Parish, Dryden.  
In 1993 Sister Kathleen moved to Hamilton, Ontario and assisted in the marriage tribunal office for the Hamilton diocese until 1997.  She also was a member of the catechetical correspondence team for the Hamilton diocese until 2009.
Sister Kathleen took several courses provided by the Ontario Department of Education, namely, primary and junior education, vocal music, librarian, and principal courses. In 1967 she attained her B.A. from the University of Waterloo, Ontario.
In 1971 she participated in a 30 day retreat and institute at Loyola, Guelph, Ontario. This qualified her as a spiritual director. She also took R.C.I.A.(Rite of Christian Initiation for Adults) courses in Saskatoon, Saskatchewan and in Calgary, Alberta.
After a year of studies at Toronto School of Theology she acquired her M.Ed. in Religious Education in 1987.
Mass of Christian Burial was concelebrated by Rev. Pablito Labado and Rev. Michael McHugh on August 5, 2023 at the convent chapel. Her surviving sisters, Catherine Sheehan and Elizabeth and many nieces and nephews attended the funeral. Interment followed at Gate of Heaven Cemetery, Burlington.
May she now be embraced fully by our loving Triune God.

                            S. Joan Helm SSND