Loretta Marie Rosendale, SSND
Aug. 2, 1941 – Oct. 20, 2020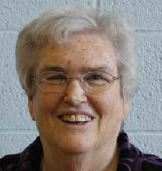 Nancy Marie was the first child of Leo J. and Loretta A. O'Neill Rosendale.  Born on Aug. 2, 1941, she was baptized on Aug. 31 at St. Martin's Church, Baltimore. The Rosendale family was complete with the births of a brother, L. Joseph and two sisters, Eileen and Sheila. The Rosendales lived in Catonsville and were members of St. Mark's Parish.
At the age of 6, Nancy began her education at St. Mark's School where she was taught by the School Sisters of Notre Dame. She made her first Holy Communion as a second grader. In 1953, Nancy was confirmed by Bishop Lawrence Shehan.  She described her elementary school years as "a busy time of study, basketball and work in the church sacristy." She graduated from St. Mark's School in June, 1955.
In September, Nancy began her high school years at the Institute of Notre Dame, which she describes as "a happy and active time." It was also a giving time when she worked weekends as a nurse's aid at St. Agnes Hospital. Those growing up years at IND passed quickly for Nancy. She graduated on June 5, 1959.  
That summer was spent "in preparation for entrance into the convent." Nancy entered the convent because she "wanted to serve God, especially as a teacher." On Sept. 8, she received the postulant's veil at the St. Mark's Convent Chapel from Mgsr. Joseph J. Leary. While a candidate, Nancy started the classes for her freshman college year.
Nancy was received as a novice on July 15, 1960 and was given the name Sister Loretta Marie.  She professed her first vows on July 29, 1961.  
During the next year, Sister Loretta Marie was a student at the College of Notre Dame of Maryland (now Notre Dame of Maryland University). She received a Bachelor of Arts degree in Education in 1968 from Notre Dame. Loretta did further study at Trinity College (Trinity Washington University), earning a Master of Teaching in 1975. She did post-Masters study in Human Development at the University of Maryland in 1986.
Loretta spent almost 10 years teaching at schools in Philadelphia, Pa. and Washington D.C.  She was principal at Our Lady of Perpetual Help School in Washington. She was the Director of various Head Start programs in Baltimore.  In 2003, Loretta became the Executive Director of Marian House, Inc. a community for women and children in need of housing and support services in Baltimore City. After a sabbatical, Loretta went to Chicago, Ill. as Director of Corazon a Corazon, an organization which provides educational and literacy services for Hispanic residents.
As Loretta lived her religious life, she said, "I feel even more that this is what God wants me to do." She loved working with the poor and was devoted to her mission to them. Loretta was very intelligent, sincere and a true friend. She was lighthearted, had a good sense of humor and loved to have fun.  
Sister Loretta Marie died at Maria Health Care Center on Oct. 20, 2020. Her burial took place on Oct. 27 at Villa Maria Cemetery, Glen Arm, Md. A Memorial Mass to celebrate the life of Sister Loretta Marie will take place at a later date. She is survived by her dear sisters, Eileen Lewis of Baltimore and Sheila Rousseaux of Severna Park, Md. Her brother, L. Joseph Rosendale predeceased Sister Loretta.  
    
- Jeanne Hildenbrand SSND