Sister M. Georganne Pearson, SSND
January 23, 1927 – April 14, 2020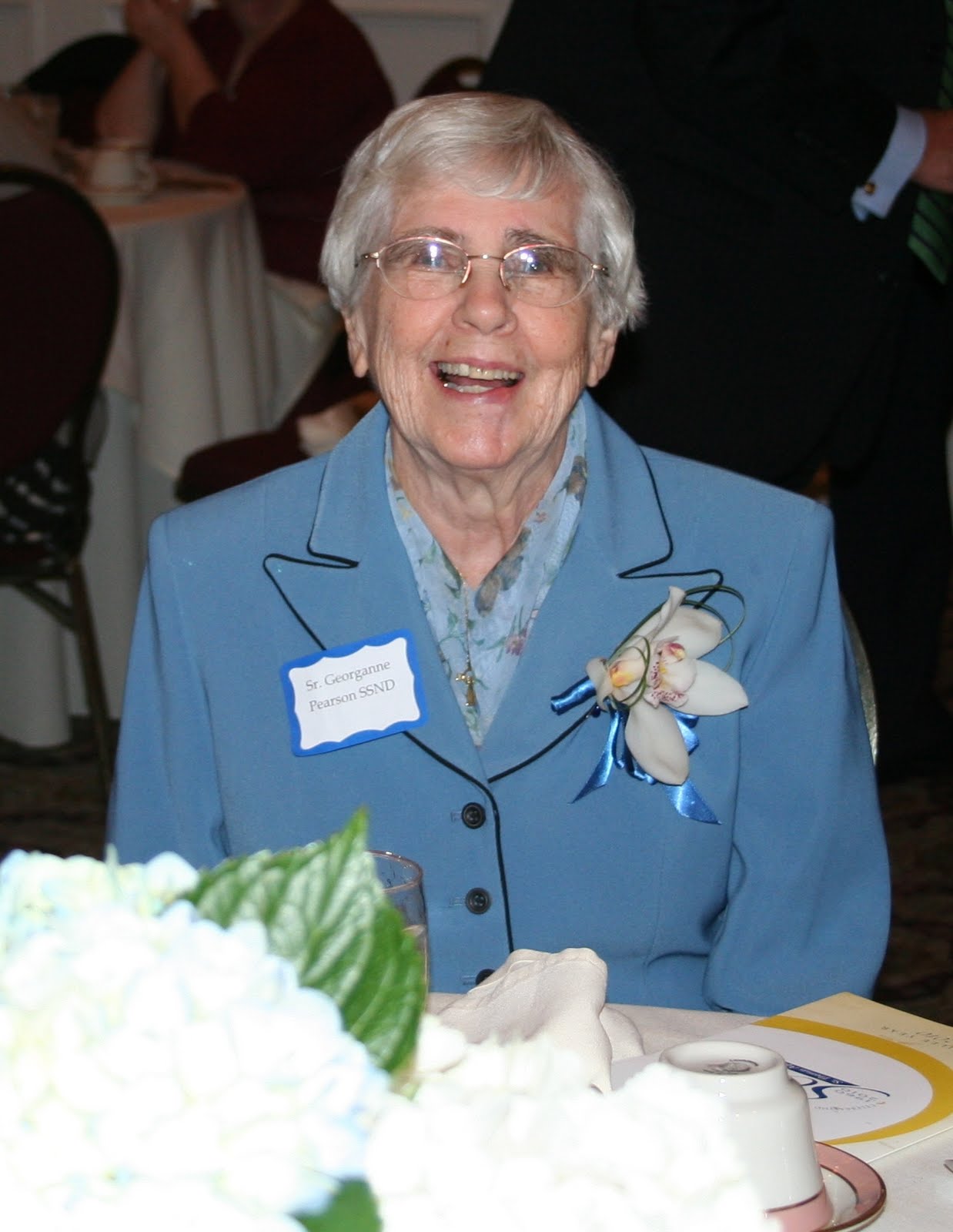 Dorothy Christine Pearson was born in Providence, Rhode Island, to Ann Catherine Marshall and George Harold Pearson, on January 23, 1927, and baptized at Holy Name Church. Both parents were from nearby Pawtucket.  Mrs. Pearson was a Catholic, and Dorothy wrote in her pre-novitiate autobiography that "my father is supposed to be a Congregationalist, but the only church he attends is Holy Name."
Dorothy had two younger sisters, Marian and Eleanor.  George Jr. was born when Dorothy was a postulant. She started public school with kindergarten and remained until fourth grade. Then she transferred to Holy Name School, receiving First Communion and Confirmation in 1934 and 1939, and graduating from the 8th grade in 1941.
While she was in public school, Dorothy had instructions in the Catholic Faith twice a week from Sister Mary Ellen and Sunday School at Holy Name. She wrote, "I felt the desire to be like her someday."
When she was an 8th grader, Sister Richard spoke to the girls about the Juniorate in Fort Lee, NJ, and on Memorial Day weekend took Dorothy and two others to visit it. Dorothy wrote, "When I saw the spirit and happiness of those Juniors, I couldn't wait to join them."
Dorothy expressed great gratitude for the guidance of Sister M. Dosithea; the four years passed quickly. A highlight she remembered was the visit of Commissary General Mother Fidelis in their senior year.  On August 28, 1945, she entered the Motherhouse in Baltimore as a Candidate, having received the bonnet at the Our Lady Chapel of Holy Name Church.
While studying in the Teacher Training School during her Candidature with Sister Auxentia as directress, Dorothy wrote, "The example of the sisters here in the Motherhouse has given me a standard to live up to; I've noticed especially the spirit of self-sacrifice and charity."
At Reception on July 16, 1947, Dorothy was given the name M. Georganne for her father and mother. On August 3, 1948, she professed first vows, and shortly afterwards became a first-grade teacher at St. John Evangelist School, in Leonia, New Jersey.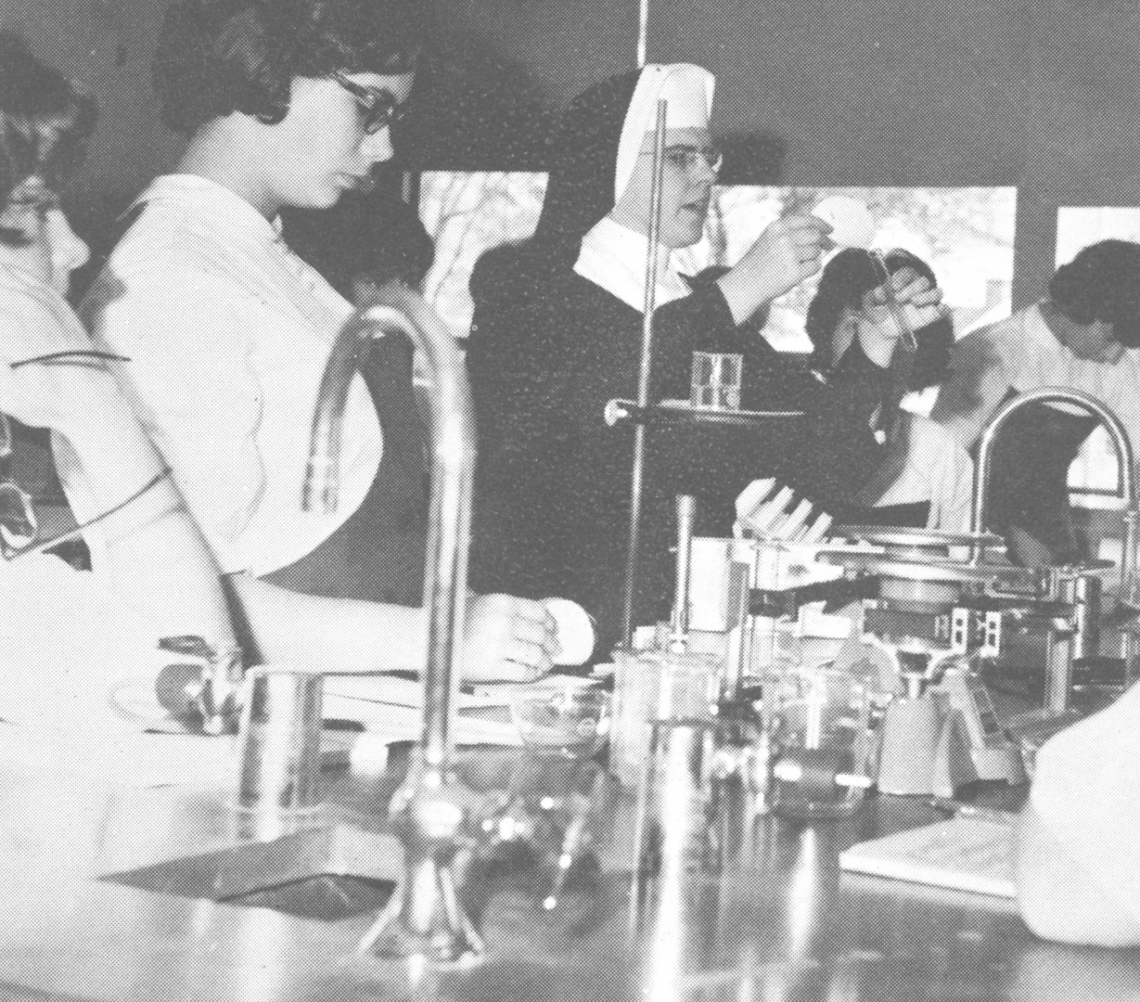 She remained there for 13 years, also teaching second, sixth and seventh grades over the years. The convent of the Carmelite Parish was two small houses that had been attached by a breezeway. In her last years there Georganne saw and made suggestions about the building of a new modern convent.  She was very much a part of the parish and appreciated by the people of Leonia.
Georganne earned a B.S. in Education from Seton Hall University in 1956, and an M.A. in Science from Union College in Schenectady, NY, in 1965. She was also the recipient of several National Science Foundation Grants for further study during summers, especially in the 1960s.
In August 1961, Georganne landed at Logan Airport in Boston on her way to St. Thomas Aquinas High School in Dover, New Hampshire, a new mission of the province that was entering its second year.  She recalled, many years later that she "was shivering in my shoes thinking of teaching a class of 40 high school students."  This was to become her second and beloved last mission.
At STA, Georganne over the next decades became a fine chemistry teacher, with religion later added to her classes. When she partly retired from teaching, around 1990, she took on the roles of Librarian and Director of Student Volunteer Services. Working with students on Habitat for Humanity houses was one of the projects she enjoyed, as did the students. In a 1993 SSND newsletter, Soundings, they're quoted as saying, "It's great to help make a family's dream come true."
St. Thomas's highest honor, The Lux in Tenebris Award, was presented to Georganne and Sister Catherine Goodell in May 2008 by Principal Jeffrey Quinn. The citation read, "They had made significant, enduring contributions to humanity in keeping with the ideals and mission of St. Thomas." At that time Catherine had been at STA for 30 years, Georganne for 47.
In the library, Catherine and she were a team who had become very good friends. When the spacious convent, built in 1963, was turned over to the school for offices and some departments, and they were the only SSNDs still at STA, Georganne and Catherine moved into the city of Dover. A house was generously lent by an appreciative former student, Jerry Carberry. Later he became an SSND Associate and came often to Wilton, with Georganne as his contact sister.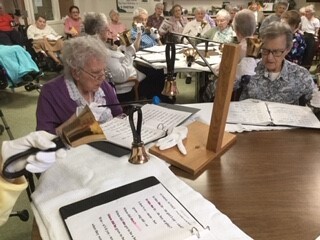 It was from this house that they came to Wilton in 2011, brought by Sybil and Charlie George, former students who had become caring and dear friends. Georganne went directly to Lourdes Health Care Center, and Catherine joined the VND community. Catherine faithfully visited Georganne every day until she died in 2018.
While at Lourdes, Georganne very much enjoyed being a member of the Bell Choir, led by VND Director of Music and Liturgy, Sister Charlaine Fill. As one of the Golden Belles, she needed help to be able to play her part.  Charlaine had a wooden frame made for her from which her bell hung, and she could easily strike it instead of having to hold it in her hand. She loved being part of the holiday concerts the Bell Choir gave to the VND community.
In late September 2020, Georganne was among the first group of Lourdes residents to go to Ozanam Hall, In Bayside, Queens, NY, a home run by the Carmelite Sisters of the Aged and Infirm. She died quietly there on April 14.  She was buried on April 18 in St. Mary Cemetery, Bethel Connecticut.
Gleason Funeral Directors of Bayside kindly brought the hearse to the front door of VND on that day, so that the gathered community could pray and sing their blessing song in farewell to Georganne while they carefully observed social distancing. Later, as burial was taking place at the community plot in Bethel, the Sisters prayed the graveside service, led by Community Leaders Theresa Lamy and Patricia Hammond on the intercom.
A memorial Mass will be celebrated for the community and Georganne's family and friends at a later date.
                                                                                   -  S. Kay O'Connell