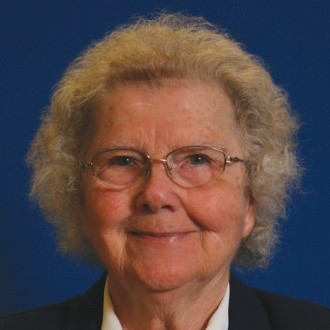 Sister M Julianna Poole, SSND
February 18, 1928 – May 3, 2023
Elizabeth Poole was born in New York City on February 18, 1928, the daughter of Johanna Kavanaugh and George Poole, natives of Counties Laois and Carlow in Ireland, parents "blessed with the Gaelic heritage of loyal Roman Catholicity." She was baptized at St. Bernard Church on March 28.  
When she was three, and the family resided in Brooklyn, she began at St. Ephrem School with the Sisters of the Immaculate Heart of Mary, whom she remembered with great fondness. Later she recalled her third-grade Sister's kindness and wrote, "She also inspired in me a desire to study." 
By 1939 the family lived in St. Saviour Parish, where she and her brothers, Henry and George, were educated by the School Sisters of Notre Dame. Elizabeth was then in grade six and had already received Confirmation from Bishop Thomas Molloy. In the eighth grade, Elizabeth and some classmates went to Holy Angels Academy in New Jersey to see a play put on by the Aspirants. For a Mission Sunday rally at that time, she was chosen to wear the SSND habit.  Both inspired in Elizabeth "a desire to enter the Juniorate and prepare to become a Sister." 
She wrote to Mother Philemon and in her next visit to Holy Angels "brought my credentials to Directress Sister Dosithea." Five days after her January 27, 1942 graduation from St. Saviour Grade School, she entered the Juniorate at Holy Angels. She later described her four years at N.D.J. as "blessed," and "a firm foundation for the years to come."
With her parents kneeling behind her, Elizabeth received the bonnet at St. Saviour Convent chapel, on August 28, 1945. Later she wrote of the daily family rosary, and her parents' love and care¸ as memories that filled her mind during the ceremony. At Reception into the Novitiate in 1947, she received the name Julianna, which greatly pleased her mother, who had had the idea of putting Julia, Elizabeth's grandmother's name, together with Johanna her own name.
After first profession on August 2, 1948¸ for five years Julianna taught double grades three and four at St. Thomas School in Bridgeport, CT. She also served as Church organist, playing for every funeral. The pastor liked music during all funerals, so Julianna used some old books she found in the choir loft. Not able to read the German words, she loved the music until she was told no one appreciated hearing Christmas music at a funeral.
During the summers of 1950, '52, and '53, Julianna completed work for her B.S. at the College of Notre Dame of Maryland (now Notre Dame of Maryland University), and was asked to go to Puerto Rico. With the honesty of later years, she wrote in her updated autobiography, "I really didn't want to go, but I wouldn't say no. My mother asked if I had volunteered. When I told her that I hadn't, she said simply, 'Then, it's God's will.'"
This was the beginning of years of fruitful service in bilingual education: 29 years in Puerto Rico and then, after 1982, in the Diocese of Bridgeport. It began with a typical newcomer's experience. Sister Fidelis helped her every evening to build up her vocabulary at her first mission in Aguas Buenas, the Colegio San Alfonso. She was trying to teach the children how to use a Spanish-English, English-Spanish Dictionary and suddenly realized that she didn't know the Spanish for front and back. She became very frustrated, when suddenly she noticed a little boy standing by her, saying, "No, cry, Sister; no cry." His kindness touched her deeply. The incident is typical of all the missionaries' memories of the children; they never took advantage of the Sisters' struggles to learn their language.
After eight years in Aguas Buenas, Julianna taught English and History at Notre Dame High in the thriving city of Caguas for the next four years. She also completed an M.A. in English at Seton Hall University in New Jersey, having studied there for five summers. Her next "Obedience" led her to Administration as Principal and Superior at Colegio San Agustin in Puerta de Tierra. Here she was near the capitol of San Juan, living with the poor of the parish on the edge of the ocean, at an excellent high school that offered both college prep and business tracks. 
Typically, Julianna also studied at the University of Puerto for an M.A. in Administration and Supervision and began to teach at Sacred Heart University in Santurce, founded by the Religious of the Sacred Heart, from which she had a B.A, in History.  Her mentor at UPR wrote to the Provincial recommending that she study for the Doctorate.
When her term at Puerta de Tierra was completed in 1971, and having received an assistantship from the University of Rochester, New York, she went to live at St. Peter and Paul – and later Holy Redeemer - convents while she studied. After two years she returned to Puerto Rico to finish her dissertation. In 1974, she was awarded the Doctorate in Educational Psychology and simultaneously became Principal of the Academia del Perpetuo Socorro in Miramar.  Julianna loved Perpetuo and the Island, but by 1982 she felt it was time to return to the States. She has always looked back with gratitude on the privilege of serving 29 years on the Isla del Encanto.
Her first mission back in the States was as Vice-Principal at South Catholic High School in Hartford while living with Dominican Sisters, from 1985 to 1988.  Adjusting to the cold weather while attending athletic events was a challenge, but missing life in an SSND convent brought her in 1985 to St. Theresa Convent in Trumbull and the principalship of St. Francis School in New Haven, as she said, "because I loved grade school." Her first year, feeling they needed a self-esteem boost, she announced to an incredulous faculty that they were going to apply for one of the Excellence in Education Awards being offered by the U.S. Department of Education. When it was announced that they were among 60 recipients, Julianna got an excited call from her Secretary, saying, "The Traffic on Main Street has stopped—all the cops are graduates of St. Francis." There was great happiness among all the people who had worked hard to keep the School open.
In the Spring of 1988, Julianna taught two courses at Fairfield University and accepted an adjunct position there. In 1991 she became a full-time member of the faculty and received tenure in 1997 in the Graduate School of Education and Allied Professions. That year she also received the Fourth Annual Women's Studies Award from the University, "for her achievement in education, commitment to multi-cultural goals and contributions as a female role model."  Her address at the presentation was titled, "Education, Multiculturalism, and the Future."
During her time at the University, Julianna was involved in the implementation of numerous grants between 1999 and 2002 from the Department of Education. They totaled millions and enabled Julianna and other faculty members to vastly increase the University's bilingual degree offerings and programs. Many teachers in Fairfield County earned graduate degrees and returned to their classrooms fully qualified to understand and meet the needs of their students: both those with limited English proficiency and those having exceptional learning needs. They knew both the latest research and the best teaching skills. Julianna's kindness and lifelong love for teaching contributed greatly to the success of this effort at a time when it was greatly needed in Connecticut. She also chaired the Bilingual/Multicultural Department of the Graduate School of Education.
At her retirement in 2008. Julianna was awarded the honorary degree Doctor of Laws by the President and Board of Trustees of Fairfield University. Underlying and inspiring all her competence in education, was Julianna's love for God; she once wrote, "My happiness has been increasing until I find words which will adequately thank God for my vocation. May I be able to one day present him with the oblation of many faithful years in his service."
Sister Julianna went home to God at Ozanam Hall, Bayside, New York, on May 3, 2023. 
Her Wake and Liturgy of Christian Burial took place at St. Andrew Church in Bridgeport on May 11. Sister John Vianney led the Wake service. She began by welcoming presider at the liturgy, Gerald R. Blaszczak, SJ, Alumni Chaplain, and concelebrants, Michael Doody, SJ, former Director of Campus Ministry, and Jeffrey P.  von Arx, former University President. Memories of his Aunt were shared by Michael Poole. Janet Canapa, a good friend, colleague, and neighbor of Julianna when she and Sister Irene Hughes lived together in Fairfield, also spoke.  
All the SSNDs present extended their hands in a blessing that evoked their foundresses Mother Theresa and Mother Caroline. Homilist was Permanent Deacon Thomas F. Curran, a student of Sister when she taught in the Diaconate Program of the Diocese of Bridgeport. Burial followed at St. Mary Cemetery, Bethel, Connecticut.
-    Sister Kay O'Connell, SSND