Sister Margaret Ann Curtin
November 3, 1926 – March 22, 2020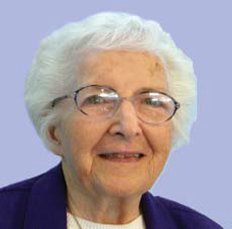 Sister Margaret Ann's first assignment was to St. Mary in Port Washington, Wisconsin, as an intermediate grade teacher. She then taught intermediate grades at Christ the King in Wauwatosa, Wisconsin (near Milwaukee) for ten years. Moving to junior high, she taught at St. George, Kenosha, Wisconsin, and then as a high school teacher at Lourdes High School in Oshkosh, Wisconsin; Boylan Central High School in Rockford, Illinois; St. Michael, Chicago, Illinois; and the Academy of Our Lady, Chicago, Illinois. As one former student commented, "Sister Margaret Ann inspired me to be a better reader and to speak properly at all times.  She always had these really funny sayings that have stayed with me over the years."
After those many years as a teacher, Margaret Ann alternated between further teaching positions and various forms of leadership. These included placements at the AOL (Academy of Our Lady) school and convent; and at Providence High School in New Lenox, Illinois. She served as a member of the Provincial Council of the Chicago province from 1987 to 1991, with Sister Miriam Patrick Cummings as Provincial and Sister Frances Lawrence as a Council member with her.  
Margaret Ann served at Misericordia-Heart of Mercy as a volunteer from 1999-2013, as well as on the Chicago Province development staff in Berwyn, Illinois, for the year of 2004. 
Over the years, Sister Margaret Ann obtained a B.A. in English and Latin in 1956 from Mt. Mary College in Milwaukee, and a Master of Science in Education at Northern Illinois University in DeKalb, Illinois.  In 1981, she participated in the cross-cultural GAP program in Guatemala, and in 2004 she participated in the Summer Circle in Wilton, Connecticut.
In 2013 Sister Margaret Ann moved to Resurrection Life Center in Chicago, where she died on March 22, 2020. Due to coronavirus restrictions on large gatherings, her funeral has not yet been scheduled.