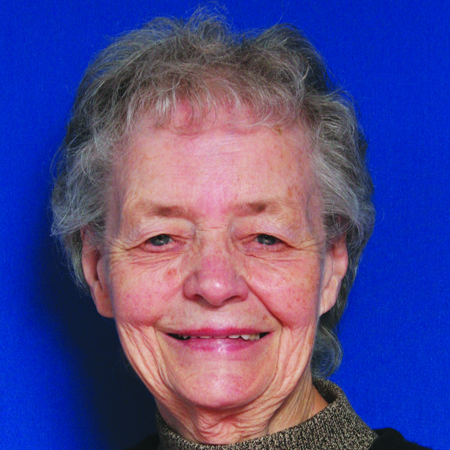 Sister Margaret Mary Forsyth, SSND
September 12, 1928 – January 20, 2020
Margaret Mary was the first child of immigrants from Limerick, Ireland, Edward Robert Forsyth and Mary Gerard McNamara. They had become engaged in Ireland, but were married at Holy Name Church in Brooklyn. Edward worked for a florist in Manhattan, and Mary for a "lovely, kind Jewish lady" in Brooklyn.  "Margie" was baptized at Our Lady of Perpetual Health Church in Bay Ridge, and started school at St. Anselm, an SSND mission. Frances, Joan, twins David and Eileen, and Edward completed the family.  When she was four, Margie made her first trip to Ireland with her parents; this was the beginning of a long love affair with her heritage. With St. Anselm's students, she remembers marching in the St. Patrick's Day Parade in New York City. She wrote that her favorite teachers were Sisters Arleen and Florentine, in grades four and eight.
After one year at Fort Hamilton High School, Margaret Mary decided to follow the call she felt to religious life and went to the SSND Aspiranture in Fort Lee, N.J. She became a Candidate on August 28, 1945, at the original Motherhouse on Aisquith Street in Baltimore. Her Novitiate began in 1947 when she received the name Marie Edward. First and final professions followed in 1948 and 1951.
As was customary in those days, Sister Marie Edward began teaching right after her first vows, at St. Clement School in Saratoga, New York, where she remained for six years and taught grades two, five, and eight.  From there, she was missioned to St. Michael, Frostburg, Maryland; St. Joseph, 87th Street in Manhattan; Holy Redeemer in Rochester, New York; and St John Evangelist in Leonia, New Jersey.  From 1963 to 1967, she taught at Mission High School in Roxbury, Massachusetts; and later she was on the faculty at St. Saviour High School in Brooklyn for 13 years.
     Of the next part of her life, Margie wrote:
               I had the wonderful opportunity to study Theology at Maynooth
               Seminary/College, near Dublin, Ireland. I always loved my Irish
               heritage, so this experience for me was not only educational,
               it was like an exciting homecoming. I once again had the opportunity
              to visit family and enjoy my heritage. Also studying there was
              a seminarian  with my uncommon last name, Forsythe (he had
              an e at the end). We took a trip to Belfast in Northern Ireland,
              his home, and a fairly dangerous place at the time. He worked in
              Faith Development, and when I returned to the States he came
              for a visit to observe the way we taught religion.
In 1975 Margie received a Bachelor's in Divinity; she was the first American nun to receive a degree from Maynooth, the Pontifical University of St. Patrick. Formerly she had earned a Bachelor of Science in Education with a minor in Philosophy from Fordham University, and a Master's in Secondary Education with a minor in French from Boston College.
During a second period at St. Saviour High, in 1979 Margaret Mary was asked to teach in the new Permanent Diaconate Program in the Diocese of Brooklyn.
Later she became full-time Associate Director, and held the same position in the Permanent Diaconate in the Diocese of Bridgeport, Connecticut. "This was new, exciting and challenging, and I enjoyed my classes in both places," she wrote. Five years as Principal at Immaculate Conception School in Norwood, New Jersey followed.
In her next ministry, Margie became the first SSND to hold the title of "Chief" – Chief of Child and Youth Services at Fort Hamilton Army Base in Brooklyn for 16 years. She called this work for the U.S. Government "an unexpected joy."
Since their parents have to be ready for deployment at any time, my job was to see that their children were well taken care of educationally, socially and emotionally. There was great variety in the work and it was always interesting and rewarding.
With more than 800 families living on the base, Margie and her team of 60 employees were responsible for more than 200 children, 6 weeks to 18 years. The children were bussed to the schools of their choice and there were several after-school programs.
Signed by the Major General of the Military District of Washington, DC, several awards given to civilians were awarded to Margie for her work at Fort Hamilton. The citations read, ". . . for outstanding leadership, dedication and selfless service . . . ." "Her expert knowledge of policies, proactive approach to the job, and tireless and diligent efforts have resulted in a cohesive, well-functioning program."                                                                              
Margie next volunteered at our sponsored ministry, the SSND Educational Center in Woodhaven, Queens, teaching ESL.  As Director Cathy Feeney said, when she presided over Margie's vigil service, "She enjoyed the many cultures among the students, and the women knew their irregular verbs." Margie herself spoke of "enjoying relating to the women who were from a variety of countries."  
Margie came to Villa Notre Dame in 2019. She moved to Ozanam Hall in Queens with the first Sisters to go there from Lourdes last September, and was born to eternal life there on January 20. The Sisters celebrated a funeral Mass in the Ozanam chapel on February 22. Later that day the community at Villa Notre Dame welcomed her for the last time. 
That evening her brother Edward, his wife and son, joined the sisters at a vigil service. Cathy Feeney and several sisters who lived with her at St. Saviour remembered how pleasant and affirming Margie always was, even in turbulent times. Once she astonished Sister Shawn Kavanagh's father with the extensive knowledge of County Laois in Ireland that she taped for him. Edward, too, spoke fondly of his sister, remembering especially the first time she came home to visit, when 20 or so people came to see her. Pat Hammond, as a freshman at Mission High, was grateful that Marie Edward had "made her believe in herself." Fittingly, the hymn, "Our Lady of Knock" concluded the service.
Villa Chaplain Tom Elliott, CSC, concelebrated the liturgy of Christian Burial with Father Vitus Mbamalu, a family friend from St.  Joseph Parish, Ronkonkoma, the next morning. Many members of the Forsyth family and friends were present. Burial followed at St. Mary Cemetery, Bethel, Connecticut.
- S. Kay O'Connell