Sister Marie Denise Murphy, SSND
November 24, 1929 – August 30, 2020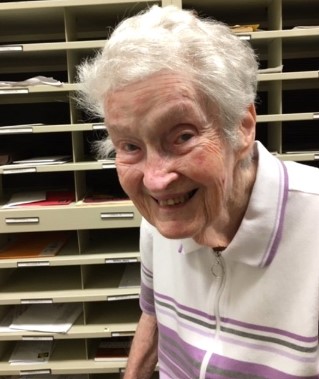 On November 24, 1929, "in the typical New England village of Watertown, Connecticut," Dennis Joseph and Margaret Canfield Murphy had their only child. On December 8, she was baptized Mary Helen in St. John the Evangelist Church. Her father was from Milltown, County Kerry, Ireland, and her mother from New Philadelphia, Pennsylvania. In 1935, Mary Helen started first grade in the parish school where SSNDs had been teaching since 1907.
Amid the usual "childhood diseases, broken bones, and tumbles galore," Mary Helen received First Communion in 1937, Confirmation from the Bishop of Hartford in 1940, and graduated from the 8th grade at St. John's in 1943. With the Sisters of Mercy she spent the first three years at Sacred Heart High School with "typical high school fun," but her fourth "and happiest" year was spent at the Notre Dame Juniorate in Fort Lee, New Jersey. "Under Sister Dosithea's able guidance began a taming-down process and striving for Mary-likeness." In her youthful autobiography, Mary Helen wrote of how she was "influenced by the splendid example of my [Mercy] teachers who encouraged me not to their own order, but to God's service."
After receiving the bonnet at St. John's convent on August 28, 1947, Mary Helen spent the first year of her Candidature in the Teacher Training School at Aisquith Street in Baltimore, and part of the second year at St. Michael's School in Rochester, New York. After Easter of that year, she was sent to St. Mary's School in Baltimore.
At Reception on July 16, 1949, she received the name Marie Denise in honor of her father. First profession followed on August 3, 1950, and final profession on the same date in 1956.
In 1950, Marie Denise was one of the Sisters who opened a new mission at St. Joseph School in Lake Ronkonkoma, New York; she was there until 1960. This was followed by four years at St. Saviour School in Brooklyn, one year at Bishop Kearney High School in Rochester, and five years at St. Thomas School in Thomaston, Connecticut.
By this time, 1970, Marie Denise had earned a Bachelor of Science degree from the College of Notre Dame of Maryland (now Notre Dame of Maryland University), in 1963. Later she was awarded a M.A. in Education from Seton Hall University in New Jersey in 1974, and an M.A. in Pastoral Ministry from St. Joseph College in Hartford, Connecticut in 1991. These statistics are a tribute to her desire for life-long learning.
It was in 1970 that she came to St. Francis of Assisi Parish in New Britain, Connecticut, a place she grew to love deeply, and where she was to spend the rest of her life in ministry. Until 1993, Marie Denise taught in the Junior High School. From then until 2006 she served as both teacher and later Principal.
The Assisian, the Junior High publication, captured two aspects of her life in New Britain at her Silver Jubilee in 1975: "She really adores it here, as she has a love for flowers, trees, all of nature. She is many times seen taking walks in our parks and woods, enjoying the lovely foliage of New Britain. We also appreciate her involvement in the community. An excellent project that she planned and directed successfully was the Adopted Grandparents Program at Brittany Farms Rest Home.
When the school closed in 2006, Marie Denise and Sister Miriam McGuire remained as Pastoral Ministers until 2016. In this role they initiated a ministry to widows, an easily overlooked group. Inviting them, one by one, to breakfast at a local restaurant, they provided loving hearts and listening ears in a relaxed, unhurried atmosphere. Their prayer and presence in the convent were also a service to the entire parish. They visited Sister Elise O'Hare often in Lourdes Health Care Center; she had been in community with them in New Britain. The treats and fun they brought were enjoyed by all the residents. Marie Denise loved her Irish heritage and visited her father's relatives in Ireland many times; she felt great happiness in being with them. 
An unfortunate car accident in 2016 brought Marie Denise and Miriam to Villa Notre Dame. They adjusted well to large community life and eventually were among a second group to go to Ozanam Hall in Queens in 2020. On the morning of August 20, Marie Denise died very suddenly and unexpectedly. Just after Sister Jacci Glessner entered her room saying, "Marie Denise, God is calling you (to rise)," she opened her eyes, closed them, and slipped away to eternity.
Mass of the Resurrection was celebrated at Villa Notre Dame by Chaplain Father Tom Elliott and the community on September 3. Because of the coronavirus quarantine, it was the first funeral liturgy held there since early springtime. Sisters Charlaine Fill and Kate Whalen provided music. The recessional, "Our Lady of Knock," was especially fitting and touching. A few Sisters were able to go to St. Mary Cemetery, Bethel, for the committal prayers at the burial.
-  Sister Kay O'Connell