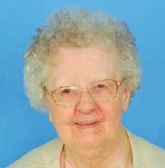 Sister Marie Louise Koenig, SSND
Sept. 29, 1924 – Nov. 4, 2020
On Sept. 29, 1924, a girl, Stephanie Elizabeth, was born to Victor and Anna Gramer Koenig in W. Forest Hills, Long Island, New York.  Victor and Anna were natives of Austria.  Stephanie, who would come to be called Lillian, had a brother, Joseph.   In 1929, the children, Lillian and Joseph, traveled with their parents, to Austria for a visit to their grandmother.
At the age of six, Lillian began her education at St. Matthias School, Brooklyn, NY. where she was taught by the School Sisters of Notre Dame.  That year was a difficult one for Lillian, as she battled pneumonia and later had a mastoid operation.  Despite those early health problems, Lillian excelled in her academic studies as well as music lessons in piano and organ.
At her first Holy Communion, Lillian first "felt a real attraction for the religious state."  By the time of her Confirmation in 1936, she "was fully convinced of her calling to the religious life."  
Though Lillian desired to go to the SSND Juniorate at Fort Lee, NJ, her parents objected. Instead she attended Our Lady of Wisdom Academy, where she was taught by the Daughters of Wisdom. Lillian said of her experience there: "My vocation was safeguarded due to the good example and encouragement of the Sisters." At her graduation in January 1943, Lillian was looking forward to entrance into the School Sisters of Notre Dame Candidature.
On August 23, 1943 Lillian received the bonnet in the convent chapel of St. Matthias Parish, Brooklyn, NY.  She described her time in the candidature as "unexcelled in true happiness."  Lillian had found the spiritual activities she longed for. On July 16, 1945, she was received as a novice. Sister Marie Louise professed her first vows on July 31, 1946.
Sister Marie Louise was first sent to St. Joseph School, Verona, PA. where she taught primary grades and then upper elementary classes until 1962.  She continued to minister as teacher and often administrator for schools in Maryland, Pennsylvania and Florida, notably two terms totaling 17 years at St. Mary's School, Bryantown, MD.
 
Sister Marie Louise was honored for 60 years of teaching service in Catholic schools during a Mass for educators at the Basilica of the National Shrine of the Immaculate Conception, Washington, D.C. in 2006. She attributed her longevity in education to her "love of children."  
A pleasant and sweet woman, Sister Marie Louise was praised for her wisdom and guidance.  She was a spiritual presence in the schools where she taught and fostered that presence among the students and faculty. Sister especially cherished the time she spent before the Blessed Sacrament. She prayed that she would fulfill the purpose for which she entered "to bring souls to Christ through Mary."
Sister Marie Louise was educated at Mt. Mercy College (now Carlow University), Pittsburgh, PA, where she received a Bachelor of Science in Education, Cum Laude degree in 1955. She earned a Master of Education in Elementary Schools Administration and Supervision from Loyola College (now University), Baltimore, in 1967.
Sister Marie Louise died at Maria Health Care Center at Villa Assumpta in Baltimore on November 4, 2020.  Sister's body was interred at Villa Maria Cemetery, Notch Cliff, Glen Arm, MD.  A Memorial Mass celebrating the life of Sister Marie Louise will be held at a later date.
Survivors include her nephew, Peter Victor Koenig, and his wife, Mary Edith, three grandnephews, two great-grandnieces and one great-grandnephew.