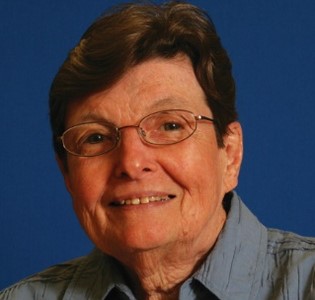 Marie McFadden, SSND
January 22, 1932 – March 12, 2022
Marie Rosemond McFadden began life in Boston, Massachusetts on January 22, 1937, daughter of James, born in County Louth, Ireland and Mary Helen Mahoney McFadden of Boston. Marie lost her mother at the age of two. She had two older siblings, Eileen, also a School Sister of Notre Dame and James, Jr. Marie was educated at Our Lady of the Assumption School in the Pelham Bay section of Bronx, New York.  She attended Cathedral High School in Manhattan and Mission High School in Boston. 
Marie followed her sister Eileen to the School Sisters of Notre Dame "out of a desire to do missionary work."  Marie entered the candidature in Baltimore in 1954. She was received as Novice Mary Seumas in 1956 and professed her first vows on July 27, 1957. 
Spending much of her apostolate in Florida, Marie was a teacher who used her abilities in diverse ways.  She became a social educator with the migrant population and ran a shelter for homeless women, where she and several other sisters served free meals, distributed clothing, tutored children and directed various social programs in several Florida counties. Evenings were spent spreading the word about local needs and planning for new homes through agencies like Habitat for Humanity, a Christian organization that builds houses for poor families.
Visiting friends in Immokalee, Florida, Marie soon declared, "The minute I came here, I knew I wanted to work here."  Later, as a co-director of Guadalupe Center in Immokalee, she prayed to show gentleness and compassion wherever she could to let families know that someone believed in their importance.
Marie later joined two School Sisters of Notre Dame from the Dallas Province in answering a call to teach at Catholic English schools in Lahore, Pakistan. Initially their time was spent discerning their call, learning the Urdu language and Pakistani culture, as well as the Islamic character of the society, before moving into the experience of teaching in the schools.  They wanted to "keep their eyes, ears and hearts open to learn the many needs" of the land.
A closer look reveals Marie as a woman who knew how to enjoy each day despite life's hardships. Her sweet, even temperament and sense of humor made her a good fit in community.  Marie graced many years of SSND living with her fine disposition.
Marie graduated from the College of Notre Dame of Maryland in 1966 with a Bachelor of Arts degree in Education.  She earned a Master of Science in Urban Education degree from Morgan State University, Baltimore in 1973.
Marie died at Stella Maris Nursing Center, Lutherville, Timonium, Maryland, on March 12, 2022.  A memorial Mass for Marie was celebrated on Wednesday, April 20, 2022 at Villa Assumpta.  Interment followed at Villa Maria Cemetery, Notch Cliff, Glen Arm Road, Glen Arm, Maryland.
Sister Marie is survived by three nieces, two nephews and many "grands."
Jeanne Hildenbrand SSND