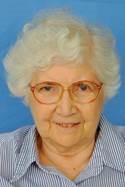 Sister Marie Michelle Walsh, SSND
Aug. 15, 1926 – May 18, 2019
Mary Catherine Walsh began what she called her "earthly career" on the feast of the Assumption, Aug. 15, 1926.  Mary Catherine, born in North Bergen, N.J., was the first child of Joseph and Emma Collins Walsh. Two brothers, Joseph and Edward, soon followed Mary's birth, and fifteen years later her sister Jane was born. The family moved to Connecticut, and as there was no Catholic school, Mary began first grade at the Bedford Park public school.  Prepared by the pastor of her parish, Mary received her first Holy Communion in the spring of 1933.  
The next year, the Walsh family moved to Leonia, N.J., where Mary continued to attend public school.  She received the sacrament of Confirmation from Bishop Thomas J. Walsh in June, 1940.  Towards the end of the eighth grade, Mary's parents offered her a choice of high schools.  She chose to attend Holy Angels Academy in Fort Lee, N.J.  Meeting the School Sisters of Notre Dame was Mary's first contact with any teaching religious order. As a junior, Mary's "decision regarding her vocation gradually formed itself."  She graduated from Holy Angels in June, 1944.  Following her parents' wishes, she continued her education at the College of Notre Dame of Maryland (now Notre Dame of Maryland University).  Mary recorded in her autobiography that this "continued contact with the order only strengthened my vocation." On Aug. 28, 1945, Mary received the bonnet at Holy Angels chapel.
As a candidate, Mary continued to attend Notre Dame, taking an accelerated course and obtained her Bachelor of Arts degree with a major in English and minor in French on June 3, 1947.  Mary's reception into the novitiate occurred on July 16, 1947, and she was given the name, Marie Michelle.  Sister Marie Michelle professed her first vows on Aug. 3, 1948.  
Sister Marie Michelle's first assignment as a professed sister was teaching high school classes at St. John's Literary Institute in Frederick, Md. (1948-56).  She again taught secondary classes at St. Mary's High School, Annapolis, Md. (1956-65).  Sister Marie Michelle had her first job at the College of Notre Dame of Maryland as the Dean of Students and teacher of English (1965-71).  For the next 4 years, she was a student at Catholic University, Washington, D.C., pursuing a doctorate in English and Linguistics (1971-74). On her return to Notre Dame of Maryland, Sister Marie Michelle was a professor of English and Communications and chairperson of the English department (1977-2013). At her retirement, she was named Professor Emeritus of English.  
Sister Marie Michelle was active in many phases of governance in the Baltimore Province of the School Sisters of Notre Dame.  She was a member of the Provincial Chapter, the Chapter Planning Committee, Provincial Election Committee and the Provincial Directory Committee.  Sister was a writer and editor for Provincial and General Chapter newsletters.  She authored articles and served as editor for such province publications as Intercom, Soundings and The Bond.
In addition to her Bachelor of Arts and Doctor of Philosophy degrees, Sister Marie Michelle also obtained a Master of Arts degree in English (1959) from the Catholic University of America, Washington, D.C.
Described as "the kind of Sister you wanted to live with," Sister Marie Michelle was affectionately nicknamed "Mitch" by her companion Sisters.  Quiet and unassuming, always pleasant, always grateful, she was the gentlest of souls and was loved by her Sisters. It was said that she had a PhD in poverty, humility and compassion.  Along with her beautiful smile and generosity of spirit, she told great stories, could take a joke, and enjoyed the company of dogs, especially Romper, the service dog at Villa Assumpta.  Marie Michelle loved to take walks and did it daily. Though not blessed with a sense of direction, she determined her route through Homeland by the time available and always managed to find her way home.
A woman of tremendous intellect and brilliant mind, Sister was conscientious about her ministry and was known as a topnotch teacher.  She took school seriously and inspired her students to do well. She reached out, challenged and nurtured them. She treated her students as women and had a wonderful rapport with them.  Sister Marie Michelle leaves a great legacy as a teacher and scholar.
The one thing that truly mattered to Marie Michelle was her relationship with Jesus.  She had great faith, deep faith, and a faith that never wavered.  Hers was truly a life lived for Jesus.
Sister Marie Michelle went to Maria Health Care Center in 2013 for recuperation after a fall and remained there in retirement.  She died peacefully on May 18, 2019. 
A Christian Wake Service honoring Sister Marie Michelle was held on Wed. May 22, and the Liturgy of Christian Burial was celebrated by Rev. Paul Zaborowski, OFM Cap. on Thurs., May 23.  Both services were held in the chapel of Villa Assumpta.  Interment followed in the Notre Dame of Maryland University cemetery.  Sister Marie Michelle's survivors include her brother, Joseph Walsh of Optos, CA, and a brother-in-law, Paul Mattingly of Raleigh, NC.
Jeanne Hildenbrand SSND