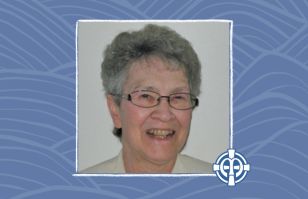 Sister Mariella McMillan, SSND
December 19, 1926 – August 25, 2023
Mary Elizabeth McMillan was born in Brooklyn, New York, on December 19, 1926, the fifth child of James McMillan and Mary MacDonald. Both parents were from Scotland and resided on Java Street.  After the birth of their sixth child, another girl, "My mother died of pneumonia and eleven days later my father died of the same illness," Mary Elizabeth, Betty, as she was called in the family, wrote in her autobiography, many years later. "My mother's Father and his two daughters, our Aunts, cared for us, three boys and three girls." They continued to live on Java Street, near the SSND convent and school at St. Alphonsus Parish, where all the children were educated. Betty attended from 1933 to her graduation in 1941.
"When my oldest brother, James, left home to enter the Seminary of the Montfort Fathers, his entrance into religious life played a great part in helping me to decide my vocation," Mary Elizabeth wrote. After eighth-grade graduation, she went to the SSND Juniorate in Fort Lee, New Jersey, "because I thought that by teaching and caring for children, I could save many souls for Christ."
Of her Juniorate days, she wrote, "My vocation was strengthened and fostered by the guidance of model religious. I can't express my gratitude to the dear sisters at NDJ for all the care and love lavished upon us." On August 27, 1944, she received the Bonnet at St. Alphonsus, and spent the two years of her Candidature in Baltimore studying in the Teacher Training School. At Reception on July 16, 1946, her religious name, Mariella, honored her sister Ella.
One of the treasures carefully saved in her file is Mariella's first Obedience signed by Mother Mary Myles on August 15, 1947. It began her teaching ministry in Washington, D.C. at St. Mary School, from 1947 to 1954. This was followed by two years at St. Vincent's Orphanage in Tacony, Pennsylvania. For four years, 1955 to 1959, she was stationed at Immaculate Conception School in Secaucus, New Jersey. At all these early Missions, Mariella combined teaching music in the schools with the roles of organist, choir director, and sacristan in the parish.
At St. Matthias School in Brooklyn, New York, she was organist as well as Childrens' Choir Director from 1959 to 1964. Then at St. Thomas School in Thomaston, Connecticut, until 1971, ever versatile, Mariella conducted a Reading Program after school for 6th, 7th, and 8th graders. For the following 19 years, she served in Rochester, New York, first at St. Philip Neri School, then Holy Ghost School, Philip Neri again as Reading Specialist, St. Ambrose and St. Boniface Schools. After formally retiring from fulltime teaching in 1992 with her last class of 2nd graders at St. Ambrose, Mariella spent another seven years teaching part time at St. Boniface School.
In 1999, Mariella gave Community/Parish service at St. Philip Neri until 2003. When the convent closed in the late 1980s, she enjoyed community with Roberta Tierney and Mary Smith in a house offered by a generous parishioner Ross Lanzaframe.  They called it Notre Dame de Lafayette, after the street name.  Mariella called herself "the housekeeper."
Reflecting on her life and teaching, Mariella wrote to Sister Virginia Sebert on   July 16, 2001:
                     . . . my life has been low-key as I am usually a background   
                     person. I have tried to encourage and promote others 
                     to take the limelight, as I felt I didn't need the recognition for 
                     my accomplishments. My life has been a rich experience and 
                     I'm indebted to my family and friends for their love and care for me.
In 1995, a long-ago student at St. Matthias, John Tantillo, wrote this to Mariella:               
                     My days in your class were the best years of my childhood
                     and will always be remembered. Your patience and understanding
                     with me and your fourth-grade class is a tribute to your 
                     dedication to this great profession. You simply made learning 
                     fun which is so important for the development of any child.
Mariella, for years had a gift for keeping in touch with her many friends, often parishioners, and widespread family members; greeting cards sent for all holidays and occasions were her favorite way of accomplishing this. Sisters at Villa Notre Dame, and even later at Watermark, received many of them.
In September 2021, the Sisters of St. Joseph welcomed Mariella to retirement at their Motherhouse. It was her choice, and she was happy and peaceful there, lovingly cared for by the sisters and nursing staff. Sisters Lorraine Burns and Evelyn Breslin visited each week with longtime friend Pat Werner. When she went on comfort care a year ago, they anticipated many arrangements that were carried out when she died on the morning of August 25. Lorraine was able to be with her during her last moments.  She was 96 years old.          
Sisters Peggy Juskelis and Provincial Councilor Peg Malone joined Lorraine and Evelyn for Mariella's Liturgy of Christian Burial on September 2, in the chapel of the Motherhouse. Father Paul Tomasso, Chaplain, presided and gave a homily that captured Mariella's spirit. Relatives, the SSJ community, and many good friends joined them. Sister Luke Hardy, SSJ and Sister Lorraine welcomed the congregation. Lorraine spoke of Mariella's 76 years as an SSND ending with words from You Are Sent that Mariella had requested: "In death we say our ultimate human yes to our Creator. Trusting in God's power to bring us to fullness of life, we see death as an act of worship: in dying we proclaim God, God and ourselves creatures. Although in grief, the community gratefully affirms this . . ."    
Longtime friends Pat Werner and Adam Bello, Monroe County Executive who had kept in touch with Mariella after meeting her when he was running for office years before, together placed the pall. Ross Lanzaframe, Sister Monica Weis, Janice Incavo, (student at Philip Neri), and Evelyn Breslin took liturgical roles.  At the graveside at Holy Sepulchre Cemetery, where Mariella was laid to rest, Peg Malone, Peggy Juskelis and Evelyn conducted a beautiful service that included this litany of remembrance:                                              
Litany of Holy Women 
Mary Theresa Gerhardinger, Mary Caroline Friess, 
Mariella McMillan, Mary Smith, Miriam Therese Roncinske,
Stephania Walczak, Mary Lou Brien, Rita Marie Habecker,
Roberta Tierney, Mary Alma Statt.
Pray for us
Sisters Kay O'Connell, Evelyn Breslin and Lorraine Burns