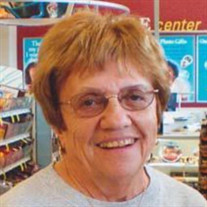 Sister Mary Ann Schroeder, SSND
March 8, 1933 – May 16, 2023
March 8, 1933 was "a memorable date" for the Schroeder family.  It was on that day that the first of the three Schroeder children, Mary Ann, was born.  Mary Ann was born in Philadelphia, Pa. to William and Anna Klosz  Schroeder.  
Baptized at St. Boniface Church, Mary Ann was later educated at St. Boniface School.  In addition to her years of education at St. Boniface School, Mary Ann  also received the sacraments of Penance, Holy Eucharist and Confirmation at
St. Boniface Church.  
During her high school years at Hallahan High School, Mary Ann had "a vague idea that God was calling" her to a religious vocation.  For a few years after graduation, Mary Ann was employed to do analytical work at a chemical plant.
She then sought acceptance as a School Sister of Notre Dame, "fulfilling her ardent desire to become a Sister and believing it to be God's will for her."
Mary Ann entered the candidature in 1953, was received as Sister Mary Annasita in 1954 and was professed in 1955.  She was a student at the College of Notre Dame of Maryland (now Notre Dame of Maryland University) for a year before going to Sacred Heart School in Baltimore as a teacher.  Mary Ann continued to teach elementary classes at Our Lady of Fatima School in Baltimore, then taught high school social studies classes at St. Maria Goretti High School, Hagerstown Md. and St. Mark High School, Wilmington, Del.  In her later years at St. Mark High School, Sister MaryAnn was a full-time library assistant.
Sister Mary Ann moved to Villa Assumpta, Baltimore in July, 2018 where she lived a life of prayer and presence. Mary Ann was a woman of quiet grace.  She was friendly and soft spoken. Mary Ann continued her love of books and libraries as she assisted with the library at Villa Assumpta.
Sister Mary Ann earned a Bachelor of Science in Education degree with a minor in Elementary Education in 1959 from the College of Notre Dame of Maryland (now Notre Dame of Maryland University) and a Master of Arts in U.S. History from Villanova University, Villanova, Pa. in 1972.
Sister Mary Ann died on May 16, 2023 at Stella Maris Nursing Home, Timonium, Md.  The Mass of Resurrection was held in the chapel of Villa Assumpta, Baltimore on July 12, 2023.  Interment followed at Villa Maria Cemetery, Glen Arm Rd., Glen Arm, Md.  
Sister Mary Ann was survived by her sister, Charlotte Carlin (John); brother William Schroeder, who died shortly after Mary Ann; and nephews Scott (Joan), Michael (Kelly) and William J. (Brenda).  
-    Jeanne Hildenbrand SSND