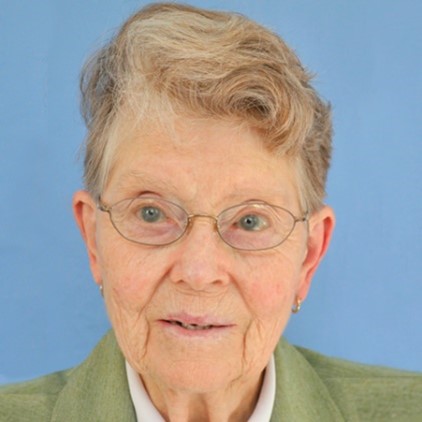 Sister Mary Ann Wood, SSND
Aug. 23, 1926 – Sept. 22, 2022
Mary Ann Wood, third child of Robert and Mary Elizabeth Olys Wood, was born on the bright sunny day of August 23, 1926 in Baltimore.  As the birth of this blue-eyed, red-haired baby girl occurred, the parish church bell was ringing the Angelus.
Baptized Mary Ann, the little girl grew up in a small world of her own, with two older brothers.  As a result of childhood measles, Mary Ann's eyes were weakened and she wore glasses from the time she was 18-months old. 
Mary Ann wtote in her autobiography that she "leisurely passed her happy babyhood and little girl days before beginning her education at Corpus Christi School, where her mind and soul were nurtured in the love of God and neighbor by the School Sisters of Notre Dame."
When a "deeply loved" aunt, a Sister of Mercy, died, Mary Ann resolved to "fill her place in religious life."  With this resolve in mind, Mary Ann entered the Institute of Notre Dame for her high school education.  During those years, she taught Sunday School for the Mission Helpers of the Sacred Heart.  Strengthened in her vocation, Mary Ann "decided to fulfill her promise to become a religious as a  School Sister of Notre Dame."
Mary Ann entered the candidature on Aug. 28, 1944.  She was professed on July 31, 1947.  As a professed sister, Mary Ann taught at Madonna School in Fort Lee, N.J.  She was sent to Puerto Rico in 1953 to teach at Most Holy Name School in Cauguas.  Sister Mary Ann earned a Bachelor of Arts degree majoring in English from the College of the Sacred Heart, Santurce, San Juan, Puerto Rico in June, 1958. She also spent a few years at St. Peter's School in Philadelphia before going to Bolivia in 1964.
Initially a classroom teacher in La Paz, Bolivia, Mary Ann's many years of ministry spread to adult education and evangelization.  On her return to Baltimore in 1991, Mary Ann was employed by the Johns Hopkins Health Systems as a Spanish Language Specialist and Interpreter. She said about her years of work "I tried to live the gospel to its fullest among God's people."
Mary Ann retired to community service and then prayer and presence at Villa Assumpta.  She later lived at Stella Maris Nursing Center, Timonium, MD, where she died on Sept. 22, 2022. 
The wake service and Mass of Resurrection for Sister Mary Ann Wood was held in the chapel of Villa Assumpta on Oct. 26, 2022.  Sister's cremains will be buried in Villa Maria Cemetery, Glen Arm Rd., Glen Arm, MD
Sister Mary Ann is survived by her sister, Mary Joseph Griffin, a sister-in-law, Patricia Wood, and many nieces and nephews. 
Jeanne Hildenbrand, SSND