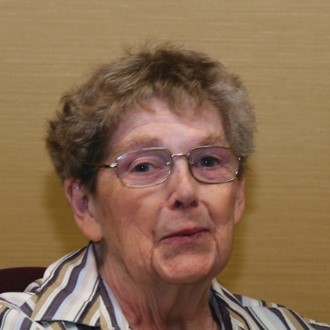 Sister Mary (Arthur Mary) Smith, SSND
March 2, 1936 – May 14, 2023
Mary Madeline Smith was born in Rochester, New York, on March 2, 1936, to Arthur Smith and Helen Grace, natives of New Albion, New York. When she was baptized on March 29, at Holy Rosary Church, her mother's first name was recorded as Nellie. The family eventually numbered nine other children: two other girls, Joanne and Helen, and seven boys: Donald, William, Richard, Robert, James, Thomas and John.
Of Irish heritage, both parents were Catholic, so they enrolled Mary Madeline in   Holy Rosary School for first grade.  Later she was taught at Immaculate Conception School from second to sixth grades and, finally, finished her elementary education at St. Boniface School.  Here she may have been inspired to go to the Notre Dame Juniorate at the Academy of Holy Angels in Fort Lee, New Jersey, where she spent her high school years, graduating in 1950.
Mary became a Candidate at the Asquith Street Motherhouse in Baltimore, but then entered the Novitiate on Bellona Avenue while the new Motherhouse on North Charles Street, Villa Assumpta, was being built.  She received the religious name Arthur Mary at Reception in 1955, in honor of her father. First Profession followed on July 27, 1956, followed by one year of study at Villa Assumpta.    
              
Sister Arthur Mary's life is a quintessential SSND story—completely devoted to elementary school teaching and administration. Her first years, 1957 to 1966, were spent at St. Lawrence School, Sayville, Long Island, New York.  Then obedience called her back to Rochester to Holy Redeemer School for three years. This school was opened by SSND in 1867. Here, Mary and Sister Mary Lou Brian— while cleaning out the convent attic, which they did with gusto—threw out many SSND documents and mementos of Mother Caroline's visits! 
Next, as teacher and administrator, Mary served at St. Leo School in Stamford, Connecticut, until 1973. Then began 16 years of service as Principal at St. Philip Neri School in Rochester, and 18 years as Principal at St. Boniface, Rochester, a foundation of the Congregation in 1866 and her own grade school, of which she  was the last principal. 
Former Superintendent of Schools Sister Edwardine Weaver, RSM, recently spoke of Mary as "a leader in urban education, a very successful and committed teacher and administrator who made a difference."  Mary Ellen Wagner was one of six principals who worked with Mary on the inner-city schools that were supported by Bob and Peggy Wegman and called the WIN schools.  The team of principals held their main focus on sharing the Catholic faith. Mary Ellen wrote,
"I witnessed Sister Mary's commitment and compassion to her ministry, her students, school families, staff and colleagues.  It was also her warm smile and laughter that brought so much joy to her fellow WIN principals, as well as to all who knew her."
Another colleague, School Supervisor Patricia Jonea, remembered that "of all the schools she visited, St. Boniface was the only one where all the children gathered each morning for prayer with Father Brickler and Sister Mary.  This was very special and very indicative of her devotion to the school and the staff and the children. She organized the Diocesan Spelling Bee and initiated science and social studies fairs. Her staff was entirely devoted to her, a sign of a good administrator. On the team of WIN principals, she was eager to follow through with innovative and sometimes risky endeavors." Several others remembered Mary as "kind, loving and organized. Always there for anyone, she never closed her doors."
From 2008 to 2021, Mary gave her services as math supervisor at Notre Dame Learning Center, a sponsored institution founded by the Wilton Province in 2005, when all Diocesan schools had closed. It was approved by the Provincial Assembly to honor the Rochester Sisters' desire that the long and venerable community presence would remain there. Sister Lorraine Burns, charged with finding a suitable location, remembers how she and Mary checked out poor neighborhoods in the city and had a lot of fun doing this together.  
The new venture was a great success, offering help with homework and tutoring during after-school hours.  Other Sisters and many lay friends joined them as tutors in this effort to give myriad inner-city children a good academic foundation. One of the math tutors said of Mary, "Sister was such a wonderful educator and a most kind and delightful person. I always made it a point to arrive early for my sessions so I could spend some time with Sister Mary to chat and laugh. I will always remember her fondly."
Mary came to Ozanam Hall in Bayside, New York, on May 19, 2021, choosing it as her place of retirement. Her loving presence greatly enriched the other Sisters' lives. Her death there was unexpected on Sunday, May 14, 2023.
Father John Mulreaney, SJ, presided at her Mass of Christian Burial at St. Andrew Church in Bridgeport, CT, on May 22; it was attended by many Watermark sisters, and members of her large and loving family. 
A wake service presided over by Sister Evelyn Breslin preceded the liturgy. Evelyn spoke of Mary's years as an SSND educator and also of how important family was to her. Evelyn recalled that "No matter what she was doing or how she was feeling, she was always there for her family, and it was always fun for us to meet all the little ones." 
Nephew Sean Smith and niece Marie Smith were lectors at the Liturgy. Sister Justine Nutz read from You Are Sent; Father Mulreaney's homily recalled the seasons of Mary's fruitful life. Grandniece Ayanna and grandnephew Stephen brought up the gifts.
After the Commendation prayers, all the Sisters stood around the coffin with raised arms to sing our SSND blessing. Burial followed at the community section of St. Mary Cemetery, Bethel, Connecticut.
-    Sisters Kay O'Connell and Evelyn Breslin