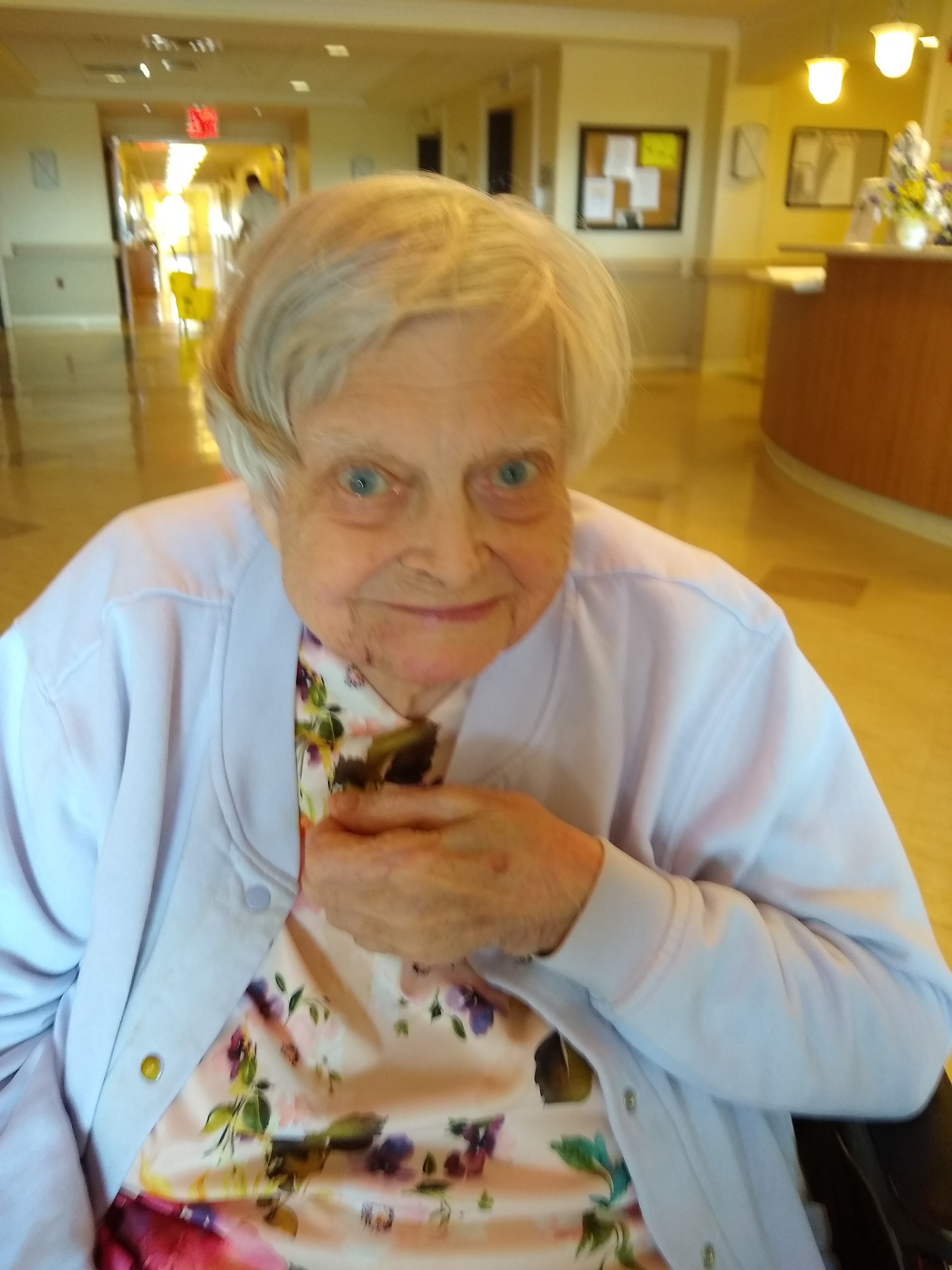 Sister Mary Aveline Smith, SSND
May 11, 1921 – December 31, 2022
Helen Marie Smith was born in Newark, New Jersey, to William and Mary (Frey) Smith, on May 11, 1921 and baptized on the 29th at their parish, St. Peter's. Both her parents were natives of Newark. Three years later a sister, Marie, was born, but she died shortly afterwards. A brother, Robert, and another girl, also named Marie, later completed the family. Helen's first grade was interrupted by pneumonia; she started school again the following September (1927). A student of our Sisters at the parish grade and commercial schools, Helen graduated from grade school in 1935 and from the two-year St. Peter's Commercial in 1937. Later she completed high school at the Institute of Notre Dame (IND) in Baltimore, graduating in 1941.
At the Commercial school, Helen was comforted by her "kind friend" Sister Nicola when her mother was ill at the time of graduation. Later Helen visited Sister several times when she was transferred to Holy Trinity, Philadelphia. During these visits, Helen's desire to enter the Order grew. Sister did not encourage her to enter at once but encouraged her to pray. While employed as an office worker, Helen began a novena to St. Ann.
On December 8, 1937, Helen received the bonnet in the chapel of St. Peter Convent, and a week later she was a Candidate taking high school classes in Baltimore at IND.
At Reception on July 26, 1940, Helen received the name Mary Aveline, and after First Profession a year later, began her long ministry in Elementary Education. From 1941 to 1972, Aveline taught at several schools in Maryland, New Jersey and New York. For 15 years until 1987, she was employed as a clerical worker at St. James Hospital in Newark. Later, she served for 12 years as driver and Coordinator of Transportation, and for another 15 years in the Finance Office, both at the Motherhouse in Wilton.
In 1960, Aveline earned a B.S. in Education from the of College of Notre Dame (now Notre Dame of Maryland University). In 1990 she wrote to the Wilton Current asking readers to contribute to sending Bibles to Russia, a need she had heard about from the Slovak Gospel Association in Wheaton, Illinois. She quoted their appeal from people in Russia: "Please help us to get Bibles, so we can find the God we have lost." Our Blessed Mother Theresa Fund for the Poor contributed $250.
On her retirement in 2014, Aveline was at Lourdes Health Care Center living a life of "Prayer and Presence." A dedicated nurse, Mary Norman, was especially devoted to her. Aveline was among the first group of Sisters to go to Ozanam Hall in Queens, NY, on September 28, 2019.
While at VND and Lourdes, Aveline crocheted avidly, every year gifting each Jubilarian with a lovely lap robe.  She also enjoyed adult coloring books when they became a popular pastime; her designs were beautiful.
On May 11, 2021, at Ozanam, she celebrated her 100th birthday with Local Leader Sister Jacci Glessner and all the Sisters there.  Though suffering with poor health and often in pain, Aveline enjoyed her special day very much, as it brought joy to the whole community. 
Aveline died at Ozanam in the early hours of December 31.  She had requested "No remembrance of virtues or vices or anything else. Just a simple Mass with intentions and condolences to my family." Her sister Marie had preceded her in death; her nephews, Michael, and Steve Whitman, had been in touch with Jacci. 
Precautions because of the Omicron version of COVID determined arrangements for Aveline. Several Masses at Ozanam have been offered for her. A burial service, with Sisters from both Watermark and Ozanam present, took place at St. Mary Cemetery, Bethel, Connecticut, on January 11, 2022.  A liturgy of Christian Burial will be celebrated at Watermark when possible in the future.
Sister Kay O'Connell