Sister Mary Bann, SSND
June 21, 1940 – March 28, 2020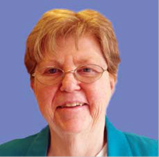 Mary Bann was born to W. George Bann and Mary Marshall Bann in Belvidere, Illinois, on June 21, 1940.  The family story is that when the Sister at St. Joseph Hospital brought baby Mary to her mom and told her she was the mother of a red-headed baby girl, her mom's response was, "Oh no!"  Not very fond of red hair, her mother "overcame her dislike, and even learned to love it," as Mary wrote in her novitiate autobiography. 
Mary had one brother, Robert, who died in May of 2004.
Mary Margaret was baptized at St. James Church in Belvidere, and attended the SSND grade school in that parish.  She wrote that she first considered religious life when she was in the eighth grade, but that thought "disappeared as quickly as it had come."  She attended Belvidere Public High for four years.  There, just before her junior year, she again began to think of the religious life.
"This time the idea persisted," she wrote.  She entered the Candidature in the old Milwaukee motherhouse on August 31, 1958, a member of the last class to enter there.  On July 27, 1959, she celebrated her reception into the novitiate, again the first class, now received at Notre Dame of the Lake, Mequon, Wisconsin, receiving the religious name Sister Mary Ann Josette.   She took her first vows in Mequon on July 28, 1960, and her final vows on July 28, 1966. 
In 1967, Mary earned a Bachelor of Arts in English and History at Mount Mary College in Milwaukee, Wisconsin.
Mary was an outstanding grade school teacher, using her talents primarily with children in very poor areas, including St. Alphonsus, Santa Lucia, St. John De La Salle, Presentation, St. Procopius, Our Lady of the Westside, and St. Stanislaus Kostka, all in Chicago.  She also served as Postulant Director in the Chicago Province from 1993 to 1998.  
Mary moved to Marian Village in Homer Glen, Illinois, in 2007.  After many years there, she was transferred to Resurrection Life Center.  Mary's dry wit and clever greetings gave much delight to all who lived and worked with her.  The entire nursing staffs of both Marian Village and Resurrection Life Center love to quote her many quips.  Her dear friend, Sister Jean Phelan, was with her when she died on March 28, 2020.
Because of the lockdown related to the coronavirus, there was only a brief burial service at the time.  A memorial woill be celebrated later.
Burial was at Holy Sepulchre in Alsip, Illinois.
Sister Charlaine Fill, SSND