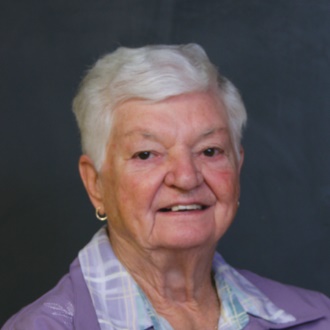 Sister Mary Charia Ripple, SSND
Aug. 27, 1926 – Jan. 20, 2023
Born on a Baltimore summer day into the loving Catholic family of John Michael and Agnes McCarthy Ripple, Catherine joined a family that would eventually be composed of five brothers and two sisters.  Her father died in 1930 when Catherine was still a young child. 
Entering Blessed Sacrament School at the age of six, Catherine had the School Sisters of Notre Dame to guide her education.  Catherine related that "the happiest day of her life" occurred in 1932 when she made her first Holy Communion.  She was confirmed by Bishop McNamara in 1938 and graduated from Blessed Sacrament in 1941. 
Catherine always had a desire within her to become "one of those good Sisters."  Her vocation was inspired by her mother's love and devotion.  This desire lived on as she attended the Institute of Notre Dame from 1941 to 1945.  Catherine particularly chose IND in order to remain close to the School Sisters of Notre Dame.
Catherine entered the School Sisters of Notre Dame after graduation.  Soon came Reception Day, July 16, 1947, "the day I've been waiting and praying for."  Catherine was received with the name Sister Mary Charia. She professed her first vows in July 1948. 
Sister Charia taught at schools in Florida and Maryland for about 15 years before serving as principal at several schools in Baltimore.  During this time, she also continued her own education; earning a Bachelor of Science in Education from the College of Notre Dame of Maryland (now Notre Dame of Maryland University) in 1955 and a Master of Education from St. Louis University in St. Louis, Missouri in 1970.
In 1977, Sister Charia was appointed as coordinator of religious education at Corpus Christi School in Temple Terrace, Florida.  She later combined this position with pastoral ministry working with immigrants, the homebound and the emotionally disabled.  Sister Charia retired in 2000, but she soon volunteered with a ministry to the Hospital and Homebound in the Diocese of Orlando, Florida.
Sister Charia had the courage to believe that one finds a friend in suffering. She valued this gift, not only for herself but as she encouraged others.  Her strong belief in God's presence taught her to find the way home to where God is always waiting. 
Sister Charia died at Villa Assumpta on January 20, 2023.  Her wake and liturgy was held at Villa Assumpta on January 26.  Sister Charia's body was interred at Villa Maria Cemetery, Glen Arm, Md. 
Sister Charia is survived by her loving nieces and nephews.
Jeanne Hildenbrand, SSND