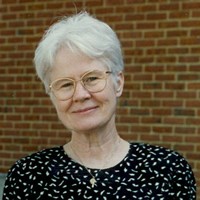 Sister Mary Ellen Dougherty, SSND
March 10, 1936 – Feb. 21, 2021
Angela Dougherty was born into the family of Thomas and Rosella Finan Dougherty, one of seven children.  Educated at St. Patrick's School and Catholic Girls' Central High School in Cumberland, Md., Angela left the mountains of western Maryland in 1956 with confident stride.  Inspired by the School Sisters of Notre Dame, who taught her from grade one through two years of college, she was ready to embark on a path to embrace what she had vicariously experienced – holiness and closeness to God.
This desire to be close to God was the hallmark of Mary Ellen Dougherty's life.  She was God-centered, and she manifested this in what she called her lifetime-loves:  prayer, people and poetry.
During her life of ministry, Mary Ellen was a giver.  One of her outstanding gifts was her ability to teach.  Beginning with middle school students at St. Jane Frances School, Riviera Beach, and continuing with high school students at St. Mary School, Annapolis, she honed her teaching skills and inspired her students to succeed.
Having received a B.A. in English from the then College of Notre Dame of Maryland in 1957, she returned to her alma mater as an Instructor a decade later, beginning a long journey of teaching and inspiring students.  While teaching, she earned a Master's degree in English from Villanova University and a second Master's in Creative Writing from The Johns Hopkins University.
Throughout her forty years of teaching at the College of Notre Dame, she was highly-regarded for her academic competence and her power to inspire her students.  During this time, she also taught in the Maryland prison education program.  For 15 years she taught male prisoners how to look into their hearts and write.  Her gifts in this context were relevant, timely and effective. 
Ministry within SSND brought a unique opportunity to serve.  From 1973 to 1981, Mary Ellen introduced young women to religious life as Postulant Director and, subsequently, she used her skills of discernment as Novice Director.  To this day, women who caught her God-centered spirit are living religious life fully, and women whom she helped to discern another path hold her in deep friendship. 
In the midst of her activities, Mary Ellen contemplated life within her and around her and nourished her creative spirit by writing poetry.  The wide range of her subject matter is evident in her collected poems, "All Things Cleansed and Clean."
Her love for language and her precision in using it delights the reader.  This talent also marks her prose articles that have been published in various periodicals.
 
In 2002, Mary Ellen heard the call to leave her ministry at College of Notre Dame and open herself to other possibilities.  She took a position with the U.S. Conference of Catholic Bishops in Washington, D.C.  A short time later, the Conference received a large federal grant to address the problem of Human Trafficking.  Mary Ellen became the grant project director.
 
In short order, Mary Ellen—ever the teacher—studied, learned, and then launched a massive educational program for service personnel in every arena where trafficked persons could be found.  Her precise thinking and writing produced a clear path of education and action.  She was soon named Program Administrator, and completed six years of service in this work.
 
One final call to service came in 2008 when Mary Ellen was elected Provincial Councilor of the Atlantic-Midwest Province of SSND.  She made the concerns of her sisters her own in a kind, encouraging, and decisive manner.  At the end of a four-year term, she heard a very different call through her declining health.  The woman who had been a do-er all her life accepted the call to passive diminishment, a being-done-unto.
 
Mary Ellen became a resident at Maria Health Care Center in Villa Assumpta, Baltimore, in January, 2014, and she began to learn a new way of giving called receiving-with-joy.  Her characteristic smile gave thanks for every service; her eyes spoke peace and love.  With each passing day, her paralysis progressed and  her life grew in God-centeredness, her life-long quest.
 
The final lines of Sister Maura Eichner's poem, "Christmas:  Convent Infirmary," written in 1960, could well have been written about our Sisters in Maria Health Care Center today. 
 
                   ". . . the Child will come
                   carried by paten and candle and bell,
                   and the tired bodies will echo gloria, gloria,
                   fragile and constant as an ocean shell."
 
Among these sisters was Mary Ellen --- fragile, constant, daily echoing gloria, gloria. 
 
Sister Mary Ellen Dougherty died at Maria Health Care Center on Feb. 21, 2021.  Sister's remains were buried at Villa Maria Cemetery, Glen Arm Rd., Glen Arm, Md.  on Feb. 24, 2021.  A Memorial Mass in Sister Mary Ellen's memory will be celebrated at a later date.  May she rest in peace.
 
- By Sister Kathleen Feeley SSND (Additions by Jeanne Hildenbrand, SSND)