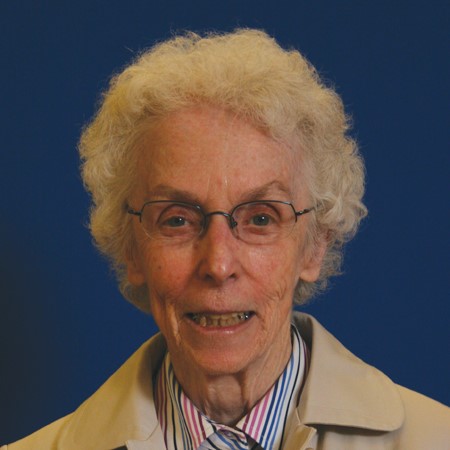 Sister Mary Henry Gadsby, SSND
January 13, 1931 – August 11, 2023
Margaret Gadsby, the oldest of seven children, was born in Cambridge, Massachusetts, on January 13, 1931. Her parents, Henry Gadsby and Mary Vaughan, natives of Cambridge, had her baptized two weeks later at St. Mary Church, Cambridge. In 1936, Margaret became a first grader at St. Peter School, Cambridge, to be taught by SSNDs. She graduated from the 8th grade in 1945, and then spent the next four years at St. Mary's High School, Cambridge, with the Sisters of Notre Dame de Namur. Her siblings were two sisters and four brothers.
Three years as a bookkeeper at F.W. Woolworth Company followed for Margaret. During this time, she realized that "My one ambition in life was to be a School Sister of Notre Dame." She received the Bonnet in St. Peter Church in August, 1952. During the second year of her Candidature, Margaret taught second grade at Blessed Sacrament School in Baltimore, first semester, and the second at St. Mary's, Annapolis, with third and fourth grade classes.
At Reception in July 1954, she received the religious name, Mary Henry, to honor her Father who had died in 1951. Her first and final professions were made in Baltimore, July 30, 1956, and 1961.  Sister Henry's first 14 years "on mission," were spent at St. Mary School, East Islip, Long Island, New York. From 1969 to 1975, she served as Principal and Local Leader of the community at Our Lady of Perpetual Help Business School on 62nd Street in Manhattan. Henry then was called to be Community Leader of the many sisters at our Motherhouse in Wilton, Connecticut, from 1975 to 1980.
Her Bachelor's and Master's Degrees in Education, Counseling and Guidance, were from St. John University, Jamaica, Long Island, in 1965 and 1971
From 1980 to 2001, Henry was the much-loved Principal at Immaculate Conception School in Secaucus, New Jersey.  One year as teacher at St. Catherine of Siena School in Trumbull, Connecticut, culminated in six years as Director of Religious Education in the parish there, one year as mentor to the religious ed teachers, and nine years as volunteer in St. Catherine School. On the first of June in 2017, Henry began her life of prayer and presence at Villa Notre Dame, Wilton. Three years later, she moved to Ozanam Hall, Bayside, New York, to be cared for by the Carmelite Sisters of the Aged and Infirm. She died peacefully there on August 11, 2023. Her one living sister, Marie Gadsby, resides in Somerville, Massachusetts.
Sister John Vianney Zullo, who gave the eulogy at Henry's wake service had spent her first mission at East Islip with Henry. She spoke lovingly of their long friendship, and shared endearing details about her—her wonderful welcoming spirit—always a smile and offer of a cup of tea. She mentioned other long-time friends' memories. Christina Murphy, Robert Maria Moser, Adele Shea, loved her "Oh, Fudge" when she got a playing card she didn't like; the good pinch on your arm if you teased her; the shopping trips when she came home with nothing for herself, and bundles chosen carefully for her staff, or others. 
Sister John Vianney, at the wake shared the following message from Jack Potts, Henry's cousin: 
         Peggy is in my earliest memories. I was three or four when we
         saw her off on a train from Boston to Baltimore. Everyone else 
         was crying, so I did, too. I remember Peggy working as a sales clerk
         in a five and dime. She was offered a promotion to the office, but said no.
         She was called elsewhere. I visited Peggy many times over the 
         following seven decades. Except for the day she left home, I never 
         found any sadness in my cousin. She beamed joy. As the religious
         in the family, she was, is, and will remain an inspiration to us all.
Sister John Vianney also shared descriptions of Henry's professional life. In 1999 one of her teachers in Secaucus wrote:
     Sister Henry is a very assuming person. She assumes her teachers
    are dedicated to education, and thereby calls forth and 
    nurtures dedication in them. She assumes everyone has
    a strong relationship with God, and so she has her faculty lea    
    services and share prayer. She assumes all her students are good 
    people. She assumes there is a peaceful solution to every
    problem, and gives of herself untiringly until the solution is
    reached. Her many assumptions make Immaculate Conception 
    School a place of love, security and respect . . . a place conducive
    to learning.  She is a team leader who calls forth gifts in others,
    gives freedom for new ideas, teaches as Jesus did, by example.
In keeping with the loving spirit, she fostered, Sister Henry was nominated by the Archdiocese of Newark for the NCEA Distinguished Principal Award. Part of John Street in Secaucus was named for her on Arbor Day in 2001. In 1998, the Jubilee medal Pro Meritus, recommended by her Pastor, was given to her by the Archdiocese of Newark, for distinguished service in school and parish. The education department of the College of St. Elizabeth recognized Sister Henry for her dedicated support of their student enrichment project called, "Project Voices, Girls as Writers." 
A Liturgy of Christian Burial was presided over by Father John Mulreaney, SJ, on August 24, at St. Andrew Church in Bridgeport, Connecticut. Celebrating Henry's life were her sister Marie in absentia, many of her SSND sisters, several nieces and nephews, and longtime friends Barbara Campbell and her son, Ron.  Sisters John Vianney, Patricia Hammond, Jacci Glessner, and Maria Iannuccillo closed the coffin. Sisters Maureen Ulatowski, Carolyn Stoe, Virginia Muller, and Kathleen Fullerton placed the pall on the casket. Theresa Lamy read for the placing of the symbols by Edna Cole, Frances Mensik, Eileen Shea, and Adele Shea. Lectors were Eileen Shea and Eileen Denny. Maureen Ulatowski led the Intercessions; Virginia Muller served as Communion Minister. The singing of the SSND Blessing at the door of the Church was a solemn moment at the closing of the liturgy.
Burial followed immediately at St. Mary Cemetery, Bethel, Connecticut.
Sister Kay O'Connell, SSND