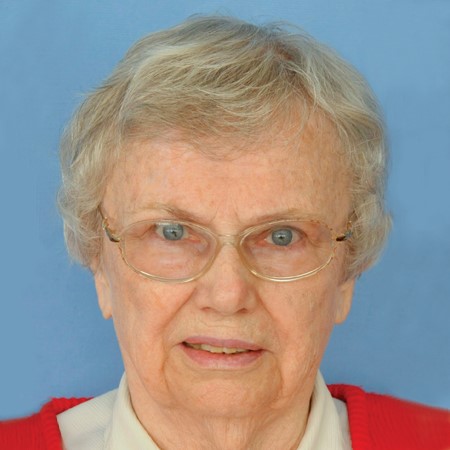 Sister Mary Jacquelyn Elly SSND
May 2, 1930 – May 27, 2023
Mary Jacquelyn, born May 2, 1930, was the youngest of the three daughters of John Randolph and Mary Madalyn Mooney Elly.  Born in Baltimore, Md. and baptized at Mercy Hospital, Jackie was educated at St. Edward's School and the Institute of Notre Dame.  During her years at IND, Jackie became interested in "the work of the Notre Dame order and first felt a desire to enter the religious life."  
Though "each year brought an enrichment in the desire to follow my holy vocation," Jackie decided to first follow the family tradition and she attended the College of Notre Dame of Maryland.  After graduation, Jackie was a teacher of mathematics at St. Mary's High School, Annapolis, Md. for a year as she "looked forward with increasing anticipation" to entering the School Sisters of Notre Dame in Sept. 1953. 
During the early years of her religious life, Jackie was a teacher at various secondary schools including Our Lady of Perpetual Help School, Roxbury, Mass.; St. Maria Goretti High School, Hagerstown, Md.; the Institute of Notre Dame, Baltimore; Academy of Our Lady, Washington, D.C.; Notre Dame Preparatory School, Towson and Calvert Hall High School, Baltimore.  She valued community life and continued to live at the convent at Notre Dame Prep while serving as Province Motor Vehicles Coordinator. 
Jackie's higher education included a Bachelor of Arts in Mathematics from the College of Notre Dame of Maryland in 1952 and a Master of Arts in Secondary Education for Mathematics from Catholic University, Washington, D.C. in 1971.
Jackie retired to prayer and presence first, at the Notre Dame Community, Hampton and then at Villa Assumpta.  Jackie died at Stella Maris Nursing Center in Lutherville on May 27, 2023.  A wake service and funeral liturgy was held at Villa Assumpta on June 6, 2023.  Jackie is survived by her sister, Virginia (Jimmy) Grant, as well as nephews and nieces.
~Jeanne Hildenbrand SSND