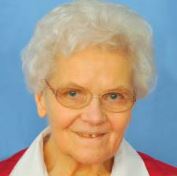 Sister Mary Jane Buhrman, SSND
July 20, 1928 – July 29, 2021
Margaret Frances, one of 16 children born to Charles and Mary Jane Wiles Buhrman, was baptized at St. Andrew's Church in Waynesboro, Pa. Margaret was taught by the Sisters of Mercy at St. Andrew's School and prepared by them to receive her First Holy Communion in May 1936.  She was later confirmed by the Most Rev. George L. Leech, Bishop of Harrisburg. 
Although having two older sisters who were Sisters of Mercy made Margaret determined to "be like them," it was meeting the School Sisters of Notre Dame at St. Mary's High School, Hagerstown, Md., that influenced her "ardent desire" to enter SSND. Margaret attended the SSND Teacher Training School and taught kindergarten at St. James School, Baltimore as a second-year candidate.
Sister Mary Jane professed her first vows in Baltimore on Aug. 3, 1949 and was sent to St. Michael's School, Rochester, NY, where she was the kindergarten teacher.  After spending some years at St. Boniface School, Philadelphia in middle grades, Sister Mary Jane went west to St. Patrick School, Cumberland, Md. and St. John School, Frederick, Md. 
Nurturing, encouraging and patient, Mary Jane had a passionate love for little children, teaching for nearly 50 years.  After being refreshed and renewed by a sabbatical at Springbank Retreat Center in Kingtree, SC, she returned to community service and volunteering at St. Peter School, Philadelphia, in 1998. 
In addition to the Bachelor's degree in Elementary Education that Mary Jane   earned at Nazareth College, Rochester, NY in 1958, she also received a Master of Arts in Reading at Loyola College, Baltimore in 1972.
Sister Mary Jane retired to prayer and presence at Villa Assumpta in 2007.  During retirement, Mary Jane was busy developing her avocation of painting.  Her lovely pictures could be seen gracing the halls of Villa Assumpta or by stopping by her room to visit.  
Sister Mary Jane was a gift to her community through her prayerful and tranquil ways. She did what she did for Jesus. A country girl at heart, she enjoyed her large family and they loved and treasured her.  After her death, a nephew commented online, "You were the best!"  It was a fitting tribute to their loving relationship.
Sister Mary Jane died peacefully on July 29, 2021 at Stella Maris Nursing Center in Lutherville, Timonium MD.  Private services were followed by burial at Villa Maria Cemetery, Glen Arm Rd., Glen Arm, Md. on Aug. 4, 2021.  Sister Mary Jane is survived by her sister, Marion Prengaman, and countless nieces, nephews, and great and great-grand nieces and nephews.
-         Jeanne Hildenbrand, SSND