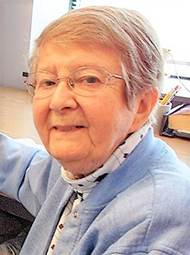 Sister Mary Louise Brien, SSND
July 16, 1932 – August 29, 2021
Born in Rochester, New York, Mary Louise was loved and nurtured from her earliest days by her parents, Raymond and Lucille Brien, and her older sisters Virginia and Dolores.  The Brien girls were later joined by one more sister, Linda, in their "simple, quiet, religious-based life."
Six years passed quickly, and soon Mary Lou was accompanying her older sisters to St. Peter and Paul School.  Mary Lou recalled in her biography the happy days of preparation and then reception of her first Holy Communion and Confirmation.
Virginia and Dolores had "heard God calling them" and were already students at the School Sisters of Notre Dame aspiranture when Mary Lou visited and was "impressed by the wonderful spirit and happiness" from just being with them.  She believed that "the tiny seed of her vocation" began to grow at that time.
Mary Lou entered the aspiranture and "spent the years of study and prayer hoping for the grace and strength to go on with her 'one desire.'"  After receiving the candidate's bonnet, she was sent "with great joy" to Bergenfield, New Jersey to teach second grade, then first grade at Sacred Heart, Baltimore.  She said, "My love for the little children had grown, and I loved every minute teaching them."
Mary Lou professed her first vows on July 29, 1954 and "knew that now she belonged entirely to God." During the early years of her vowed life, Mary Lou spent a few years in Baltimore, Philadelphia and Long Island before returning to the Rochester area, where she remained until retirement.  Mary Lou was teacher and/or principal at schools in Rochester and Penfield, NY for more than 30 years.  She spent her final school years in various positions, i.e. supervisor, resource person and coordinator of ELA reading programs.  
Mary Lou earned a Bachelor of Science in Education at the College of Notre Dame of Maryland (now Notre Dame of Maryland University) in 1962.
Mary Lou served her God for many happy and fruitful years.  She served with zeal and fervor as her greatest desire was to bring the "little ones to know and love Him more." In prayer, she begged God to make her "a little more worthy to be a fit instrument in His service."  Those who knew her said "Loving" best describes Mary Lou as she shared her gifts with grace and joy.
Mary Lou died peacefully at Stella Maris Nursing Home, Timonium, MD, on August 29, 2021.  The Wake service and Funeral Liturgy for Sister Mary Lou was celebrated on Sept. 3, 2021 in the chapel of Villa Assumpta, Baltimore, MD.  Burial followed at Villa Maria Cemetery, Glen Arm Rd, Glen Arm Md. 
Mary Lou is survived by her sisters and brother in law:  Sister Virginia Brien, SSND of Villa Assumpta, Baltimore; Dolores Brien, and Linda and Raymond Contrino of Rochester, NY.
Sister Jeanne Hildenbrand, SSND