Sister Mary Martin Colbert
September 29, 1929 – April 8, 2020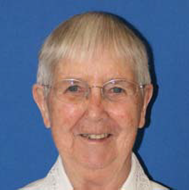 Nancy Colbert was born in Chicago, Illinois, on September 29, 1929, the third and youngest child of Bertram Colbert and Grace Braeckman Colbert. She was baptized at St. Bonaventure Church, and attended grade school at St. Alphonsus School nearby, taught by the School Sisters of Notre Dame.
When she graduated from St. Alphonsus, Nancy asked her parents if she could enter the Juniorate (aspiranture) at the Academy of Our Lady, Chicago, but they insisted that she attend high school first. At St. Michael High School, she was able to complete all her studies in three years. About those years, she wrote, "Though sports and music were my favorites, Sodality work was my main concern, especially in my senior year when I was Prefect.  I was also very active in the Chicago Inter-Scholastic Catholic Action group. It was at this time that [Saint] Martin de Porres and I became good friends. He gave me zeal in prayer and work for my black brothers and sisters. I hoped someday to be able to work among them."
Already aware of the direction that much of her life would take, Nancy entered the Candidature in Milwaukee in 1946.The following year, she completed her practice teaching at St. Michael, Milwaukee, and in 1948 was received into the Milwaukee Motherhouse novitiate, receiving the name Sister Mary Martin de Porres. She was professed the following year, 1949. She took her final vows in August of 1955.U nfortunately, her father died the next month.
Martin's first mission was St. Elizabeth, Milwaukee, where she taught fifth grade for five years. She was then transferred to Holy Trinity, Milwaukee, where her "greatest joy was working with the Hispanic children."  As she said, she had "always had a great desire for missionary work…This was the closest I had gotten to it, and it only whet my appetite for more."
Martin's next assignment was to Messmer High School in Milwaukee. As a Sociology teacher, she participated in a 1965 Fulbright Grant for Social Studies teachers, which included a trip to Ethiopia, where she personally met Emperor Haile Selassie, and neighboring countries. She wrote, "I was experiencing the continent [Africa] for the first time, and it really touched me… Someday SSND would be on that continent, and I wanted to be there, too."
In 1965, Martin received a Master of Arts degree in Sociology from Marquette University in Milwaukee. Also that year, the DeKalb [later Chicago] province was formed, and Martin was sent to teach at her alma mater, St. Michael Central High School in Chicago, which by then had become an integrated school. In 1968, she was sent to be principal at Cardinal Stritch High School in Chicago. Unfortunately, the old building was condemned, and since there was no money to replace it the school closed.
The Academy of Our Lady [Longwood] was Martin's next mission; she and another Sister became co-principals there when the lay principal resigned shortly before school opened in 1969. This area was also becoming integrated, and Martin found the pressure of the entire situation to be beyond her. With the permission of Mother Elred, the first Chicago-DeKalb provincial, Martin went to work in the Mankato province, where she taught in a variety of settings for two years.
Upon returning to the Chicago area, Martin became principal at St. Benedict, Blue Island, Illinois. At that time, each province in North America had its own mission extensions. The Chicago province was too small to sponsor a mission of its own at that time, but Martin eagerly joined two Mankato Sisters to start the first mission in Kenya. In preparation, she studied at Regina Mundi in Rome. Finally, in August 1974, she joined Sister Maris Simon and Sister Mara Frundt, both from the Mankato province, to begin to educate African Sisters, the Franciscan Sisters of St. Joseph, at Nyabururu in the diocese of Kisii. 
            
In an undated article for the School Sister magazine, Martin wrote:
"I am convinced that if Mother Theresa were alive today she would want us to be here. As a member of the formation staff for the Franciscan Sisters of St. Joseph I commute between Assumbi and Nyabururu to teach 24 novices and a number of postulants and pre-postulants. My classes include Scripture, liturgy, religious life, prayer, the documents of Vaitican II, and basic psychology.

The young women are so eager to learn, and they are good teachers, too.  I am enriched by their cultural values and their concepts of relationship with God.  One of the greatest lessons I have learned from the Kenyans is their priority of persons over time, work, and other things.  Another is their willingness to share, no matter how little they have." 
Illness forced Martin to return to the United States in 1976, where she spent several years in various ministries. Her mother died in 1980, and she was grateful to be nearby at that time.
Martin then returned to Kenya in 1980 and stayed until 1987; during these years she helped the Franciscan Sisters with their formation program until some of their own were trained. Next was Nigeria. At that time, young women were entering the SSND congregation, and their first profession occurred in 1992. 
In 1993, Martin again returned to the United States, where she was responsible for the care of SSND Sisters in nursing homes in Chicago and Crown Point, Indiana.Then, in 1994, the Mankato province called her to return to Kenya, where she taught in a diocesan teacher-training college in Kisii, Kenya.
When she returned to Chicago in 1996, Martin found meaningful work at the 8th Day Center for Justice.  "It was a good place for me to be," she wrote, "and a good connection for the Chicago province."  In 1999, her Golden Jubilee year, she moved to the Foster Avenue community in Chicago, and broadened her work to include the SSND International Shalom efforts for justice and peace.  She later moved to the Academy of our Lady community, continuing her work at 8th Day and Shalom.
In 2003, responding to a never-ending "nudging" to return to Africa, Martin applied to the newly-formed District of Africa and returned for two years to Nigeria, at Mkar in Benue State. In 2005, she returned to Chicago for two months, and was able to participate in the process of reconfiguration (into the Atlantic-Midwest province) and the closing of the Chicago province.  Returning briefly to Africa, she handed over her ministry to a young African Sister and left Africa for the last time in November 2005.
From 2005 to 2015, Martin gave service and continued in prayer and presence at Marian Village in Homer Glen, Illinois, and at St. Pius X in Stickney, Illinois. In 2015, at her request, she moved to Villa Notre Dame in Wilton, Connecticut. In 2020, she eagerly moved with other retired SSNDs to Ozanam Hall in Bayside, New York. Within a very short time, she died there on April 8, 2020.
Because of restrictions due to the covid-19 outbreak, there was no funeral. Burial will be at St. Mary, Bethel, Connecticut on April 15. A memorial service will be held at a future time, when that becomes possible.
- S. Charlaine Fill, SSND