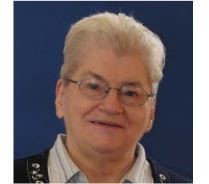 Sister Mary McGrory, SSND
January 19, 1933 – February 22, 2021
Mary and her twin sister Helen were born in Bronx, New York, on January 19, 1933, the eldest children of Margaret O'Donnell and Philip McGrory, both from County Donegal, Ireland. A few years later, their brother Phil completed the family.
 
Mary told this charming story about her parents. Philip had emigrated to New York, when he heard via the grapevine that "Wee Maggie" O'Donnell was walking out with someone else.  He was on the next boat back home to successfully claim his beloved, the girl for whom he had carried schoolbooks when they were children. 
 
"When my brother Phil was still very young," Mary recalled in her autobiography, "my father decided to take the family to Ireland. The months spent there were among the happiest ever spent.  We can still recall the happy memories of the green hills of Ireland." Shortly after returning, the twins started school at St. Athanasius, where they spent eight happy years with the Sisters of Charity of Mount St. Vincent. 
 
In an updated autobiography, Mary shared these memories of her childhood,
 
In the 1st grade my twin sister Helen and I began Irish Step Dancing lessons at 'Timmy Quinn's Irish School of Dancing.' We entered many competition and enjoyed the friendship of the other Irish dancers.
                    
For a long time, we each had a special doll that neither of us would share with the other. It was good growing up in the Bronx because there was always something to do—movies, stick ball, an exciting game of Ring-a-levio (a type of tag) with the boys. In the summer we to Rockaway Beach for vacation and once in a while ventured  to the amusements at Coney Island.
 
The twins went by subway to Cathedral High School in Manhattan, where their teachers were from three different religious communities. "It was a wonderful school, and I received a good education," Mary wrote. 
 
They enjoyed the excitement of high school and its activities, one of which was marching in the St. Patrick's Day Parade. After graduation, Mary enjoyed the business world for six years as a clerk at Citi Bank and a typist at Simplicity Patterns, but she felt her desire to serve God becoming stronger. She knew and admired the SSNDs from visiting her cousins, Sisters Catherine Marie (Molly) and Miriam Patrick O'Donnell. Her twin Helen was also an SSND for several years as Sister Philip Marie.
 
Mary became a Candidate at Villa Assumpta in Baltimore with the class of 1959. Her novitiate began on July 12, 1958, when she received the name Margaret Marie at Reception. First profession on July 25, 1959 at Villa Assumpta was followed six years later, on the same day, by final vows at the new Motherhouse in Wilton, Connecticut.
 
From 1959 to 1971, she taught at St. Anthony of Padua School in South Ozone Park, New York; this was followed by three years as librarian at Our Lady of Fatima School in Wilton, Connecticut. Later teaching assignments brought her to St. Mary in East Islip and St. Lawrence in Sayville, both on Long Island, and St. Anselm in Brooklyn. From 1996 to 2009, Mary served at St. Saviour High School in Brooklyn as Office Assistant/Receptionist and Tutor. A lifelong friend was Biagio Arpino, principal of St. Mary School, East Islip. He was a third-grader there when Mary was supervising the lunchroom, and often offered to share his sandwich with her.
Mary earned a Bachelor's degree in Elementary Education from the College of Notre Dame of Maryland (University) in 1970. With her dry sense of humor, Mary had a good rapport with others.  When she celebrated her 50th Jubilee at St. Saviour's, she was given this tribute:
             We celebrate you, Mary, for your many years of dedicated
             service in the primary grades, and have heard first hand 
             from adults here today who had you in school, how much      
             they loved you.   We know you have a beautiful singing voice
             and Irish step dancing feet, and we thank God for your easy
             presence in community.  May the steady flame of the Spirit's 
             love convince you of your goodness, and fire your desire to 
             proclaim the Good News with your life.
 
A great sorrow to Mary was the unexpected death of her twin sister Helen in the Spring of 1998.  They had talked on the phone the evening before and all had seemed well.
 
Mary came to Villa Notre Dame in 2009. Her devoted brother Phil visited her often, sometimes staying overnight, especially after she became a resident of Lourdes Health Care Center in 2019.  She was among the first sisters to create a new SSND community at Ozanam Hall in Bayside, Queens, New York, in September 2019. 
 
Mary's death was not related to COVID; she died peacefully at Ozanam on the afternoon of February 22, as Sister Jacci Glessner and several other Sisters comforted her with prayer, song, and the renewal of her vows. On Thursday, February 25, Mary's family, led by Phil, joined the VND community outdoors to bless the hearse as it stopped at VND on its way from Queens to St. Mary Cemetery in Bethel, Connecticut. A Memorial Mass will be celebrated at some time in the future.
               
- Sister Kay O'Connell