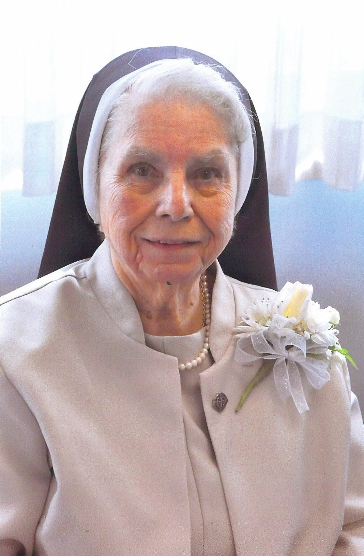 Sister Mary Theodore Baccala, SSND
July 9, 1932 – Sept. 14, 2022
Born into the large Baltimore family of Theodore and Alberta Michael Baccala on July 9, 1932, Margaret Caroline was welcomed with love. Educated by the School Sisters of Notre Dame, Margaret decided to become a nurse and graduated from the Keswick Home in Baltimore as a licensed practical nurse.
 
Margaret answered the call to enter the School Sisters of Notre Dame on August 28, 1951, when she received the bonnet at St. Leo's, her parish church.  She proudly bore her father's name on becoming Sister Mary Theodore at reception.
Sister Theodore cared for the infirm and retired sisters at Villa Maria, Notch Cliff for twenty-five years.  She gave some years of nursing at Lourdes Health Care Center, Wilton, Connecticut, and then attended the renewal program at St. Mary of the Pines, Chatawa, Mississippi. Sister Theodore returned to Baltimore in 1981 for community service.
Sister Theodore was always involved with giving.  She gladly shopped for sisters who needed and appreciated that service.  She could often be found in the small kitchen at Villa Assumpta baking her specialty, Jewish Apple Cake and her famous pizzelle cookies.  She loved to help with St. Leo's dinners and Italian Festival in Little Italy.
A great story teller, Sister Theodore enjoyed sharing her experiences with interested listeners.  Her early years at Notch Cliff, longtime retirement home for Sisters, was always a popular topic for Theodore's tales.
Commenting on her vocation, Sister Theodore said, "I was inspired by the School Sisters and felt that this was my calling and I accepted it.  God has always given me the grace to do His will and to persevere in His service."
Sister Theodore died at Stella Maris Nursing Center on Sept. 14, 2022.  The wake service and Mass of Resurrection were held in the chapel of Villa Assumpta on Sept. 21. Interment followed at Villa Maria Cemetery, Glen Arm Rd. Glen Arm, Md.  Sister Theodore was pre-deceased by 7 sisters and 3 brothers. She is survived by 18 loving nieces and nephews, as well as 18 grand nieces and nephews.
~ Sister Jeanne Hildenbrand, SSND