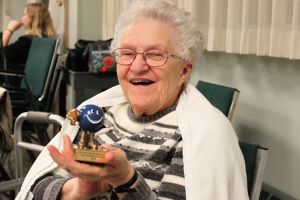 Sister Mary Trinitas Bochini, SSND
December 8, 1927 – October 29, 2020
Born December 8, 1927, in Cohoes, N.Y., Jessie Louise was the youngest of the three daughters of Giuseppe (Joseph) and Iuvanita (Anita) Ceccucci Bochini.  Joseph and Anita were natives of Pesaro, Marche, Italy.  Jessie's older sisters were Palma and Attilia (Tillie).  
Jessie attended school at the Vans Schaick Island Grade School beginning kindergarten in 1932.  She attended Cohoes Junior and Senior High School.  Prepared for the sacraments by the Sisters of St. Joseph at St. Rita's Parish, Jessie received her first Holy Communion and a few years later was confirmed by His Excellency, Bishop Edmund F. Gibbons of Albany, N.Y.  In the upper grades, Jessie was persuaded to join the church choir by the pastor who was a close friend of her father.  
"It was in my early high school days that the thought first came to me that God truly existed."   Jessie described herself as critical even then, so she decided to read up on Catholicism, to take her religion more seriously, and to make the effort to attend daily Mass during Lent.  She began to think of the possibility of religious life but met opposition from her family.  She remembered making a "promise" that she would "try it if You will only leave me alone."
Jessie "picked the College of Notre Dame of Maryland at random" from scholarship announcements at her school.  She was "very much surprised" to receive the offer of a four-year full-tuition scholarship.  Jessie came to Notre Dame in Sept. 1945.  By the end of her sophomore year, she felt that she simply could not return to Notre Dame.  A teacher expressed the opinion that she should teach and suggested that Jessie talk it over with her confessor.  She did and apparently was convinced because she applied for entrance to the Candidature about four days later.
During the two years of candidature, Jessie completed her college work in mathematics receiving a Bachelor of Arts degree with a major in Mathematics from Notre Dame of Maryland in 1949.  Later degrees from the Catholic University, Washington, D.C. include a Master of Arts in Physics and Mathematics in 1961 and a Doctor of Philosophy in Clinical Psychology in 1977.
Jessie was received as a novice on July 16, 1949, and became Sister Mary Trinitas.  She professed her first vows on Aug. 3, 1950, and was sent to teach at St. Mary's High School in Annapolis, Md.  Despite her reluctance to be a teacher, Trini said,
"I am very glad that I did enter this order for I now think that I will like teaching.  
It will be for me a way of working for Christ through His Mystical Body."
Sr. Trinitas stayed at St. Mary's from 1950 until she was transferred to the College of Notre Dame of Md. in 1962. When she returned to the College of Notre Dame of Maryland (now University) she taught physics.  For almost 20 years, Sister Trinitas combined a professorship at NDM with a private practice as a well-respected psychologist.   Until her retirement, she continued to teach and serve in leadership roles at the University.
Sister Mary Trinitas was a brilliant woman.  Popular with students, she was a remarkable teacher and colleague.  She stood up for equality and was an advocate for women.  A smile on her face, she could be totally absorbed in a jigsaw puzzle.  Her tender side was revealed in her faithfulness to family and a close relationship with her nephews.  
Sister Mary Trinitas died on the morning of October 29, 2020.  Sister donated her body to science.  Cremains will be buried at Villa Maria Cemetery.  A Memorial Mass to celebrate the life of Sister Mary Trinitas will take place at a later date.  She is survived by her nephews, Robert T. Coonrod, and Anthony T. Moore.
- Jeanne Hildenbrand SSND